Toyota has indicated it is ready to make a long-term commitment to the Le Mans 24 Hours and the World Endurance Championship.
Shigeki Tomoyama (pictured below, centre), the Japanese manufacturer's overall head of motorsport as president of Toyota Gazoo Racing, gave a firm hint that the LMP1 programme will continue at this week's Tokyo motor show, while stressing that no decision had been taken.
He suggested that this would likely include building a new car for the 2020/21 WEC season when still-to-be-defined regulations will come into force.
"Once things have calmed down, we will make a decision, but we will probably continue to be racing in a new top-flight class which they are looking to create," said Tomoyama at this week's Tokyo motor show.
"We are looking to stay - and only with the goal of winning."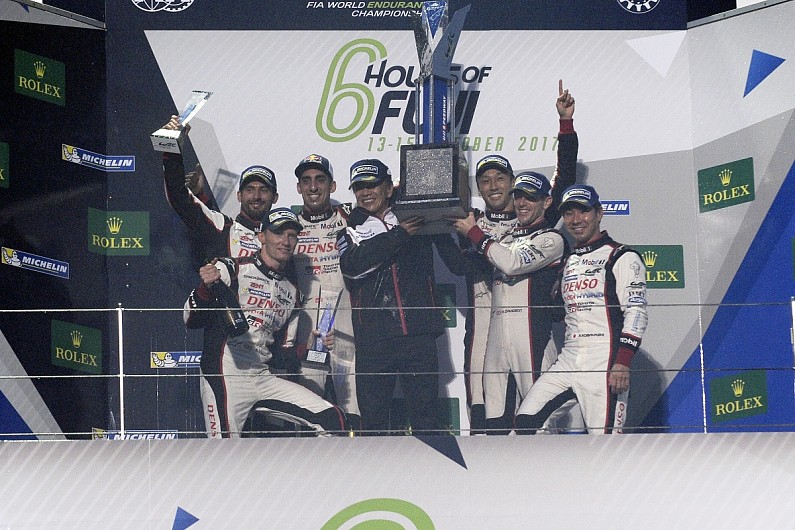 The likely commitment to the WEC has come at the same time as news that Toyota will create a Gazoo Racing sub-brand under which performance cars such as the next-generation Supra will be sold.
Toyota's commitment to race on with the existing TS050 HYBRID into the 2018/19 superseason, which will lead into the WEC becoming a winter series climaxing at Le Mans, has been delayed.
The marque is waiting on confirmation of the next season's regulations for privateer LMP1 entrants, who have been promised lap-time parity by rulemakers the FIA and the Automobile Club de l'Ouest.
The plan is to give factory hybrid cars, which means the Toyotas, a fuel-mileage advantage equivalent to one lap at Le Mans.
This could be problematical because Toyota is expecting no regulation changes for hybrids for 2018/19.
But it appears likely that there will have to be a reduction in fuel capacity for any factory hybrids.
Toyota and Porsche went 13 laps between fuel stops during the 24 Hours this year, whereas the only privateer P1 in the field, the ByKolles team, was expecting to do 11 laps with its CLM-Nissan P1/01 prior to its early retirement.
A spokesman for Toyota Motorsport GmbH reiterated the marque's position that there could be no confirmation of next year's programme until the final rules were defined.
"Toyota is willing to participate in WEC 2018-19, but our commitment will depend on appropriate regulations being confirmed," he said.
The draft outline of new rules for 2020/21 should be in place in time to be ratified by the early December meeting of the FIA's World Motor Sport Council, according to WEC boss Gerard Neveu.
"The clear target is to deliver the 2020 technical regulations before the last world council of the year and we are working hard on that," he said.
The first meeting of interested manufacturers took place in Paris earlier this month.
Few details have emerged, but ACO sporting director Vincent Beaumesnil suggested that a consensus was beginning to emerge.
"We are in the middle of the process, but what we have seen so far makes us comfortable because the people in front of us have similar expectations to us," he said.