Neel Jani and Nick Tandy took pole position for Porsche in qualifying for the Austin World Endurance Championship round.
Jani had been fastest after the first runs on a 1m44.656s aboard the #1 Porsche 919 Hybrid, but Tandy had his almost identical time of 1m44.659s deleted for a track limits violation.
He subsequently had to pit for fuel and was sent out on the tyres that Jani had used, posting a 1m44.827s after the chequered flag had fallen.
That gave them a 1m44.741s average, which was more than two tenths clear of championship-leading team-mates Timo Bernhard and Earl Bamber.
Tandy said: "I took too much kerb on the inside of Turn 19 and that threw me off on the outside.
"I had to come in for fuel and they took Neel's tyres out of the oven rather than sending me back out on the set that had cooled down on my in-lap.
"The experience from my first run was beneficial on the second."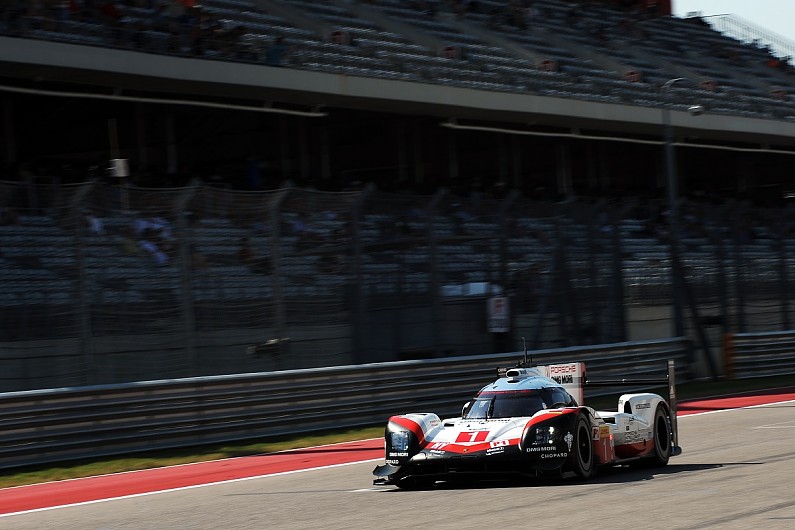 Bernhard had been just three hundredths behind Jani on a 1m44.685 after the first runs, but Bamber could only set a 1m45.30s.
The best of the Toyota TS050 HYBRID was more than a second and a half behind on the aggregate times in the hands of Sebastien Buemi and Kazuki Nakajima.
Buemi had trailed team-mate Kamui Kobayashi, but Nakajima promoted the car to third after the second runs.
Both Toyotas only used one set of tyres during qualifying.
The Signatech Alpine team followed up on its LMP2 pole at Mexico City last month with another at Austin.
Andre Negrao had been only seventh after the first runs aboard their ORECA-Gibson 07 on a 1m54.374s having made "three mistakes".
Lapierre then set a 1m53.675s to give them a 1m54.024s that put them on pole by more than four tenths.
Mathias Beche and David Heinemeier Hansson took second in the best of the Rebellion ORECAs.
Beche's 1m53.249s had put him second fastest to team-mate Bruno Senna's 1m53.081s after the first runs, but Heinemeier Hansson went four tenths quicker than Julien Canal in the sister car.
Beche and Heinemeier Hansson's 1m54.275s average gave them a three tenths margin over Oliver Jarvis and Thomas Laurent in the championship-leading Jackie Chan DC Racing ORECA.
Davide Rigon and Sam Bird took their second consecutive pole - and third of the season - in GTE Pro for the factory AF Corse Ferrari team.
Rigon led the way after the first runs in the #71 Ferrari 488 GTE with a 2m02.993s before Bird posted a 2m03.122s on the same set of tyres that his team-mate had used.
That gave them a 2m03.057s average, which put them almost exactly two tenths up on Ganassi Ford duo Andy Priaulx and Harry Tincknell.
Priaulx had been second to Rigon in the first runs before Tincknell ended up third fastest on used tyres in their Ford GT to give them a 2m03.256s average.
Marco Sorensen was second fastest for Aston Martin after the first runs, before Nicki Thiim jumped ahead of the Ford with a new-tyre run, although not by enough of a margin to promote them in the order.
The second AF Ferrari was fourth in the hands of Alessandro Pier Guidi and James Calado.
Pedro Lamy and Paul Dalla Lana took their fifth GTE Am pole of the season in their Aston Martin Vantage GTE.
Qualifying result

| Pos | Class | Driver | Team | Car | Time | Gap |
| --- | --- | --- | --- | --- | --- | --- |
| 1 | LMP1 | N.Jani, A.Lotterer, N.Tandy | Porsche LMP Team | Porsche | 1m44.741s | - |
| 2 | LMP1 | T.Bernhard, E.Bamber, B.Hartley | Porsche LMP Team | Porsche | 1m44.994s | 0.253s |
| 3 | LMP1 | S.Buemi, S.Sarrazin, K.Nakajima | Toyota Gazoo Racing | Toyota | 1m46.400s | 1.659s |
| 4 | LMP1 | M.Conway, K.Kobayashi, J.M.Lopez | Toyota Gazoo Racing | Toyota | 1m47.098s | 2.357s |
| 5 | LMP2 | N.Lapierre, G.Menezes, A.Negrao | Signatech Alpine Matmut | Alpine/Gibson | 1m54.024s | 9.283s |
| 6 | LMP2 | M.Beche, D.H.Hansson, N.Piquet Jr. | Vaillante Rebellion | ORECA/Gibson | 1m54.275s | 9.534s |
| 7 | LMP2 | H-Pin Tung, O.Jarvis, T.Laurent | Jackie Chan DC Racing | ORECA/Gibson | 1m54.315s | 9.574s |
| 8 | LMP2 | J.Canal, N.Prost, B.Senna | Vaillante Rebellion | ORECA/Gibson | 1m54.394s | 9.653s |
| 9 | LMP2 | R.Rusinov, P.Thiriet, A.Lynn | G-Drive Racing | ORECA/Gibson | 1m54.588s | 9.847s |
| 10 | LMP2 | M.Rao, B.Hanley, J-E.Vergne | CEFC Manor TRS Racing | ORECA/Gibson | 1m55.186s | 10.445s |
| 11 | LMP2 | D.Cheng, A.Brundle, T.Gommendy | Jackie Chan DC Racing | ORECA/Gibson | 1m55.550s | 10.809s |
| 12 | LMP2 | F.Perrodo, M.Vaxiviere, E.Collard | TDS Racing | ORECA/Gibson | 1m55.831s | 11.090s |
| 13 | GTE Pro | D.Rigon, S.Bird | AF Corse | Ferrari | 2m03.057s | 18.316s |
| 14 | GTE Pro | A.Priaulx, H.Tincknell | Ford Chip Ganassi Team UK | Ford | 2m03.256s | 18.515s |
| 15 | GTE Pro | N.Thiim, M.Sorensen | Aston Martin Racing | Aston Martin | 2m03.308s | 18.567s |
| 16 | GTE Pro | J.Calado, A.P.Guidi | AF Corse | Ferrari | 2m03.553s | 18.812s |
| 17 | GTE Pro | S.Mucke, O.Pla | Ford Chip Ganassi Team UK | Ford | 2m03.750s | 19.009s |
| 18 | GTE Pro | D.Turner, J.Adam, D.Serra | Aston Martin Racing | Aston Martin | 2m04.051s | 19.310s |
| 19 | GTE Pro | R.Lietz, F.Makowiecki | Porsche GT Team | Porsche | 2m04.323s | 19.582s |
| 20 | GTE Pro | M.Christensen, K.Estre | Porsche GT Team | Porsche | 2m04.386s | 19.645s |
| 21 | GTE Am | P.D.Lana, P.Lamy, M.Lauda | Aston Martin Racing | Aston Martin | 2m06.031s | 21.290s |
| 22 | GTE Am | T.Flohr, F.Castellacci, M.Molina | Spirit of Race | Ferrari | 2m07.203s | 22.462s |
| 23 | GTE Am | Mok W.S., K.Sawa, M.Griffin | Clearwater Racing | Ferrari | 2m07.532s | 22.791s |
| 24 | GTE Am | C.Ried, M.Cairoli, M.Dienst | Dempsey-Proton Racing | Porsche | 2m08.126s | 23.385s |
| 25 | GTE Am | M.Wainwright, B.Barker, N.Foster | Gulf Racing | Porsche | 2m08.819s | 24.078s |
| 26 | LMP2 | R.Gonzalez, S.Trummer, V.Petrov | CEFC Manor TRS Racing | ORECA/Gibson | - | - |