Audi claimed pole position in a thrilling battle involving all three LMP1 manufacturers at the Fuji World Endurance Championship round.
Lucas di Grassi and Loic Duval took the pole at the end of a session in which the fastest cars from Audi, Porsche and Toyota were separated by less than two tenths of a second.
Di Grassi had been fastest after the first runs with a 1m23.854s aboard the #8 Audi R18 e-tron quattro, but the two Toyotas went faster on their second runs with Sebastien Buemi and Kamui Kobayashi.
Duval then posted a 1m23.286s, only five hundredths of a second slower than Kobayashi's session best, to give the #8 Audi pole with a 1m23.570s average.
That gave the Audi a 0.169s advantage over the Toyota TS050 Buemi shared with Kazuki Nakajima, but Mark Webber was able to lower the #1 Porsche's average after returning to the wheel for a second run.
He bettered team-mate Timo Bernhard's time by a tenth with a 1m23.525 to give them a 1m23.595s average, which left them just 0.025s down on the Audi.
Buemi and Nakajima ended up with a 1m23.739s average, which put them just five hundredths up on team-mates Kobayashi and Stephane Sarrazin.
The second Audi finished the session fifth in the hands of Benoit Treluyer and Andre Lotterer, but was still less than three tenths from the pole winners on aggregate.
The championship-leading Porsche was half a second down in sixth in the hands of Neel Jani and Marc Lieb after a handling issue at Turn 3 cost each driver three tenths.
Stand-in driver Will Stevens helped the Jota-run G-Drive team to its fifth LMP2 pole of the season.
The Briton, back in a P2 for the first time since the Le Mans 24 Hours, was quickest in the first runs with a 1m31.332s before team-mate Roman Rusinov completed the job with a 1m32.064s, which gave them a 1m31.698s average aboard their ORECA-Nissan JSP2.
Gustavo Menezes had been only seventh in the championship-leading Signatech Alpine ORECA after the first runs, but a 1m31.813s from Nicolas Lapierre reduced their average and left them just over three tenths shy of G-Drive.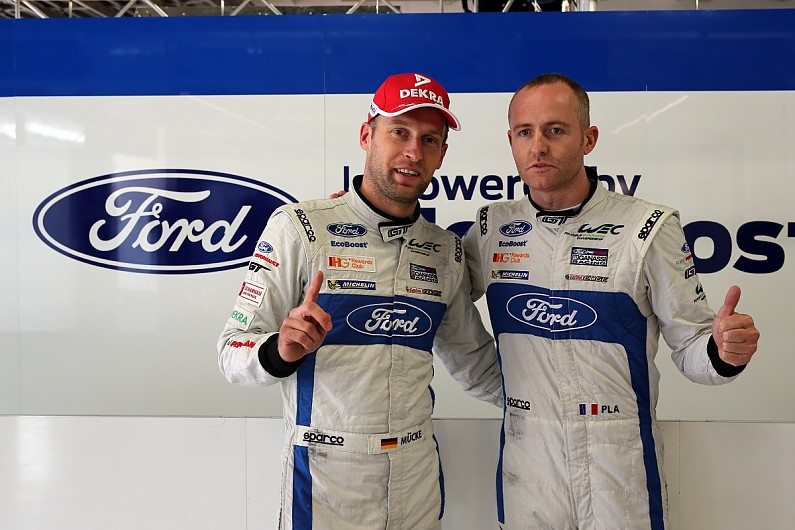 The UK-based Ganassi team took its first GTE Pro pole and Ford's first since the US operation topped qualifying for the Le Mans 24 Hours in June.
Olivier Pla set the fastest lap of the session with a 1m37.546s aboard the #66 Ford GT, which Stefan Mucke followed up with a 1m37.817s.
That gave them a 1m37.681s average, which eclipsed that of team-mates Andy Priaulx and Harry Tincknell by just 0.044s.
Priaulx got down to a 1m37.725s before Tincknell posted a 1m37.719s on his third flying lap.
The two AF Corse Ferrari 488 GTEs were third and fourth in class.
Gianmaria Bruni was the quickest Ferrari driver after the first runs before handing over to James Calado, but Sam Bird went two tenths quicker than his fellow Briton to jump to third in the car he shares with Davide Rigon.
Pedro Lamy and Paul Dalla Lana took their fourth class pole of the season in GTE Am in their Aston Martin Vantage GTE.
QUALIFYING RESULTS:
| Pos | Class | Driver | Team | Car | Time | Gap |
| --- | --- | --- | --- | --- | --- | --- |
| 1 | LMP1 | L.di Grassi, L.Duval, O.Jarvis | Audi Sport Team Joest | Audi | 1m23.570s | - |
| 2 | LMP1 | T.Bernhard, M.Webber, B.Hartley | Porsche Team | Porsche | 1m23.595s | 0.025s |
| 3 | LMP1 | A.Davidson, S.Buemi, K.Nakajima | Toyota Gazoo Racing | Toyota | 1m23.739s | 0.169s |
| 4 | LMP1 | S.Sarrazin, M.Conway, K.Kobayashi | Toyota Gazoo Racing | Toyota | 1m23.781s | 0.211s |
| 5 | LMP1 | M.Fassler, A.Lotterer, B.Treluyer | Audi Sport Team Joest | Audi | 1m23.856s | 0.286s |
| 6 | LMP1 | R.Dumas, N.Jani, M.Lieb | Porsche Team | Porsche | 1m24.134s | 0.564s |
| 7 | LMP1 | M.Tuscher, D.Kraihamer, A.Imperatori | Rebellion Racing | Rebellion/AER | 1m28.837s | 5.267s |
| 8 | LMP1 | S.Trummer, O.Webb, P.Kaffer | ByKOLLES Racing Team | CLM/AER | 1m29.827s | 6.257s |
| 9 | LMP2 | R.Rusinov, A.Brundle, W.Stevens | G-Drive Racing | ORECA/Nissan | 1m31.698s | - |
| 10 | LMP2 | G.Menezes, N.Lapierre, S.Richelmi | Signatech Alpine | Alpine/Nissan | 1m31.919s | - |
| 11 | LMP2 | A.Giovinazzi, G.van der Garde, S.Gelael | Extreme Speed Motorsports | Ligier/Nissan | 1m31.945s | - |
| 12 | LMP2 | J.Kane, L.Williamson | Strakka Racing | Gibson/Nissan | 1m32.007s | - |
| 13 | LMP2 | R.Gonzalez, B.Senna, F.Albuquerque | RGR Sport by Morand | Ligier/Nissan | 1m32.128s | - |
| 14 | LMP2 | M.Rao, R.Bradley, R.Merhi | Manor | ORECA/Nissan | 1m32.214s | - |
| 15 | LMP2 | T.Graves, A.Lynn, S.Nakano | Manor | ORECA/Nissan | 1m32.536s | - |
| 16 | LMP2 | R.Dalziel, P.Derani, C.Cumming | Extreme Speed Motorsports | Ligier/Nissan | 1m32.932s | - |
| 17 | LMP2 | V.Petrov, V.Shaytar, K.Ladygin | SMP Racing | BR Engineering/Nissan | 1m33.046s | - |
| 18 | LMP2 | N.Minassian, M.Mediani, M.Aleshin | SMP Racing | BR Engineering/Nissan | 1m33.133s | - |
| 19 | LMP2 | D.Cheng, H-Pin Tung, P-L.Chatin | Baxi DC Racing Alpine | Alpine/Nissan | 1m33.472s | - |
| 20 | GTE Pro | S.Mucke, O.Pla | Ford Chip Ganassi Team UK | Ford | 1m37.681s | - |
| 21 | GTE Pro | A.Priaulx, H.Tincknell | Ford Chip Ganassi Team UK | Ford | 1m37.725s | - |
| 22 | GTE Pro | D.Rigon, S.Bird | AF Corse | Ferrari | 1m38.010s | - |
| 23 | GTE Pro | G.Bruni, J.Calado | AF Corse | Ferrari | 1m38.103s | - |
| 24 | GTE Pro | N.Thiim, M.Sorensen | Aston Martin Racing | Aston Martin | 1m38.175s | - |
| 25 | GTE Pro | R.Stanaway, D.Turner | Aston Martin Racing | Aston Martin | 1m38.442s | - |
| 26 | GTE Pro | R.Lietz, M.Christensen | Dempsey Racing - Proton | Porsche | 1m38.910s | - |
| 27 | GTE Am | P.D.Lana, P.Lamy, M.Lauda | Aston Martin Racing | Aston Martin | 1m39.490s | - |
| 28 | GTE Am | F.Perrodo, E.Collard, R.Aguas | AF Corse | Ferrari | 1m39.863s | - |
| 29 | GTE Am | Y.Yamagishi, P.Ragues, R.Taylor | Larbre Competition | Chevrolet | 1m39.956s | - |
| 30 | GTE Am | K.Al Qubaisi, D.H.Hansson, P.Long | Abu Dhabi-Proton Racing | Porsche | 1m40.587s | - |
| 31 | GTE Am | C.Ried, W.Henzler, J.Camathias | KCMG | Porsche | 1m40.834s | - |
| 32 | GTE Am | M.Wainwright, A.Carroll, B.Barker | Gulf Racing | Porsche | 1m41.734s | - |