Audi blocked out the front row in qualifying for the Austin round of the World Endurance Championship.
Marcel Fassler and Andre Lotterer took pole position aboard the #7 Audi R18 e-tron quattro with a 1m45.842s average that put them 0.141 seconds up on team-mates Loic Duval and Oliver Jarvis.
Fassler was fastest on the first runs with a 1m45.798s until losing the time for exceeding his fuel allocation for the lap.
That left the #8 Audi out front with a 1m45.885s from Loic Duval and the #7 car just under a tenth behind.
Lotterer set the fastest lap of the session with a 1m45.703s, a time that eclipsed the best from Jarvis by three tenths after the Briton hit traffic on two of his three laps.
The #1 Porsche 919 Hybrid of Timo Bernhard and Brendon Hartley took third position with a 1m46.560s average.
The second Porsche in which Neel Jani had led the chase of the Audis in the first runs was third until the best lap from Romain Dumas was deleted for a track limits violation.
That allowed Toyota to take fourth with an average of 1m47.218s from Mike Conway and Kamui Kobayashi
Kazuki Nakajima and Sebastien Buemi took sixth in the second TS050 HYBRID, which like its sister car only used one set of tyres.
Alexandre Imperatori and Dominik Kraihamer took LMP1 privateer honours in the Rebellion-AER R-One by nine tenths from the ByKolles CLM-AER P1/01 of Simon Trummer and Oliver Webb.
The championship-leading Signatech Alpine LMP2 team took its first class pole of the season with Gustavo Menezes and Nicolas Lapierre.
They ended up with a 1m55.582s average aboard their ORECA-Nissan 05, which put them nearly a second up on the Manor ORECA qualified by Roberto Merhi and Matt Rao.
The RGR Sport Ligier-Nissan JSP2 of Bruno Senna and Ricardo Gonzalez was a further half second back in third.
The G-Drive Racing ORECA that has been on pole four times this season will line up last of the P2 runners after Alex Brundle lost all his times for repeated track limits violations.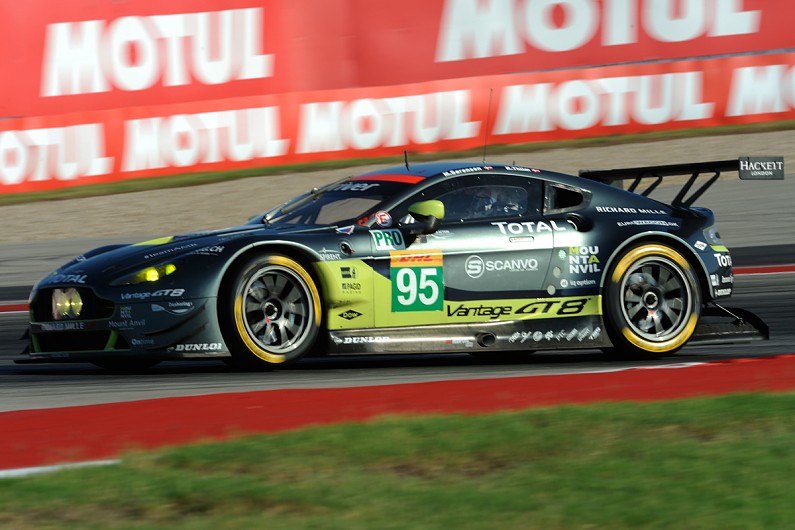 Marco Sorensen and Nicki Thiim took a third consecutive GTE Pro pole for Aston Martin.
Sorensen had been within five hundredths of the two AF Corse Ferraris that led the way after the first runs, before Thiim went a tenth faster than his team-mate in the #95 Aston Martin Vantage GTE.
That gave them a 2m04.610s, which put them 0.042s ahead of the AF Ferrari 488 GTE shared by Davide Rigon and Sam Bird.
The Ganassi Ford squad, which had topped two of the free practice sessions, took third with Stefan Mucke and Olivier Pla on a 2m04.804s average.
Gianmaria Bruni set the fastest lap of the session in the other Ferrari, but James Calado was unable to get within half a second of his co-driver, dropping the car to fourth.
Pedro Lamy and Paul Dalla Lana claimed qualifying honours in GTE Am for Aston Martin despite failure of their traction control system.
QUALIFYING RESULTS:
| Pos | Class | Driver | Team | Car | Time | Gap |
| --- | --- | --- | --- | --- | --- | --- |
| 1 | LMP1 | M.Fassler, A.Lotterer, B.Treluyer | Audi Sport Team Joest | Audi | 1m45.750s | - |
| 2 | LMP1 | L.di Grassi, L.Duval, O.Jarvis | Audi Sport Team Joest | Audi | 1m45.983s | 0.233s |
| 3 | LMP1 | T.Bernhard, M.Webber, B.Hartley | Porsche Team | Porsche | 1m46.560s | 0.810s |
| 4 | LMP1 | S.Sarrazin, M.Conway, K.Kobayashi | Toyota Gazoo Racing | Toyota | 1m47.218s | 1.468s |
| 5 | LMP1 | R.Dumas, N.Jani, M.Lieb | Porsche Team | Porsche | 1m47.331s | 1.581s |
| 6 | LMP1 | A.Davidson, S.Buemi, K.Nakajima | Toyota Gazoo Racing | Toyota | 1m48.584s | 2.834s |
| 7 | LMP1 | M.Tuscher, D.Kraihamer, A.Imperatori | Rebellion Racing | Rebellion/AER | 1m53.646s | 7.896s |
| 8 | LMP1 | S.Trummer, O.Webb | ByKOLLES Racing Team | CLM/AER | 1m54.577s | 8.827s |
| 9 | LMP2 | G.Menezes, N.Lapierre, S.Richelmi | Signatech Alpine | Alpine/Nissan | 1m55.892s | - |
| 10 | LMP2 | M.Rao, R.Bradley, R.Merhi | Manor | ORECA/Nissan | 1m56.873s | - |
| 11 | LMP2 | R.Gonzalez, B.Senna, F.Albuquerque | RGR Sport by Morand | Ligier/Nissan | 1m57.367s | - |
| 12 | LMP2 | N.Leventis, L.Williamson, J.Kane | Strakka Racing | Gibson/Nissan | 1m57.536s | - |
| 13 | LMP2 | D.Cheng, H-Pin Tung, N.Panciatici | Baxi DC Racing Alpine | Alpine/Nissan | 1m58.060s | - |
| 14 | LMP2 | V.Petrov, V.Shaytar, K.Ladygin | SMP Racing | BR Engineering/Nissan | 1m58.379s | - |
| 15 | LMP2 | R.Dalziel, P.Derani, C.Cumming | Extreme Speed Motorsports | Ligier/Nissan | 1m58.394s | - |
| 16 | LMP2 | N.Minassian, M.Mediani | SMP Racing | BR Engineering/Nissan | 1m58.769s | - |
| 17 | LMP2 | S.Sharp, E.Brown, J.van Overbeek | Extreme Speed Motorsports | Ligier/Nissan | 2m00.631s | - |
| 18 | GTE Pro | N.Thiim, M.Sorensen | Aston Martin Racing | Aston Martin | 2m04.610s | - |
| 19 | GTE Pro | D.Rigon, S.Bird | AF Corse | Ferrari | 2m04.652s | - |
| 20 | GTE Pro | S.Mucke, O.Pla | Ford Chip Ganassi Team UK | Ford | 2m04.804s | - |
| 21 | GTE Pro | G.Bruni, J.Calado | AF Corse | Ferrari | 2m04.821s | - |
| 22 | GTE Pro | D.Turner, F.Rees | Aston Martin Racing | Aston Martin | 2m04.889s | - |
| 23 | GTE Pro | M.Franchitti, A.Priaulx, H.Tincknell | Ford Chip Ganassi Team UK | Ford | 2m05.057s | - |
| 24 | GTE Pro | R.Lietz, M.Christensen | Dempsey Racing - Proton | Porsche | 2m06.060s | - |
| 25 | GTE Am | P.D.Lana, P.Lamy, M.Lauda | Aston Martin Racing | Aston Martin | 2m07.683s | - |
| 26 | GTE Am | K.Al Qubaisi, D.H.Hansson, K.Estre | Abu Dhabi-Proton Racing | Porsche | 2m08.295s | - |
| 27 | GTE Am | C.Ried, W.Henzler, J.Camathias | KCMG | Porsche | 2m08.816s | - |
| 28 | GTE Am | M.Wainwright, A.Carroll, B.Barker | Gulf Racing | Porsche | 2m09.119s | - |
| 29 | GTE Am | F.Perrodo, E.Collard, R.Aguas | AF Corse | Ferrari | 2m09.187s | - |
| 30 | GTE Am | L.Viljoen, P.Ragues, R.Taylor | Larbre Competition | Chevrolet | 2m09.190s | - |
| 31 | LMP2 | R.Rusinov, R.Rast, A.Brundle | G-Drive Racing | ORECA/Nissan | 1m57.208s | - |