Newly-crowned World Endurance champion Allan McNish is retiring from front-line racing with immediate effect.
The long-time Audi driver, who claimed the WEC title at Shanghai with Tom Kristensen and Loic Duval in November, explained that the timing was right for a decision that means he will not be part of the German manufacturer's 2014 WEC campaign.

"You have to get out at some point and everything lined up to make this an extremely good time to do it," McNish told AUTOSPORT. "Everything has fallen into place.

"I have won pretty much everything I wanted to and I ticked the last box with the world championship.

"It is good to do it now with the change over to the new car and new rules, which would have required a big commitment."

Why McNish picked right time to stop

McNish also pointed out that he will be 44 at the end of the year and that he has developing interests away from driving race cars.

"There are other opportunities that have come up," he continued.

"I definitely want to do some other things in life, like management and TV stuff, and there are other little personal reasons as well."

McNish works with Formula 3 driver Harry Tincknell, who is likely to move into sportscars next year, and also commentates for Radio 5 Live on selected Formula 1 races.

He has called time on an illustrious career that includes three victories in the Le Mans 24 Hours, three American Le Mans Series titles and multiple wins in both the US sportscar classics at Sebring and Road Atlanta, as well as a short spell in F1 with Toyota in 2002 and as a Friday test driver with Renault in 2003.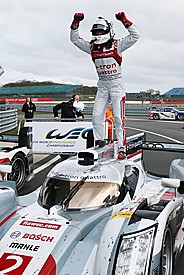 McNish explained that he had made the decision to stop at the end of the season after the Spa WEC round in May and that he did not want to step back from a full-time campaign to a programme centred on Le Mans.

"Audi has to prepare for the next few years and I didn't want to be ducking in and out of it," he said.

"As a racing driver you never say never, but I am hanging up my helmet as far as anything serious goes.

"Perhaps I could do the Daytona 24 Hours in the future, like Martin [Brundle] did a few years ago [in 2011], but I will not be committing to a full championship again."

McNish will retain his relationship with both Audi Sport and Audi AG.

ALLAN MCNISH ROLL OF HONOUR
1988 Formula Vauxhall Lotus champion
1990 Silverstone International Trophy winner (F3000)
1998 Le Mans 24 Hours winner
2000 Petit Le Mans winner, American Le Mans Series champion
2004 Sebring 12 Hours winner
2006 Sebring 12 Hours winner, Petit Le Mans winner, American Le Mans Series champion
2007 Petit Le Mans winner, American Le Mans series champion
2008 Le Mans 24 Hours winner, Petit Le Mans winner
2009 Sebring 12 Hours winner
2012 Sebring 12 Hours winner
2013 Le Mans 24 Hours winner, World Endurance Champion
McNish will attend next year's AUTOSPORT International show in Birmingham, which takes place on January 9-12. For more information click here