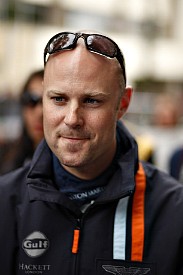 GT specialist Rob Bell will get his second chance in a prototype with the Extreme Speed Motorsports LMP2 squad at Petit Le Mans on October 19.
McLaren factory driver Bell, who has also driven for Aston Martin Racing this season, will team up in ESM's second HPD ARX-03b with regulars Johannes van Overbeek and Ed Brown in the American Le Mans Series finale at Road Atlanta.

The deal marks a return to ESM for Bell, who contested two ALMS races in one of the team's GT class Ferraris in 2011.

Bell, whose previous prototype drive came with the Drayson Lola LMP1 team at Petit in 2009, said: "Driving a prototype is a bit of unfinished business for me, so it is great to get this opportunity.

"We will be testing from Monday at Atlanta so there's ample time for me to get used to a prototype again.

"It's normally easier to move across to something with more grip than you are used to rather than the other way around, so I don't have any concerns."

Two-time ALMS champion David Brabham is making his second appearance of the season with the team after signing a deal for Sebring and Petit at the start of the year. The Australian will share the team's lead HPD with Scott Sharp and Anthony Lazzaro.

DID YOU KNOW...
... Rob Bell's only previous prototype outing lasted four laps. He lost a wheel in the Drayson Lola-Judd B09/60 on his out lap after taking over the car at Petit in '09. He then returned to the track after an hour's worth of repairs before the race was red-flagged courtesy of a flooded track.