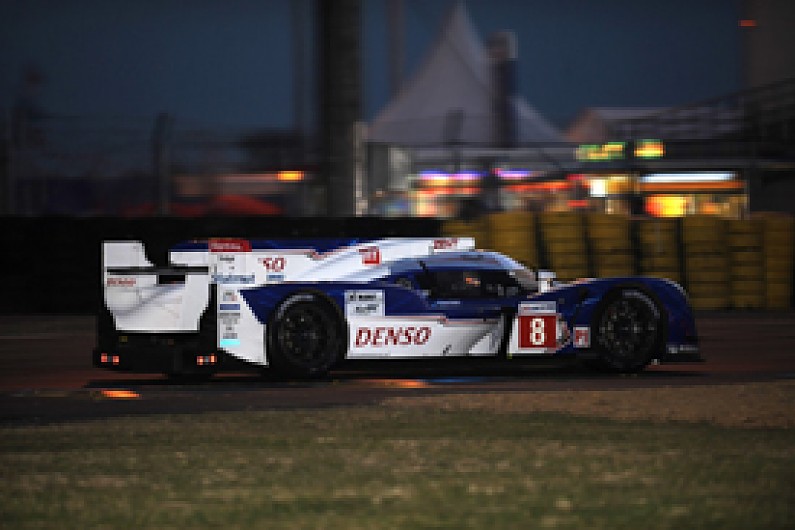 Toyota technical director Pascal Vasselon says that more work needs to be done on the balance of performance between petrol and diesel-engined LMP1s after Anthony Davidson qualified the fastest TS030 Hybrid third at Le Mans.
Davidson's 3m24.842s lap was just over a second adrift of Andre Lotterer's pole position time in the Audi R18 e-tron quattro.
"We have the maximum boost here allowed by the rules, which is worth between 2.5 and 3 seconds, and we are still half a second behind the quickest Audi ultra," Vasselon told AUTOSPORT. "So there is a big gap between gasoline and diesel. There is a process in place to assess the balance of performance, the FIA and the ACO are analysing the data. But clearly our performance yesterday [in qualifying] shows that there is a big gap."
Vasselon acknowledged that the fact that the quickest R18 e-tron quattro outpaced the fastest R18 ultra by just three tenths of a second could suggest that Audi has yet to extract the maximum from its hybrid.
"This is a question to ask to Audi, but clearly, from our side if we were there without the hybrid system it would be ridiculous. We would not be in the ballpark, that's for sure. If we switched our hybrid system off we would be nowhere, maybe two seconds faster than the HPD but that is because our aero efficiency is very good."
On Thursday the FIA and the ACO announced new LMP1 regulations for 2014 that aim to encourage hybrid powertrain development. While this has not met with universal enthusiasm from private entrants, Vasselon welcomed the new package - with the proviso that it should leave room for petrol engines.
"The main regulations are cast in stone, we just need to fine-tune some aspects and one of those is the final balance of performance between gasoline and diesel. The regulation with regard to the powertrain is, I would say, very simple: the idea is to give the same level of energy per lap to everyone. The engine capacity and maximum boost is quite high, so there is a lot of freedom for powertrain engineers. The problem with keeping it this simple is that everyone would do diesel because the nature of this technology is that it is more efficient.
"So, since the ACO and the FIA want to keep alive a mix of technologies, including gasoline, we must anticipate the balance of performance. This process is ongoing so we cannot discuss it. Everyone is very happy with the principles but the finetuning is still to be done."