Audi's 11th and final victory, at least for the time being, in the Sebring 12 Hours earlier this month cemented a connection between carmaker and motor race that will outlive any race series or organiser.
Sebring helped make Audi as a sportscar-racing marque, but Audi also helped to put Sebring on the map, bringing the US enduro to a wider, more international audience during the span of its 15-year involvement in the blue-riband Florida race.
Sebring, of course, is where it all started for Audi in prototype racing back in 1999. The German manufacturer used the inaugural American Le Mans Series race to blood its new R8R — at a time when Audi Sport boss Wolfgang Ullrich described the marque as "nobodies in sportscar racing" — and gave its cars a good working out over the bumps of the Sebring International Raceway.
The lessons learned that year resulted in a heavily revised version of the R8R that hit the track in time for the Le Mans 24 Hours. That car went on to bag a podium in what was arguably the most competitive ever year in the history of Le Mans. No wonder Audi kept heading back to Sebring.
Two weeks spent in Hicksville, FL in mid-March became an essential part of Audi's season and its preparations for the Le Mans 24 Hours. Audi Sport and its Joest Racing squad undertook an endurance run with at least one of its Sebring racecars until the factory withdrew from sportscars after 2002 and then again when it returned in 2006.
Even when it missed the race, in 2010, its cars were still to be found pounding the unyielding Sebring concrete the week after the event.
Peugeot and Audi's rivalry extended to Florida © LAT
Audi's routine was taken up by others, even arch-rival Peugeot. It wasn't flattery, just the realisation that there are few better places to test for Le Mans than at Sebring.
"It is the perfect preparation for Le Mans," says Ullrich, "and not because the track is in any way similar to Le Mans. It is that it is such a demanding track for the cars: if you can survive 12 hours at Sebring, you know you should be able to do 24 at Le Mans without too many mechanical issues."
The lessons of Sebring resulted in a car that could survive the bumps and scrapes that are part of modern endurance racing, reckons long-time Audi driver and four-time winner of the 12 Hours Allan McNish.
"There are always a lot of touches and rubs at Sebring, and you need a car that can withstand all of that to win," he says. "Go back to Le Mans 2008 when Tom [Kristensen] got tapped into a spin towards the end of the race, but we survived where some cars wouldn't.
"That philosophy of building a car that could survive a rub here and there was partly derived from our experience at Sebring.
"Competing at Sebring every year was one of the reasons why we have turned up at Le Mans with such a strong and reliable car. It hasn't been the only reason, but it has been an important one."
Audi's reasons for going to Sebring each year weren't just technical. More often than not, it grouped its Le Mans driver line-ups together for the 12 Hours. And that proved crucial over the years, too.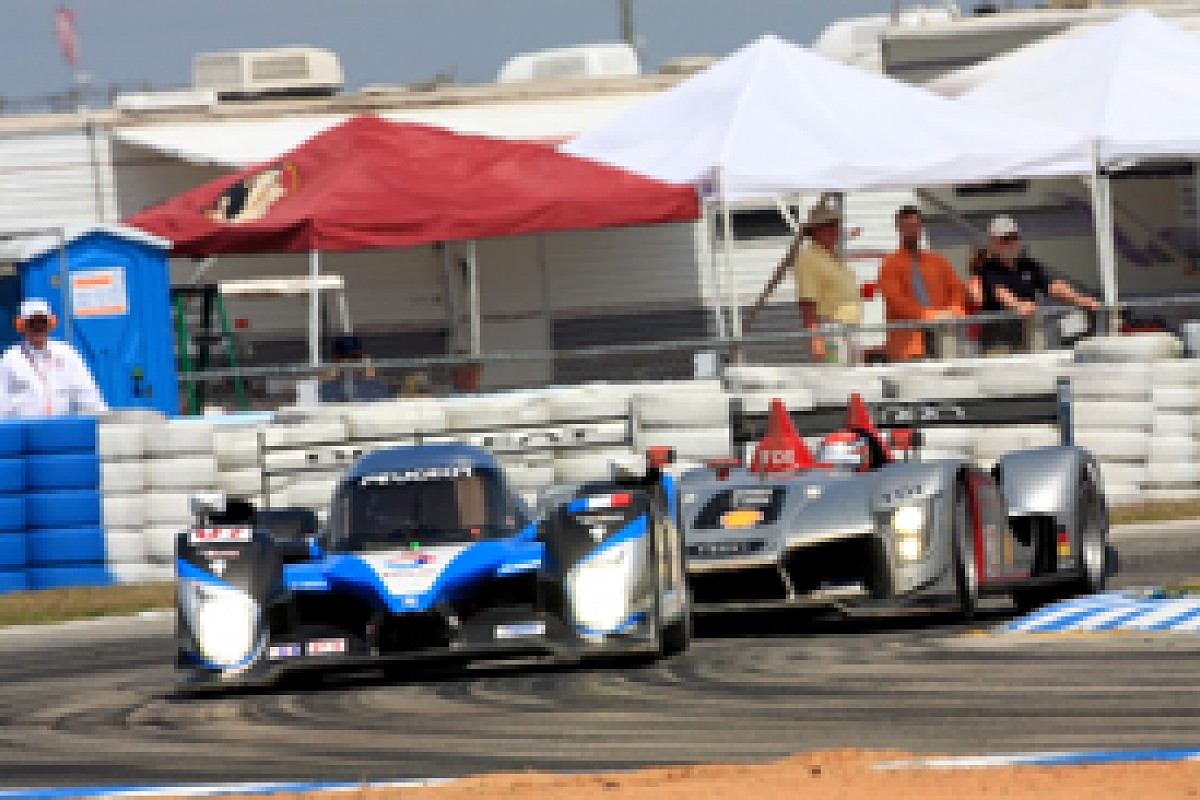 McNish won Sebring four times with Audi © LAT
"The race helped gel the driving crews and the race crews as well," explains McNish. "Doing a 12-hour race gave you an understanding of how to work with your team-mates ahead of Le Mans."
Any debt of gratitude that Audi might owe Sebring has been returned. Perhaps many times over. The 12 Hours dates all the way back to 1952 and was the inaugural world championship sportscar round a year later, but the race had long since lost its international importance ahead of the ALMS era.
The series founded by Don Panoz was partly why that changed, but so too was Audi's presence. Its domination of the event through the noughties could have been a turn-off, but few of the German manufacturer's victories were boring.
If this author was asked to pick out the 10 most exciting Sebrings from its 60-plus year history, seasons in which Audi's triumphed would fill three, four or even more of those slots.
What's more, all but one of those classic races resulted from internecine Audi battles involving, at different times down the years, factory and/or privateer cars. It enhanced the standing of the event by letting its drivers race, and race hard.
Audi also made history at Sebring that even got it into the The New York Times. The debut victory for the new turbodiesel R10 TDI in 2006 resulted in a full-page article in the US broadsheet. Just ask yourself when you last saw a full-page story about sportscar racing in a national in the UK.
Audi, it should be pointed out, made a habit of notching up winning debuts at Sebring. The R8, R10 and R15 TDI all scored out-of-the-box victories in the 12 Hours.
That won't be the case with the next Audi prototype, due to hit the track next year. LMP1 prototypes will disappear from America with the merger of US endurance racing under the United SportsCar banner.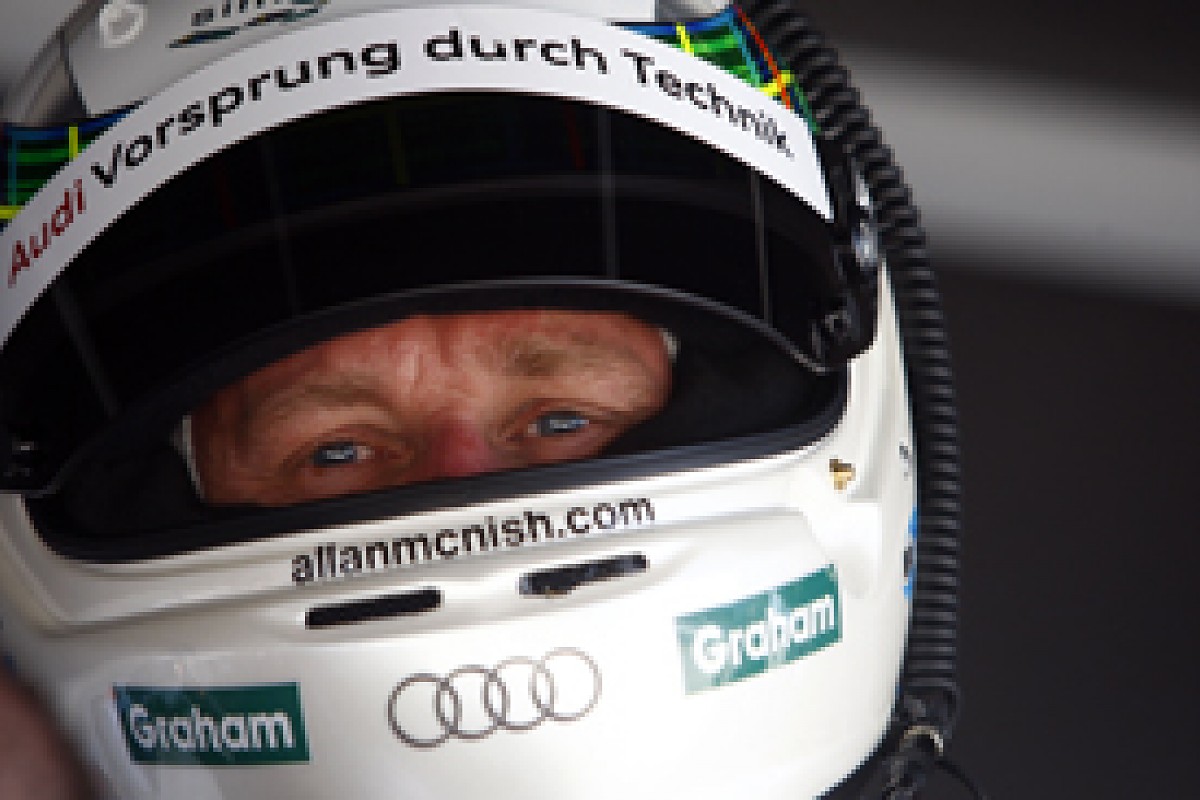 The R8 GT car is still expected to be appear at Sebring in the new era © LAT
There should be Audis racing at Sebring next year, but the Audi R8 Grand-Am GT contender won't be competing for overall honours.
Ullrich has left the door open to an entry into the Daytona Prototype class, which will become known as the Prototype division, and is promising to be back at Sebring one day even with DTM America on the horizon.
"I hope we can find a way to come back to top-level motorsport in the US," he says. "And I would prefer that we do it in sportscars."
THE GREAT AUDI SEBRING VICTORIES
2001
Tom Kristensen had 'only' won Le Mans twice when he pitched up at Sebring in 2001, but there was no doubting that he was a sportscar star in the making.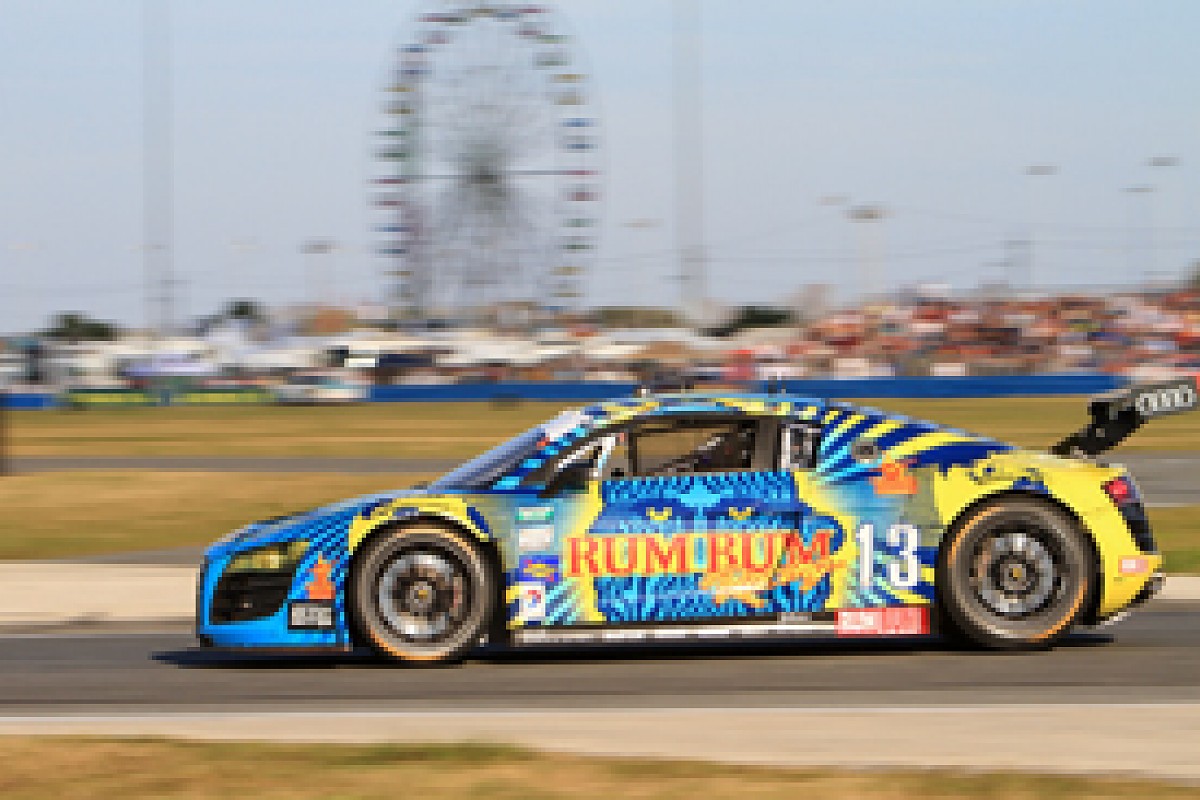 Sebring 2001 was the final big win of the late Alboreto's career © LAT
Kristensen, who shared his Joest-run Audi R8 with Emanuele Pirro and Frank Biela, took 20 seconds out of leader Rinaldo Capello in the penultimate stint. And when he opted not to take on new tyres at the final round of stops, Kristensen was suddenly in the lead.
One lap later and he was back in the pits. That amazing charge had been a little too amazing. He hadn't slowed in time as he barrelled into the pit entry and was duly penalised, leaving the way clear for Capello, Laurent Aiello and Michele Alboreto to take the win.
Kristensen has few regrets about missing out on victory because Sebring 2001 would turn out to be Alboreto's final race. A month later he would die testing the R8 at the EuroSpeedway Lausitz.
2003
The Champion Audi squad would go on to dominate the American Le Mans Series, but starting 2003 it had yet to win a race. It should have broken its duck at Sebring that year, but somehow contrived to throw it away.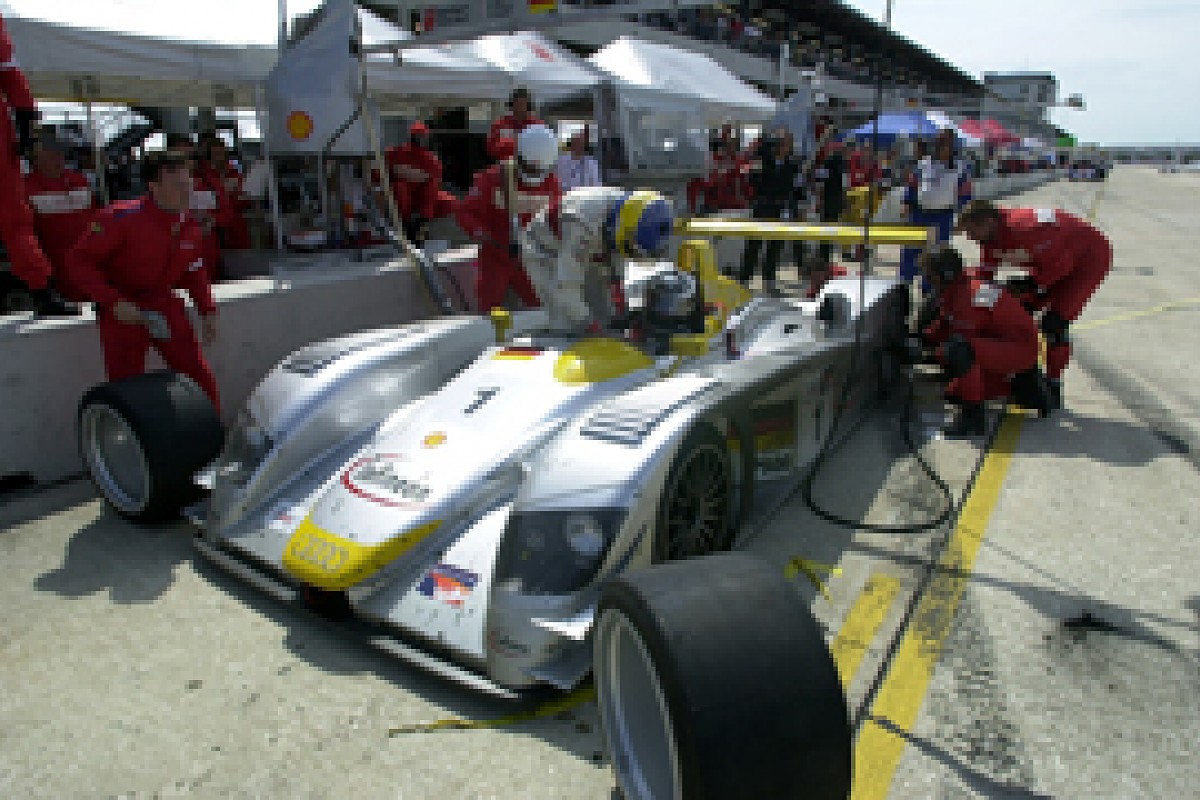 Champion let the 2003 race slip away © LAT
The Champion R8, driven by JJ Lehto, Stefan Johansson and Emanuele Pirro, had the legs of the Joest-run car and the new Bentleys and was on course for victory when an untimely yellow coincided with some unusual tactics with three hours to go.
Team boss Dave Maraj opted, for reasons that have never been fully explained, to put Pirro back in the car, despite the Italian having handed over to Lehto just 70 minutes before. Pirro got cramp and had to be replaced by Johansson.
"I thought I was done and was already relaxing in the motorhome after a big steak and a bowl of pasta," recalls the Swede. "The next minute I was back in the car and driving at night for the first time that race."
The Champion car just lost the lead when Johansson climbed aboard and, having been sent out on old tyres he had no chance of overhauling the Joest car driven by Marco Werner, Frank Biela and Philipp Peter.
"We really threw that one away," says Johansson.
2005
Two all-time sportscar greats going at it hammer and tongs in the final stages aboard two identical examples of one of the best prototypes of all time on the way to the closest-ever finish.
The internecine battle between the two Champion Audi R8s, their driver line-ups led by Tom Kristensen and Allan McNish, was a thriller that could have gone either way and ended up going right down to the wire.
There was little to choose between them except a tactical masterstroke on the part of Brad Kettler and Mike Peters in the pit of the winning #1 car Kristensen shared with Marco Werner and JJ Lehto.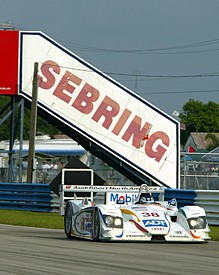 Kristensen, Lehto and Werner triumphed in the closest ever finish in 2005 © LAT
Werner had a 12-second lead over McNish when he handed over to Kristensen, who by rights should have lost the lead at the next round of pitstops because he would need new tyres and his immediate pursuer would not.
But Champion opted to short-fuel the leading car. Somewhere between seven and nine seconds were saved, which, combined with a delay for McNish courtesy of an errant camera crew, resulted in Kristensen coming out with a couple of seconds in hand.
Kristensen pushed like hell on cold tyres to stay ahead and then used the advantage of his new set of Michelins to build a gap. McNish came back at the leader when he got new tyres at the next round of stops, but the damage had been done and he fell short by a shade over six seconds.
"Short-fuelling Tom was crucial," admits McNish today. "Without that, I'm 99.9 per cent sure that I would have done him."
2009
Audi's new R15 TDI didn't look a match for Peugeot's 908 turbodiesel, at least not for the first two-thirds of the 2009 12 Hours of Sebring.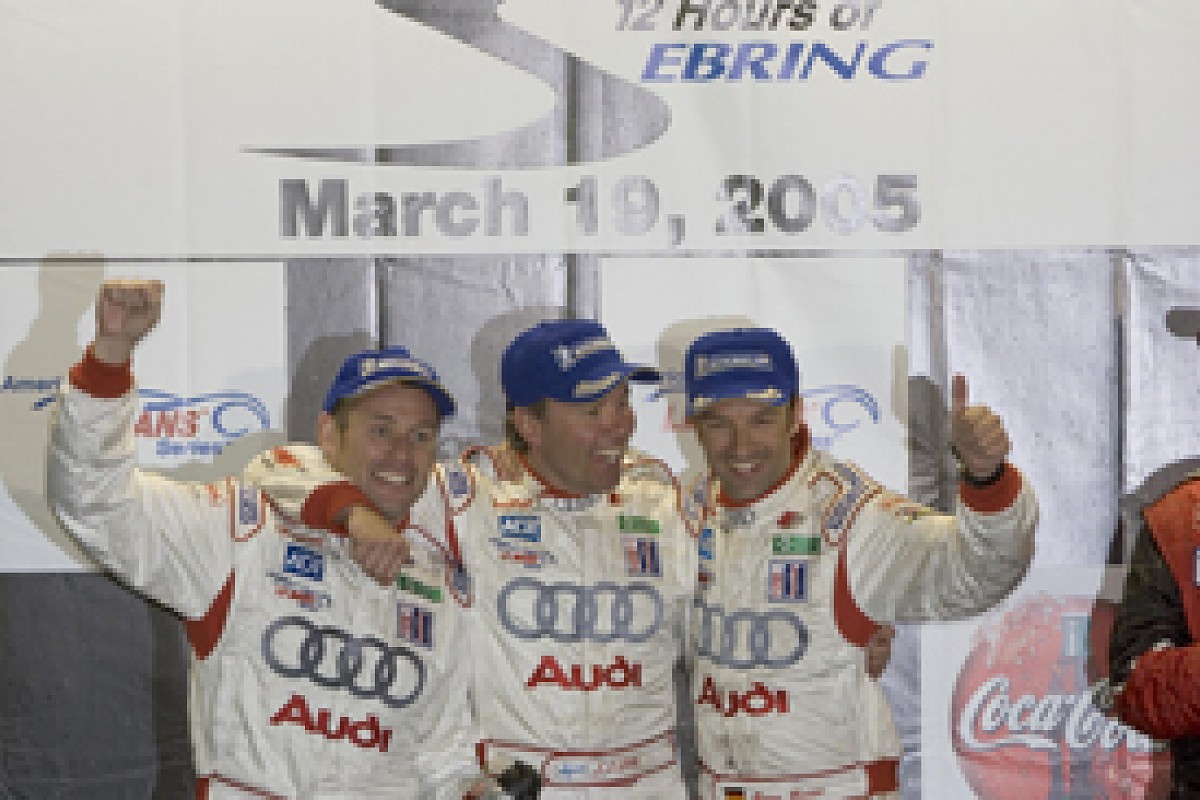 An amazing final stint from Allan McNish earned Audi victory in 2009 © LAT
Yet when the temperatures dropped as night fell, the German car came into its own and had the edge on the soft-compound Michelin tyre.
Allan McNish, who shared with Tom Kristensen and Rinaldo Capello, drove an amazing final stint in the knowledge that the Audi, unlike the pursuing French car, would need a late splash of fuel.
A series of laps below the pole time built him the advantage he required. The Scot got in and out of the pits without losing the lead and went on to give the R15 a debut victory.
"We had a bloody quick car that year; that R15 was the best car I ever had at Sebring," says McNish. "As the night came, we hit the sweet spot and were able to nail it."