The announcement of the merger between Grand-Am and the American Le Mans Series has posed as many questions as it answered. We're slowly getting answers over time, but even some of those are creating new uncertainties.
The class structure of the new-for-2014 series is a case in point. When the bigwigs from Grand-Am and the ALMS gathered in Daytona Beach to confirm the news back in September, they painted a picture of the grid for the inaugural season in the broadest of brush strokes.
They told us that there wouldn't be LMP1 cars in the field when the new and as-yet-unnamed series kicks off with the Daytona 24 Hours in early 2014 and that there would be Daytona Prototypes from Grand-Am and GT (nee GTE) cars from the ALMS.
The suggestion was that they would allow in LMP2 machinery, but that came from Don Panoz, the man who'd just sold his motorsport empire to the France family at Daytona.
The presence of an LMP2 car at November's Daytona test didn't provide the confirmation of the future of the category. Firstly, everyone was still presuming the France family would insist upon DP being the premier category. Secondly, no one could quite envisage how the P2s — which lap Laguna Seca seven seconds quicker than their Grand-Am cousins — could become the secondary category.
That's changed with Grand-Am boss Ed Bennett's latest proclamation — outlined in the Christmas double issue of AUTOSPORT magazine — that he wants DPs and P2s to be battling it out for outright victories come 2014. That's an important answer to some of those unanswered questions, but one that definitely raises some more.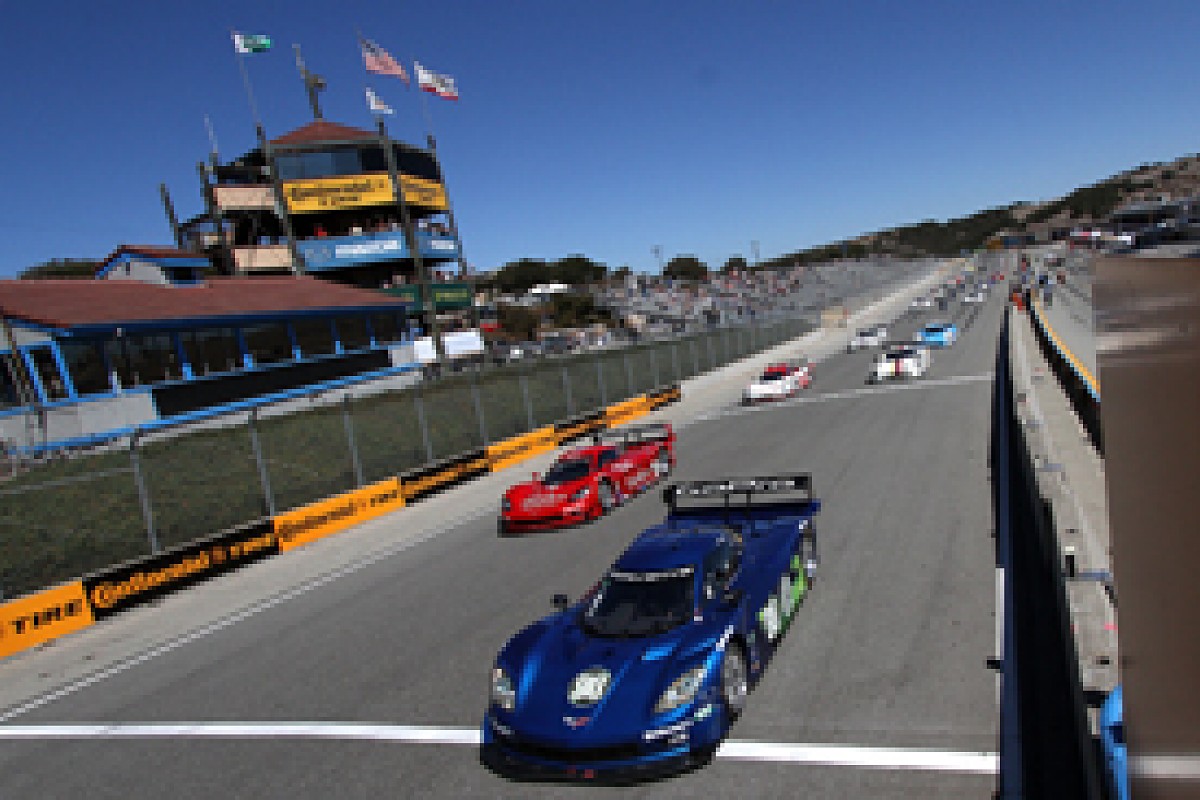 Grand-Am's top class is some way off LMP2 pace around tracks like Laguna © LAT
Creating a scenario whereby a P2 is slower than a DP sounded well nigh impossible, yet pegging one back to a point where it is on a par with one of Grand-Am's prototypes is still going to be difficult.
Equalising them on the Daytona International Speedway is one thing, making them run at a similar pace around the twist and turns of Laguna or on a street circuit is something altogether different.
That's because the two types of car achieve their speed in different ways: a DP has a power advantage in excess of 100bhp, whereas a P2 car has much more downforce, which explains that seven-second margin at Laguna.
Bennett concedes that the DPs are going to have to start going quicker in 2014. Nearly every tool in the chest will have to be brought out to achieve that, which means more power, more downforce and a better tyre. Slowing the P2s won't be quite so straightforward.
The simple reason is that if you start closing up the air-restrictor on an LMP2 engine, you are going to cause all sorts of problems. It's not really an option, and Bennett admits as much.
An LMP2 right now struggles to outdrag a GTE car and has to do the bulk of its overtaking into the corners. If a P2 driver can't even get alongside a GTE car, overtaking is going to become a do-or-die affair that at best is going to blunt the race performance of the baby prototypes and at worst cause carnage.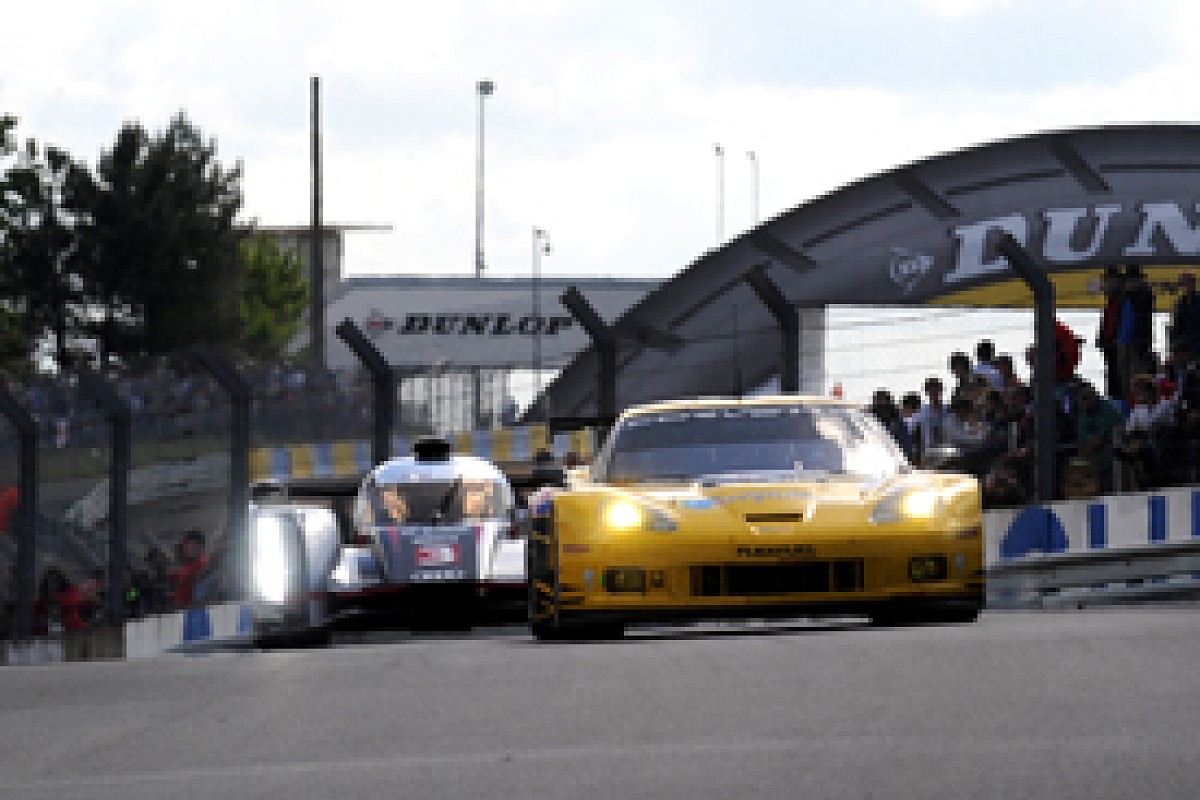 Corvette wants to easily switch between Le Mans and America's top series © LAT
Slowing the GTE cars doesn't seem to be on the agenda. Chevrolet, a key player on both sides of the now-breached US sportscar divide, had a hand in the merger and it's understood that part of the agreement is that a GTE car can race Stateside in the same specification, give or take, in which it will take part in the Le Mans 24 Hours.
Whatever Grand-Am does, the two types of car are going to achieve their lap time in different ways. The more powerful DPs will have the upper hand on the straights, the higher-downforce P2s will be faster through the corners. And that could make for some brilliant racing.
Bill Riley at Riley Technologies spoke to me before Christmas and talked about some classic races between his Riley & Scott MkIII and the Ferrari 333SP in the 1990s. I well remember some fine competition at Daytona as the Italian cars stretched their legs on the banking only to have the nimble R&S come back at them on the infield.
Perhaps a better example would be some of those great fights between the turbodiesel Audi R10 and Porsche's RS Spyder a few years back. That LMP1 versus LMP2 battle was a David versus Goliath confrontation if ever there was one.
Another race I was luckily enough to witness first hand was the Detroit ALMS event in 2007. It was a thriller in which the best of the RS Spyders, driven by Romain Dumas and Timo Bernhard, prevailed. Dumas and Audi driver Emanuele Pirro swapped the lead no fewer than three times on one lap in the closing stages.
Equating a Daytona Prototype with a LMP2 machinery isn't going to be easy and will produce a new uncertainty. But this time it's going to be good uncertainty — about the outcome of the race.