There are just nine cars in GTE Pro at Le Mans this year, but it could provide the most spectacular class battle of the race - with all nine entries looking capable of victory.
AUTOSPORT heard from the major players as they made their final preparations for the weekend.
Westbrook doesn't reckon Corvette has the outright pace © LAT
Westbrook counts on race pace
If not the most common pick, Corvette did at least seem to be in the back of most GTE Pro teams' minds. Quickest in the first qualifying practice, the #74 C6 didn't improve in either the second or third sessions but had still done enough to secure third on the grid. What attracted most attention however was its pace over the standard 13-lap stint on the Circuit de la Sarthe.
"I will be totally honest with you and say we are not favourites," Westbrook says. "We definitely weren't at the start of the week - but we are getting closer to it. We have definitely made more of a step than anyone else.
"With qualifying here, what you have seen this year is a really fast lap compared to people's race pace, so it is very difficult to know what people are doing in qualifying - because it is qualifying but it is also practice.
"A lot of time we have been concentrating on race set up and then just gone for a time, and we felt like we were punching above our weight with the incredible time Oliver did. But the Ferrari and Aston can definitely do that comfortably over one lap.
"For race pace though it is a different picture - and it's very difficult to evaluate what programmers others are running. Aston and Ferrari will be there and so will the Felbermayr Porsche. Every year they play it down but they'll be there at the end, because the car is a known quantity, they have a lot of experience and it just seems to get faster and faster during the race. And if it rains, they will be good..."
The Porsche challenge has been low-key so far © LAT
Porsche plays down chances
If Westbrook was tipping Porsche to be a dark horse, Wolf Henzler over at the #77 Felbermayr-Proton squad refused to bite.
A deficit of more than two seconds to the pacesetting #59 Luxury Racing Ferrari, Henzler says, means aiming above a podium is highly unlikely.
"Can we still win? If everything is fine and perfect maybe we can get the podium, but honestly I think we are too slow to win," he reported, before passing the baton back to Westbrook. "For me, the Corvette looks very good.
"We do know that we have a good car, good tyres. Always something can happen, to us and to others - gearbox, engine, traffic. We know this and we know what our car can do, so we just try and look at the whole 24 hours rather than a single lap.
"With that in mind, and knowing that we are not as quick as the others, we already started preparing for the race during qualifying. In the beginning we really pushed a lot and tried to get a good lap, but we are two seconds off and there is no sense to really push for half a second or so to close the gap. It doesn't make any difference."
Makowiecki's Ferrari starts on GTE Pro pole © LAT
But Makowiecki tips Porsche...
This year's GTE polesitter Frederic Makowiecki was another tipping Porsche to be something of a dark horse, given the disparity between its qualifying and race pace.
"Normally Porsche is very strong in fuel consumption, and I think whoever can run long will have a chance," he said.
"However, we have done a lot of work this year to really close the gap and we're very confident. We have an amazing chassis, especially on braking and turn in, and if you have that great chassis you can try and be a bit safer on the fuel and try to run one lap longer, which can make all the difference.
"We are disappointed to have not so many cars in GTE Pro but last night shows just how good it would be to win this race, how close it is. Every car has a nice team of drivers, really professional set-up and really close to the manufacturers and brands. There are a lot of factory teams too, so just nine cars still means nine teams capable of winning."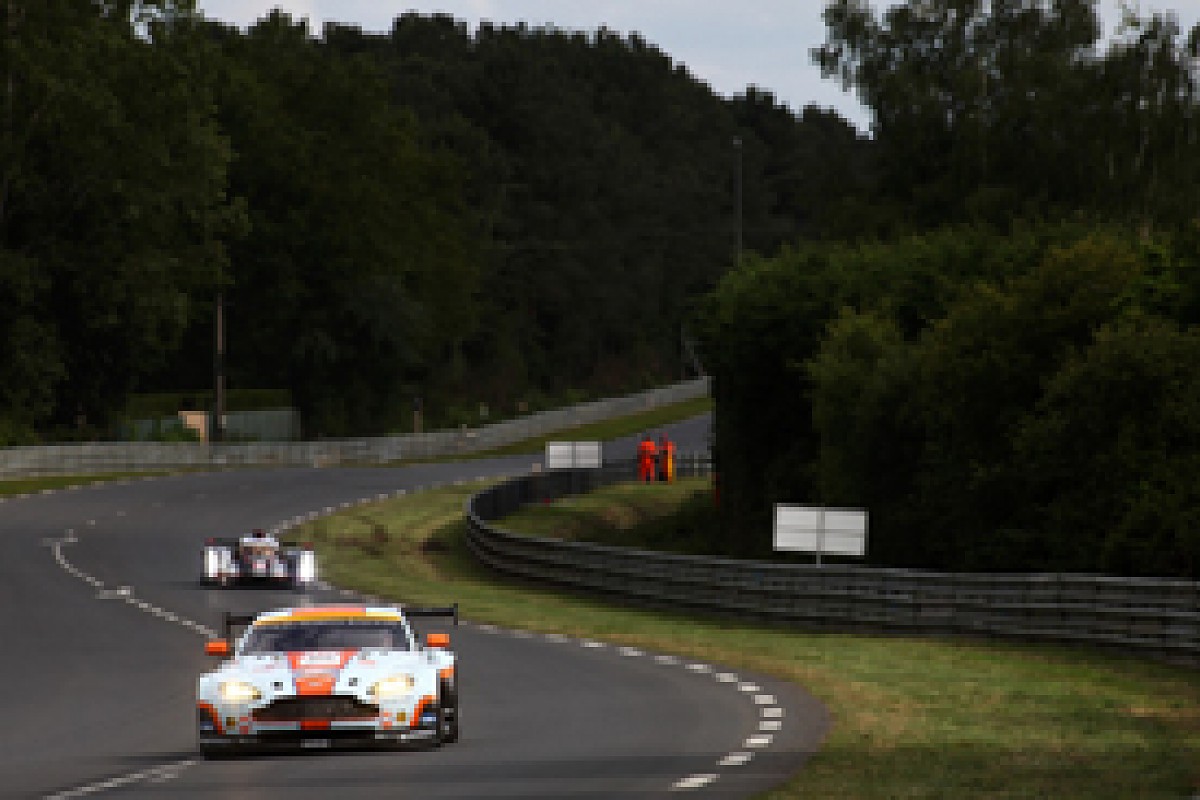 Aston is a dark horse © LAT
Aston: It's anyone's race
The theme of each car's suitability to the La Sarthe circuit crops up with Aston Martin too. Tremendously quick over a single lap, the AMR squad is however struggling a touch with the set-up of the car, and in particular with the rear - the product of removing the gurney flaps on the wing in order to boost straight line speed down the Mulsanne.
"The car obviously runs on low downforce here so it is a little bit more unstable - we don't run with the rear gurney for example," team manager John Gaw says. "Our main focus has therefore been on making the car easier to drive.
"The gurney flap affects rear stability - you take it off for speed, but in the high-speed corners the car is not as stable. We have made a few tweaks to improve the situation.
"As Darren Turner says, it will be like a touring car race - so it will be won or lost on no accident damage, no mistakes and staying out of the pits. It will be a hectic race too, as it's the most competitive GT field for a long time. We've never had so many manufacturers properly going for it, and all of them could win."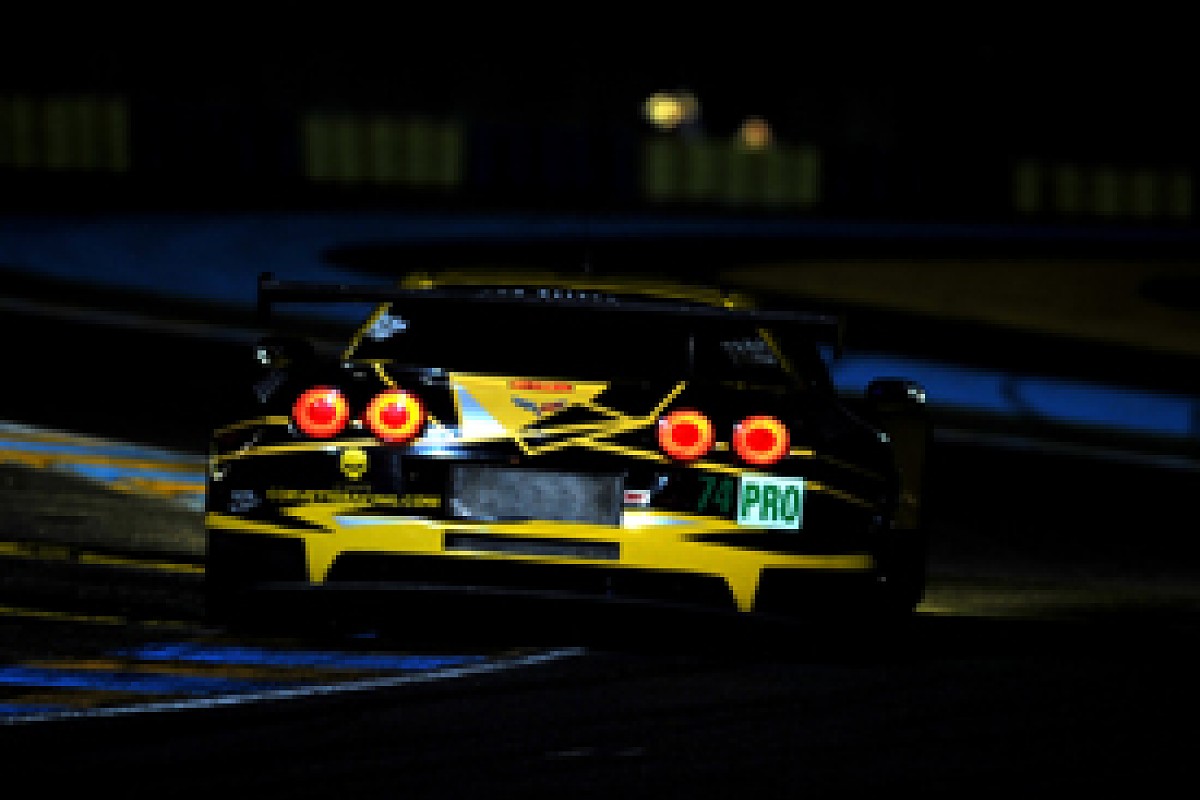 Corvette driver Gavin knows about tough-to-drive Le Mans cars © LAT
Oliver Gavin's musings
Gavin was one who noted how the Aston Martin was not always settled at the rear - something he says he too experienced with last year's Corvette.
"They seem to be on a bit of a knife edge. I followed Adrian [Fernandez] last night and he looked... he wasn't attacking, he wasn't really driving with a lot of confidence. That might change of course," Gavin reflected.
"Last year our car was pretty tricky and a little bit on a knife-edge in a similar way. I think with us coming here with the wider-track car, with the higher rear wing, with the different Michelin front tyre, we have worked with a lot of different things.
"Us going to the wider track has had a pretty big impact on how our car punches a hole in the air. It increases the stability and I think we would all say we are happier with how our car is driving this year compared to last.
"This year it seems to be the changes have made the car more comfortable and predictable. That's always what you want here. This place is massively intimidating when you have a car that is edgy and your confidence can just ebb away, especially at night.
The flip side, however, is that the changes create more work in terms of dialling in the car. "When you look at the Ferrari, effectively the car is basically the same as last year, just an evolution. It hasn't had these big changes - and that's another reason it should be strong.
"Coming in, if someone said we would be third we would take that for sure. Going into the race I don't think we have the outright, one-off pace to battle with the AF Corse and Luxury Ferraris and the Aston Martin.
"[The Ferrari's] off-the-truck set-up is quick and that car is mustard, it really is very quick. I think over one stint, over the race, I would say they are the strongest in our class.
"If you look at how many races we have won, we have achieved a lot. Seven wins in 11 years I think. Statistically we are looking pretty good, but what they say is just history. You can never really call it. Last year Richard and I were both sitting one lap ahead, 8 in the morning looking really good and then the contact with the Felbermayr car - it can just be over like that.
"That's the thing about this event, you can never take anything for granted. If you have a problem or issue you won't win, because one of the nine cars will have a clean race and be fast enough to ensure you can't make it back up. If you go a couple of laps down you're toast unless others run into trouble."