Britain's Andy Priaulx will start the Le Mans 24 Hours from third in the GTE Pro class for BMW, despite a heavy crash in second qualifying at the Ford chicane.
Priaulx was unsighted by debris on the track which caused him to lose traction and spin into the barriers, bringing the session to a temporary halt as his stricken car was rescued.
AUTOSPORT caught up with Priaulx following the crash, when he insisted it would have no adverse effects on his race prospects.
Q. Could you have gone for pole?
Andy Priaulx: Yeah. I set pole on Wednesday night, literally only had a couple of laps in the car and was really competitive straight away. Unfortunately it meant I didn't get the chance to drive the car [on Thursday], I drove an out-lap and ended up with a pretty heavy impact so I didn't drive at all. Augusto [Farfus] is a quick kid and he wouldn't have been easy to beat, but I'm confident that we could have been pretty close to pole.
Q. You were angry yesterday, uncharacteristically waving your arms about. What was your reaction?
AP: Was I? A bit of red mist and adrenalin there I would say. I must admit I was disappointed by the fact there was no warning of the slippery surface, there was no flag out until I went off. Clearly that is a very, very difficult corner for the driver because it is unsighted, you can't see the apex so you're arriving with a lot of commitment on the turn in. I was just starting my lap, I wasn't on a flyer, but I turned in and it just spun immediately and put me in the wall.
I felt a bit disappointed because there were no visible signs of any flag signals or any warning at all. When there's a slippery surface you should have a warning before you brake. I think two other cars went off before me - even that I would have liked to have seen a waved yellow or something, but there was nothing at all. It's just the way it is, so we need to be on the case now - maybe when we see it on the TV screen try and notify the driver, which is what we're going to do now. It was a big, big shunt, a lot of damage.
Q. Is there anything wrong with you after the crash?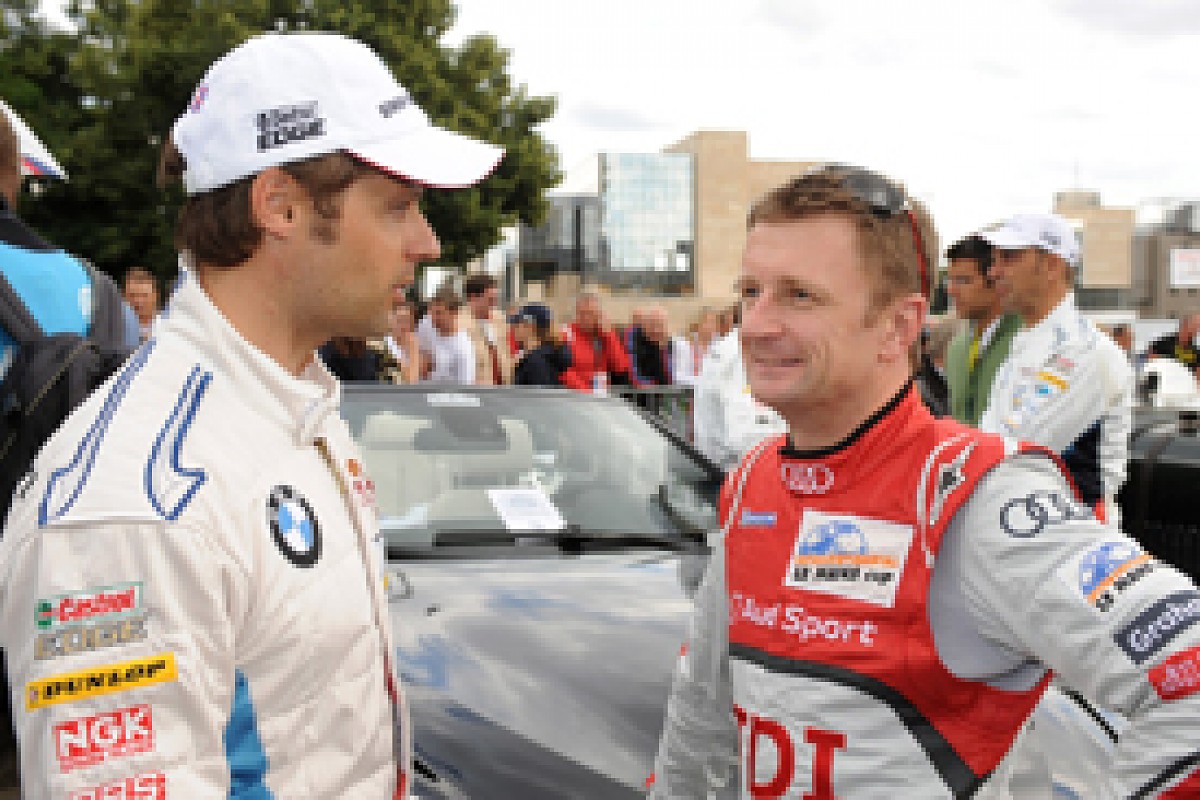 Andy Priaulx chats with Allan McNish © LAT
AP: No, I'm fine. I was lucky really, the tyres took a lot of the impact so apart from a sore neck I'm pretty fine. A good massage, some good treatment and I'm okay.
Q. Was that one of the biggest crashes you've had?
AP: No, I've had bigger. I had a nasty one at the Nurburgring a few weeks ago. I've just been a bit unlucky in the last couple of races. I need to stay out of trouble a bit; it's annoying when it's out of your control. I'm the first to admit when I make a mistake, but unfortunately in this situation it's better when it's not your responsibility but it still doesn't make it easier on the team. They've had to work until 6.30 this morning on the car to get everything sorted.
Q. How much damage was there?
AP: The problem is with these accidents it looks superficial on the outside, but you go back into the car and there's so much geometry. Every part on the front of the car has been removed and replaced, so it has been a substantial job.
Q. Did you have to change the engine?
AP: We would have changed the engine and gearbox anyway. The nice thing is we're slightly ahead of the other car now because it ran until midnight last night. The warm up is a real roll out for us.
Q. Will making those changes affect how the car feels?
AP: This car's a really strong car - I've had a couple of nasty offs in this car now and it's really strong, so I don't expect any adverse handling from what happened.
Q. Does the BMW have an edge this weekend?
AP: It looks like it, at least over one lap. I don't know how we're going to be race-pace wise, but I must say Dunlop have given us a really good qualifying tyre which was very grippy and made it a pleasure to drive the lap. We now need to concentrate on having a good car for the race. We have a little bit of work to do, the other car is very happy and there's no reason we can't be in good shape for the race.
Q. Is 2011 a hugely different situation from last year?
AP: It is. Last year we had the restrictor, which really hurt us. This car has a big frontal area, and we lose a lot of time on the straights so to have the restrictor on top of that as well was very difficult last year. Now the car has better aero and better performance, so we're in good shape for sure.