Inaugural W Series champion Jamie Chadwick described the Brands Hatch finale in which she beat Beitske Visser to the title as "probably the most stressful 30 minutes of my life".
Chadwick took a fourth place finish to secure her championship victory - having held a healthy lead of 13 points over Visser going into Brands Hatch.
The British finale marked the first time the Williams Formula 1 development driver has been absent from the W Series podium all season.
Chadwick had started the race from pole position, which she had snatched away from eventual Brands Hatch winner Alice Powell in the final moments of Saturday's qualifying, and she held the lead in the early stages of the race.
But both Powell and third-placed starter Emma Kimilainen closed the gap to Chadwick, with Powell passing her on the inside of Paddock Hill Bend at the same time as Kimilainen - before the pair extended a nine-second gap and left Chadwick to defend from Visser.
A safety car as a result of Miki Koyama's Sheene Curve spin closed up the field, before Chadwick's small error at the restart allowed Visser past to take the final podium spot, although it was not enough to prevent Chadwick taking the title.
"It [winning the title] will sink in later, it hasn't at all. Now I'm still thinking about that race, which was awful," said Chadwick.
"Alice maybe had a bit more pace than me, and [it was] kind of that nothing to lose feeling, and I knew she was going to make a bit of a move.
"She threw it down the inside at Paddock, which actually caught me out big time and that allowed Emma through.
"There was a little bit of wheel-banging, and I knew it wasn't my battle to fight so I kind of lost my rhythm from there.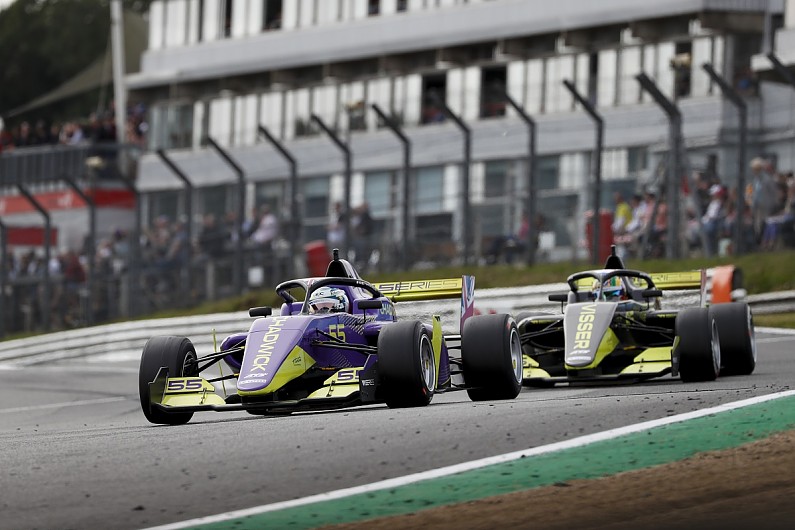 "I felt I had Beitske behind me quite easily but then I managed to make a small mistake and open the door to her.
"Honestly as the race goes, it was probably the most stressful 30 minutes of my life.
"I've never really experienced that level of pressure before, wanting to win the championship but in the back of your mind, you just want to win the race.
"I'm a bit gutted still, I don't want to be that typical racing driver, but I would have loved to have won today and I would have loved to secure the championship in style."
In winning the championship, Chadwick receives a $500,000 share of the $1.5 million total prize fund, as well as a guaranteed seat in W Series for 2020 if she chooses to defend her title.
The FIA announced at the last World Motorsport Council that W Series would be eligible for superlicence points next year, although the exact amount is still subject to approval.