Emma Kimilainen was "always" going to return to compete in W Series in 2019, despite missing half of the season due to an injury.
Kimilainen was injured in a first lap accident with Megan Gilkes at the opening round at Hockenheim in early May, complaining of pain in her neck and head over her team radio in the aftermath of the clash.
She returned to drive at Zolder two weeks later, but was ruled out after the practice running and also did not compete at the subsequent third round at Misano.
After impressing with her performance over the course of the Hockenheim weekend, and before that in pre-season testing, Kimilainen had looked like a probable championship hopeful.
Kimilainen returned to action at the Norisring last weekend, scoring a fifth position and moving to 10th in the championship with just two rounds left to go at Assen and Brands Hatch.
"I've had long breaks in my career so a couple of races was nothing," said Kimilainen.
"For me it feels the same and I don't need a lot of time in the car to feel confident or anything like that.
"Of course I was always going to come back, it's good for me just to be racing. There's still a chance I could win the next few races and we can see where I end up in the championship.
"I would not have missed this for anything. Even if I can't win the championship this year it's just important to drive and enjoy it and be a part of our community.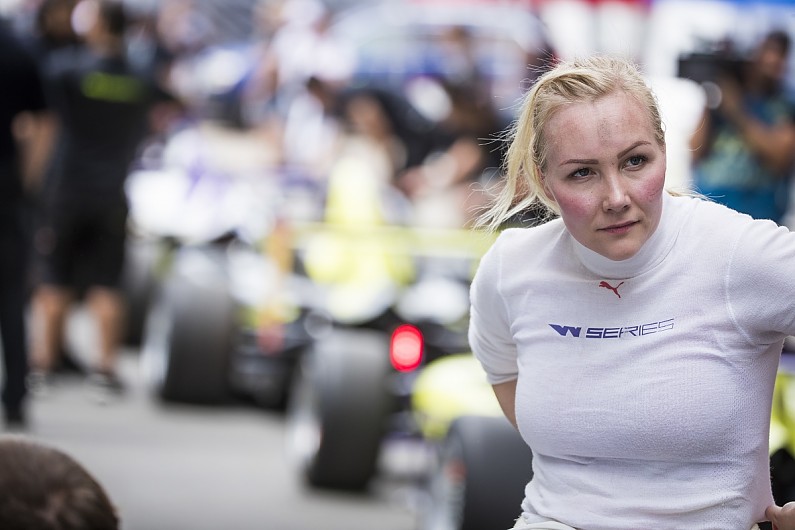 "I'm really happy to be feeling fine and to be able to race and know that I'm ok and can do this.
"I'm so grateful to the medical team at Hintsa and the doctors I've been treated by because they've been calling me everyday for the past two months and trying to figure out what might make me better.
"This is definitely for them, to prove and to show that we made it."
Kimilainen's qualifying effort at the Norisring was interrupted by two red flags, which left her eighth on the grid and out of position at the start.
But her battle with Miki Koyama and Jessica Hawkins for fifth and sixth was among the race's highlights.
"At the beginning it was so close I didn't actually manage to get out of it in one piece, I got hit - I don't know who by - but that bent my pushrod on the rear right tyre so for the whole race I drove with a bent tyre, which made my whole tyre a bit off," explained Kimilainen.
"My engineer was afraid of a puncture the whole time."