Emma Kimilainen will miss a second W Series round in succession, having pulled out of the Misano race on medical grounds.
Kimilainen missed the most recent round at Zolder because of an old injury that had flared up as a result of her lap-one clash with Megan Gilkes at the opening round at Hockenheim in early May.
The Finnish driver currently has no points in the championship, which reaches its halfway mark at Misano this weekend.
"I'm very disappointed not to be able to race at Misano this weekend, but I understand the advice I've been given and I'll abide by it," said Kimilainen.
"I feel I've been on top of the W Series car in the practice sessions and qualifying sessions I completed at Hockenheim and Zolder, and it's obviously a great pity that, through no fault of my own, I didn't get a chance to translate that pace into race results.
"But my hope is now to be fully fit for Norisring in early July, so that I can finish the W Series season with three strong performances at Norisring, at Assen and at Brands Hatch."
While Kimilainen will miss the Misano round, both W Series reserve drivers Sarah Bovy and Vivien Keszthelyi will compete at the Italian venue, meaning the race will be run with a grid of 19 cars.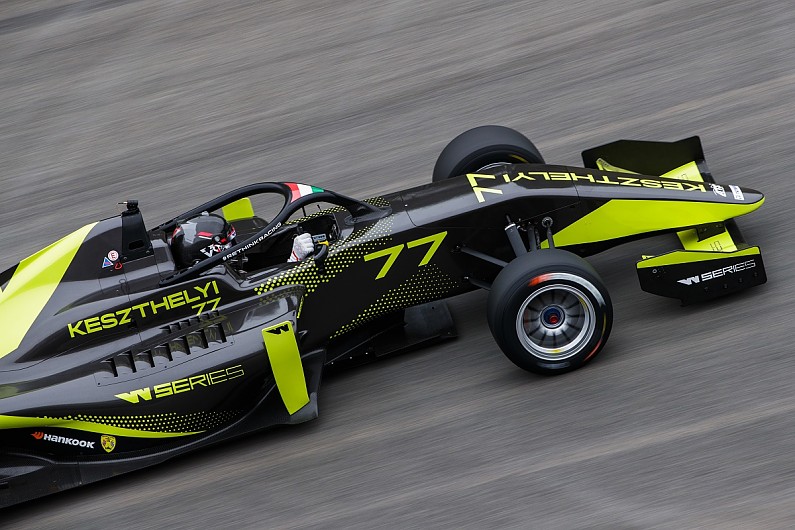 Bovy and Keszthelyi were given the opportunity to race at Zolder - Bovy as an extra entry and Keszthelyi in place of Kimilainen - but both drivers ultimately failed to finish the race; Bovy suffered a car failure on the grid, while Keszthelyi retired as a result of a clash.
"We're disappointed for Emma, who has been competent and quick whenever she's driven the W Series car, but of course we look forward to welcoming her back as and when she's fit enough to compete again," said W Series Racing Director Dave Ryan.
"In the meantime, we're happy to be able to offer the opportunity to race at Misano to both Sarah [Bovy] and Vivien [Keszthelyi], our two reserve drivers.
"It's a positive development for them both, and indeed for all of us, that they'll travel to Misano with the foreknowledge that they'll be competing in both practice sessions, in qualifying and in the race."