Beitske Visser and Jamie Chadwick topped a Friday practice session each ahead of the second W Series weekend at Zolder.
Chadwick followed up her Hockenheim win by going fastest in the first session, which proved to be the quicker of the two.

She and Visser then traded times for top spot throughout the first half of practice two, with Visser's best time of 1m29.490s enough to keep her at the head of the field by a margin of 0.342 seconds.
Hockenheim podium finisher Marta Garcia ended her practice running in third place, improving on the morning session where she was sixth.
Garcia led Tasmin Pepper, who enjoyed a strong end to the day having only been 18th in the first session.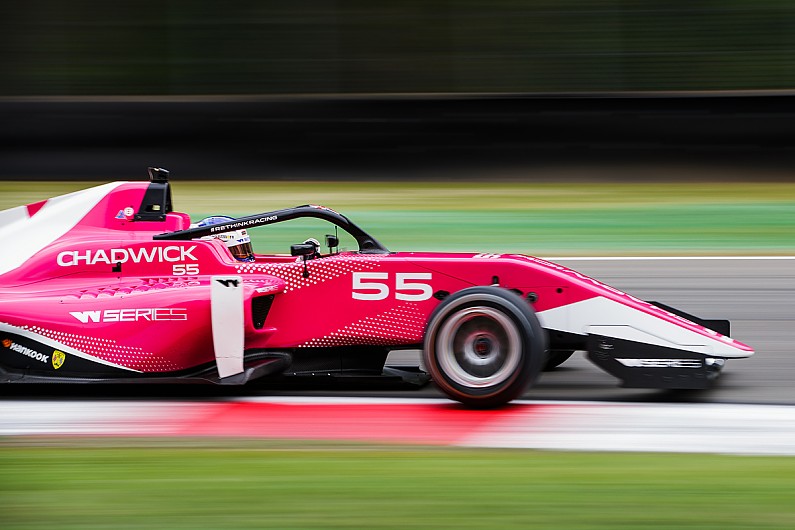 Emma Kimilainen, who suffered a DNF at the first round at Hockenheim after a first-lap collision with Megan Gilkes, ended the day in fifth ahead of Fabienne Wohlwend in sixth.
The second half of the second free practice session was affected by rain, with almost all drivers remaining in the pitlane in the closing minutes of the session - with the exception of Gosia Rdest, who was seventh.
Sabre Cook went eighth fastest, with British drivers Esmee Hawkey and Sarah Moore completing the top 10.
Former GP3 driver Vicky Piria was 11th, recovering after having caused a brief red flag period in the earlier session with a run into the gravel trap.
Alice Powell, who was second at Hockenheim and was briefly fastest in the first session, failed to set a lap in practice two.
Most W Series drivers are competing at Zolder in a different chassis to the one they raced in Hockenheim, with the cars having been allocated by way of a random draw prior to the start of the weekend. The only exceptions are Hockenheim first-lap crash victims Kimilainen and Megan Gilkes, who have stayed with the same chassis they used in Germany.

Practice one times
| Pos | Driver | Time | Gap | Laps |
| --- | --- | --- | --- | --- |
| 1 | Jamie Chadwick | 1m28.862s | - | 20 |
| 2 | Emma Kimilainen | 1m29.379s | 0.517s | 19 |
| 3 | Beitske Visser | 1m29.418s | 0.556s | 20 |
| 4 | Jessica Hawkins | 1m29.684s | 0.822s | 18 |
| 5 | Alice Powell | 1m29.716s | 0.854s | 20 |
| 6 | Marta Garcia | 1m29.920s | 1.058s | 20 |
| 7 | Fabienne Wohlwend | 1m30.105s | 1.243s | 20 |
| 8 | Miki Koyama | 1m30.452s | 1.590s | 20 |
| 9 | Gosia Rdest | 1m30.904s | 2.042s | 19 |
| 10 | Vivien Keszthelyi | 1m30.927s | 2.065s | 19 |
| 11 | Sarah Moore | 1m31.008s | 2.146s | 19 |
| 12 | Sarah Bovy | 1m31.008s | 2.146s | 18 |
| 13 | Esmee Hawkey | 1m31.022s | 2.160s | 15 |
| 14 | Shea Holbrook | 1m31.071s | 2.209s | 21 |
| 15 | Sabre Cook | 1m31.229s | 2.367s | 20 |
| 16 | Vicky Piria | 1m31.370s | 2.508s | 19 |
| 17 | Naomi Schiff | 1m31.395s | 2.533s | 20 |
| 18 | Tasmin Pepper | 1m31.527s | 2.665s | 19 |
| 19 | Caitlin Wood | 1m31.790s | 2.928s | 19 |
| 20 | Megan Gilkes | 1m34.099s | 5.237s | 13 |
Practice two times

| Pos | Driver | Time | Gap | Laps |
| --- | --- | --- | --- | --- |
| 1 | Beitske Visser | 1m29.490s | - | 11 |
| 2 | Jamie Chadwick | 1m29.832s | 0.342s | 12 |
| 3 | Marta Garcia | 1m29.986s | 0.496s | 12 |
| 4 | Tasmin Pepper | 1m30.133s | 0.643s | 15 |
| 5 | Emma Kimilainen | 1m30.225s | 0.735s | 14 |
| 6 | Fabienne Wohlwend | 1m30.229s | 0.739s | 15 |
| 7 | Gosia Rdest | 1m30.756s | 1.266s | 13 |
| 8 | Sabre Cook | 1m30.958s | 1.468s | 15 |
| 9 | Esmee Hawkey | 1m30.978s | 1.488s | 11 |
| 10 | Sarah Moore | 1m31.000s | 1.510s | 16 |
| 11 | Vicky Piria | 1m31.386s | 1.896s | 13 |
| 12 | Caitlin Wood | 1m31.387s | 1.897s | 19 |
| 13 | Shea Holbrook | 1m31.409s | 1.919s | 15 |
| 14 | Naomi Schiff | 1m31.487s | 1.997s | 17 |
| 15 | Sarah Bovy | 1m31.551s | 2.061s | 18 |
| 16 | Miki Koyama | 1m31.561s | 2.071s | 13 |
| 17 | Megan Gilkes | 1m31.883s | 2.393s | 11 |
| 18 | Jessica Hawkins | 1m31.943s | 2.453s | 11 |
| - | Alice Powell | - | - | 2 |