Inaugural W Series race winner Jamie Chadwick admitted to feeling extra pressure over the Hockenheim weekend because of the high-profile media interest in the series.
The first all-female international racing championship finally got under way at Hockenheim on the DTM support bill last weekend and was won by Chadwick in dominant style as she led the way in every session.

The verdict on W Series' first weekend

But Chadwick said that she felt "relief more than anything" when she crossed the line to win a race she only briefly lost the lead of with an opening lap error.
"I was particularly happy because I was relieved," said Chadwick.
"I felt a bit of pressure to be honest going into it, mainly pressure I put on myself.
"But the nerves had definitely built up going into [the race], so to get pole and then win was a relief more than anything else.
"I did feel the pressure, a lot of that is the hype around it but also pressure that drivers put on themselves.
"I just had to focus on what I need to focus on and do the job I needed to do.
"You go into every race wanting to win, and every race you win you're delighted about so it is super exciting to get a win this weekend for the [series'] first time, but also just to get a win to be honest."
Alice Powell, who was second on her return to single-seater racing after a five-year hiatus due to a lack of funding, echoed Chadwick's thoughts.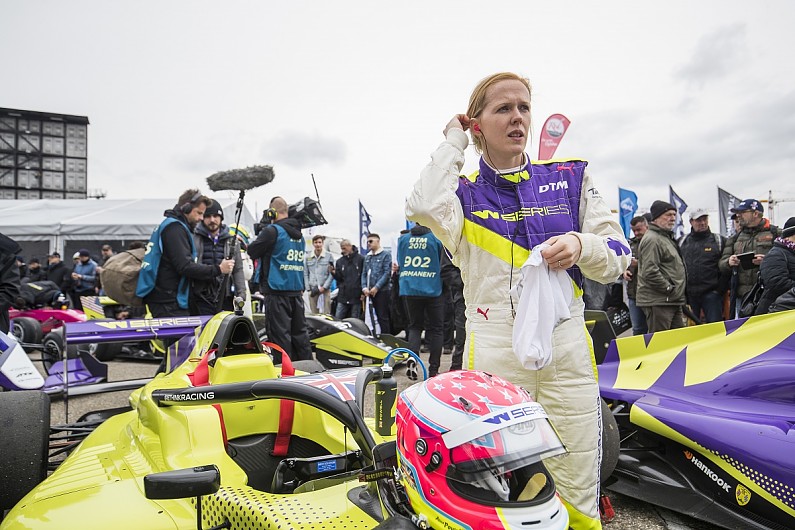 "All of us put pressure on ourselves to do well and all of us have pressure to do well from outside whether that's friends, family, media as well - I just try to focus on the job we have to do and naturally we're all going to feel pressure anyway," said Powell.
"Anyone who says they don't feel any pressure - I want to try and be like them but I think they're lying."
One of the youngest drivers on the grid, Marta Garcia, completed the inaugural W Series podium and also noted that she had felt more media attention on her over the course of the weekend.
"There was pressure and there were lots of people around you which adds pressure in some way so you need to really control that," said 18-year-old Garcia.
"I think there's been more media here for W Series than I've ever seen in any other championship so that's more pressure all around but if you can control it, then you will be OK."