Isle of Man TT winner James Hillier believes there are 'almost more good riders than good rides' available, as he contemplates his plans for the 2020 road racing season.
Hillier made his TT debut in 2008 with the Bournemouth Kawasaki squad and has remained loyal to the team since, registering 13 podiums and a victory in the Lightweight TT in 2013.
The 2019 season was another solid affair for Hillier, who registered his first win at the North West 200 in May in a wet Superstock contest, and managed podiums in both Supersport races at the TT.
Speaking at Motorcycle Live last month, Hillier admitted he has contemplated racing elsewhere but said a solid enough package has not been available to tempt him to leave his current team.
"In the last few years I've sort of had itchy feet, but nothing's ever been there that's been comfortable enough for me to go and step into, and I think that's the downside of being the team I have been in for so long," he said.
"There's nothing wrong with what I have and I do believe in it, but there's a part of me that wants to try something different and I don't want to get to the end of my career having not done that and I wish I had.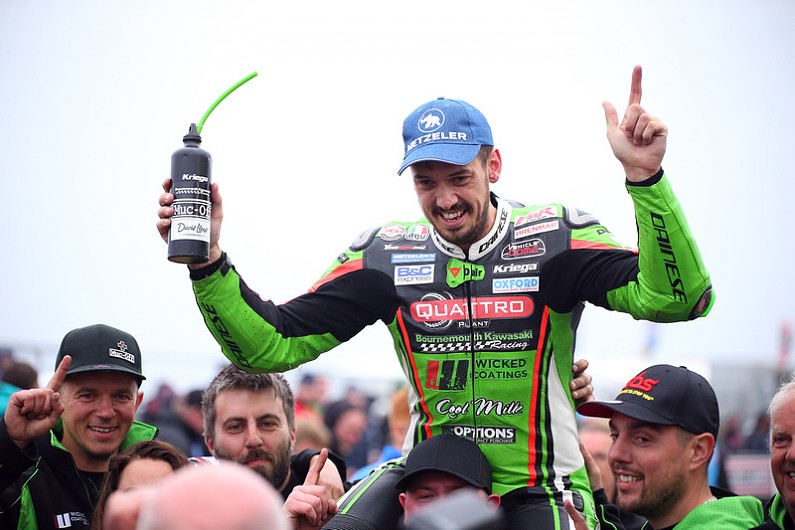 "So it's a bit of a funny situation to be in.
"There's almost more good riders than there are good rides at the moment, and with the TT it has to be a right choice and it's a long year to wait to have a go on something else.
"So I don't want to jump into something that might not be quite right."
Earlier in the year, Bournemouth Kawasaki announced it would no longer be Kawasaki's official squad in the British Superbike Championship, while Silicone Engineering took over that role on the roads last year.
Hillier's options for top rides outside of Bournemouth Kawasaki on the roads for 2020 are limited.
Silicone Engineering will once again run 2019 Senior TT winner Dean Harrison, while Smiths Racing - which becomes BMW's official road racing team next year - will continue with road racing dominator Peter Hickman.
It is unclear if Tyco BMW will return with Michael Dunlop after a largely difficult 2019 season, while Honda announced last month Davey Todd would partner TT debutant Glenn Irwin on its all-new Fireblade.
Conor Cummins also recently confirmed he will be staying with Padgetts Racing.
John McGuinness's Norton future is uncertain at present, as he contemplates sticking with Stuart Garner's team after a return year plagued by reliability woes.
The 23-time TT winner told Autosport last month he has held discussion about racing a Paul Bird Motorsport Ducati V4 R - which he rode at the Macau Grand Prix - but first had to "get round a table" with Garner to understand his plans.