Isle of Man Superbike TT runner-up Dean Harrison says he suffered from a mysterious "surging" issue with his Kawasaki on the second lap of Monday's race.
Harrison led eventual winner Peter Hickman by 4.8 seconds early on lap two of Monday's shortened SBK TT, but was overhauled by the Smiths Racing rider over the mountain.
Silicone Engineering racer Harrison said it felt like his ZX-10RR was cutting out over this section, but rectified itself after his pitstop and "was fine all the way to" the Ballaugh Bridge crest before a red flag brought the race to an early end.
"I had a problem on lap two," said Harrison.
"I had a few problems with the bike surging, like almost cutting [out]. It was almost like a long fifth [gear].
"I explained that [to the team] in the pits, filled the fuel tank, went back out and it was fine all the way to Ballaugh.
"So why it was doing that I don't know, so we need to look into it for next time. It is what it is.
"The bike was working well, the lads did a good job, the pitstop was slick. It's just frustrating what's happened."
On top of his bike issue, Harrison admitted he was "really struggling" in the windy conditions over the mountain because he is "a bit more weaselly" than Hickman and third-placed Conor Cummins.
"I've got to be honest, I was really struggling with the wind sort of buffeting me about," he added.
"I'm a bit more weaselly than these two. I was really struggling on the mountain with the wind, I was really struggling on the way into the turns [with] blustering, buffeting me about."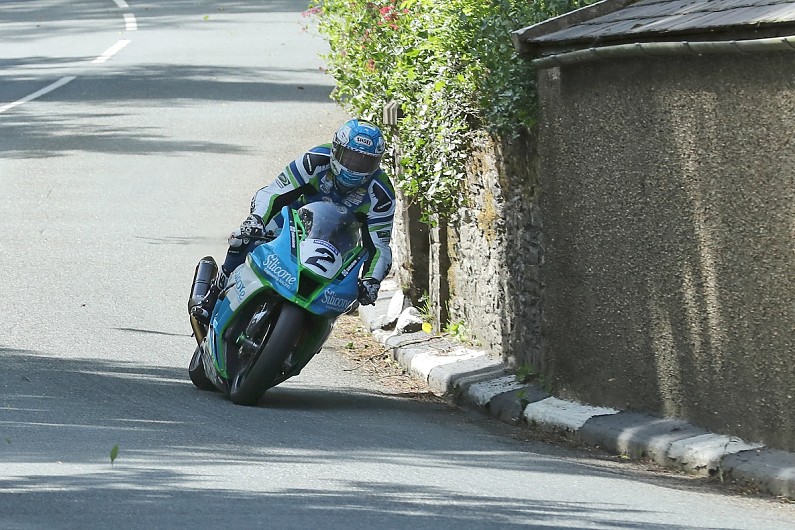 Harrison also noted his ZX-10RR seemed to be lacking corner-exit speed, especially compared to Honda rider Cummins, whom he was following in the race.
"Conor was really strong on corner exit," he added.
"Top-end speed, my Kawasaki is faster than the Honda to be honest.
"I could slipstream past Conor on peak speed no problem. The Honda is really strong on the grunt out of the turn, which we seem to lack a little bit on.
"Whether it's a gearing thing or just a general bike thing, I'm not quite sure. It's just a few corners on the mountain where grunt is the big thing."