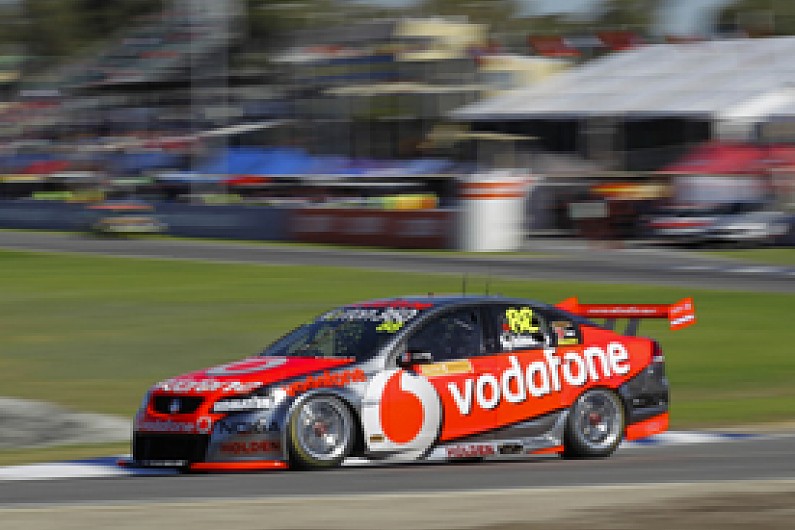 Jamie Whincup will start from pole position for the first of this weekend's V8 Supercar races at Barbagallo.
The Triple 8 Holden driver led the way in this morning's 20-minute qualifying session with a 56.0734s lap, which put him 0.2 seconds clear of front row partner Will Davison's FPR Ford.
Craig Lowndes will start third in the second Triple 8 car, ahead of Steven Johnson (Dick Johnson Ford) and Rick Kelly (Kelly Holden).
Local man Karl Reindler produced the best qualifying performance of his V8 career so far to beat reigning champion James Courtney (Holden Racing Team) to sixth. Courtney's team-mate Garth Tander went off the road twice and was only 23rd.
Pos  Driver               Team/Car              Time      Gap
 1.  Jamie Whincup        Triple 8 Holden       56.0734s
 2.  Will Davison         FPR Ford              56.2865s  + 0.2131s
 3.  Craig Lowndes        Triple 8 Holden       56.6132s  + 0.5398s
 4.  Steven Johnson       Dick Johnson Ford     56.6990s  + 0.6256s
 5.  Rick Kelly           Kelly Holden          56.7047s  + 0.6313s
 6.  Karl Reindler        Birtek Holden         56.7185s  + 0.6451s
 7.  James Courtney       HRT Holden            56.7224s  + 0.6490s
 8.  Alex Davison         Stone Brothers Ford   56.7279s  + 0.6545s
 9.  James Moffat         Dick Johnson Ford     56.7406s  + 0.6672s
10.  Jason Bright         Brad Jones Holden     56.7691s  + 0.6957s
11.  Lee Holdsworth       Garry Rodgers Holden  56.8444s  + 0.7710s
12.  Mark Winterbottom    FPR Ford              56.8523s  + 0.7789s
13.  Michael Caruso       Garry Rodgers Holden  56.8583s  + 0.7849s
14.  Paul Dumbrell        Rod Nash Ford         56.8831s  + 0.8097s
15.  David Reynolds       Kelly Holden          56.8844s  + 0.8110s
16.  Shane van Gisbergen  Stone Brothers Ford   56.9073s  + 0.8339s
17.  Steve Owen           Paul Morris Holden    56.9707s  + 0.8973s
18.  Jonathon Webb        Tekno Ford            56.9774s  + 0.9040s
19.  Tim Slade            Stone Brothers Ford   56.9848s  + 0.9114s
20.  Russell Ingall       Paul Morris Holden    56.9979s  + 0.9245s
21.  Jason Bargwanna      Brad Jones Holden     57.0046s  + 0.9312s
22.  Greg Murphy          Kelly Holden          57.0363s  + 0.9629s
23.  Garth Tander         HRT Holden            57.0530s  + 0.9796s
24.  Dean Fiore           Triple F Ford         57.1402s  + 1.0668s
25.  Todd Kelly           Kelly Holden          57.1574s  + 1.0840s
26.  Warren Luff          Dumbrell Holden       57.1867s  + 1.1133s
27.  Fabian Coulthard     Walkinshaw Holden     57.2114s  + 1.1380s
28.  Tony D'Alberto       D'Alberto Holden      57.5109s  + 1.4375s