Nick Percat took his second win in as many Supercars race weekends with a well-crafted race two effort at Sydney Motorsport Park, while Jack Le Brocq won a thrilling finale.
Having taken the pain of two sets of hard tyres in the opening Sydney race on Saturday, Percat came into Sunday's first 32-lapper with a healthy stock of soft compound tyres.
That effectively put him on the same starting strategy as Shane van Gisbergen, the pair swiftly clearing hards-shod polesitter Scott McLaughlin and charging into the lead.
Percat spent the entire first stint glued to van Gisbergen's bumper, before diving into the lane to take on a full new set of softs on lap 12.
Had Triple Eight pulled van Gisbergen in on the next lap things may have been interesting at the front, however, for the second day in a row, the factory Holden squad opted to go for a long first stint.
And, just like the opening race, it didn't work. By the time van Gisbergen pitted on lap 22 he was destined to be dumped back in the pack.
That cleared the way for Percat to take a comfortable win, the Brad Jones Racing driver a handy 8.8 seconds down the road from Fabian Coulthard at the finish.
ANALYSIS: Why the Supercars border dash will go down in history
"We knew our long tyre pace was good, so we tried to force the hand of Triple Eight," said Percat of his relatively early stop.
"I thought they were going to play the softs-softs game, so I thought 'well you can try and pass me now, because I've had a crack at you for 10 laps'.
"It was mega. Credit to BJR, Brad [Jones], [engineer Andrew Edwards], everyone there.
"They backed how I look after a tyre so we could do a strategy like that. Good fun."
Coulthard, who ran softs in both stints, was a lonely second, with an 11s gap back to team-mate McLaughlin, who took third after a brilliant battle as van Gisbergen slipped back to eighth.
McLaughlin stormed back into contention after pitting for softs on lap 13.
From the back of the Top 10 McLaughlin worked his way back to fifth starting the final lap, right on the back of James Courtney and Rick Kelly as they squabbled over third.

He then picked off Kelly, before denying Courtney a first podium as a Tickford driver by out-dragging him to the finish line.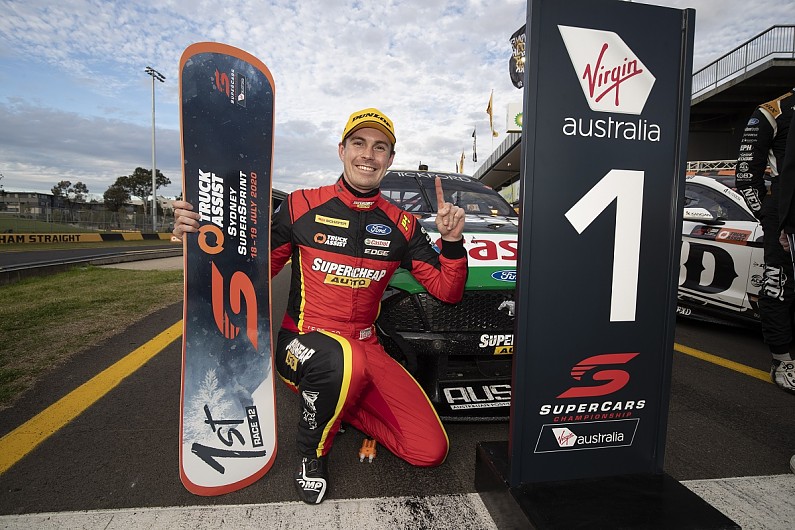 Tickford Racing driver Le Brocq claimed his maiden Supercars win in the finale, after finding himself in contention having saved his two sets of soft tyres.
Andre Heimgartner, Todd Hazelwood and David Reynolds all did likewise, the foursome staging a thrilling battle for victory in the second stint as they all crossed the line within 1.4s of each other.
"I don't know, it hasn't really sunk in yet," Le Brocq said when asked how the win felt.
"I don't really know what to feel at the moment!"
Van Gisbergen, Coulthard and McLaughlin came home 12th, 13th and 14th after struggling through the race on hard tyres.
Van Gisbergen actually made decent ground from his 22nd starting spot, while McLaughlin tried a set of used softs for the first stint that caused him to plummet back through the field.
However he's still emerged from the SMP weekend with a very healthy championship lead, the gap now 107 points over Jamie Whincup.
Race 2 result (32 laps)
| Pos | Driver | Team | Car | Gap |
| --- | --- | --- | --- | --- |
| 1 | Nick Percat | Brad Jones | Holden | 50m22.6474s |
| 2 | Fabian Coulthard | DJR Penske | Ford | 8.8746s |
| 3 | Scott McLaughlin | DJR Penske | Ford | 19.6363s |
| 4 | James Courtney | Tickford | Ford | 19.6610s |
| 5 | Chaz Mostert | Walkinshaw | Holden | 20.4635s |
| 6 | Rick Kelly | Kelly | Ford | 20.6076s |
| 7 | Garry Jacobson | Matt Stone | Holden | 21.0735s |
| 8 | Shane van Gisbergen | Triple Eight | Holden | 27.5044s |
| 9 | Cameron Waters | Tickford | Ford | 27.6736s |
| 10 | Jack Smith | Brad Jones | Holden | 31.2289s |
| 11 | David Reynolds | Erebus | Holden | 55.7699s |
| 12 | Andre Heimgartner | Kelly | Ford | 56.6689s |
| 13 | Anton De Pasquale | Erebus | Holden | 57.3778s |
| 14 | Mark Winterbottom | Schwerkolt | Holden | 1m04.4044s |
| 15 | Bryce Fullwood | Walkinshaw | Holden | 1m06.7820s |
| 16 | Jack Le Brocq | Tickford | Ford | 1m07.3984s |
| 17 | Jamie Whincup | Triple Eight | Holden | 1m07.6413s |
| 18 | Chris Pither | Sydney | Holden | 1m08.1635s |
| 19 | Lee Holdsworth | Tickford | Ford | 1m08.6549s |
| 20 | Todd Hazelwood | Brad Jones | Holden | 1m12.1029s |
| 21 | Scott Pye | Schwerkolt | Holden | 1m17.0898s |
| 22 | Macauley Jones | Tim Blanchard | Holden | 1m20.8032s |
| 23 | Alex Davison | Sydney | Holden | 1 Lap |
| 24 | Zane Goddard | Matt Stone | Holden | 1 Lap |
Race 3 result (32 laps)
| Pos | Driver | Team | Car | Gap |
| --- | --- | --- | --- | --- |
| 1 | Jack Le Brocq | Tickford | Ford | 50m34.9487s |
| 2 | Andre Heimgartner | Kelly | Ford | 0.6213s |
| 3 | Todd Hazelwood | Brad Jones | Holden | 0.8123s |
| 4 | David Reynolds | Erebus | Holden | 1.4898s |
| 5 | Scott Pye | Schwerkolt | Holden | 8.6238s |
| 6 | Mark Winterbottom | Schwerkolt | Holden | 12.8076s |
| 7 | Bryce Fullwood | Walkinshaw | Holden | 14.1615s |
| 8 | Jamie Whincup | Triple Eight | Holden | 14.8842s |
| 9 | Chaz Mostert | Walkinshaw | Holden | 24.1739s |
| 10 | Zane Goddard | Matt Stone | Holden | 28.6006s |
| 11 | Nick Percat | Brad Jones | Holden | 46.5672s |
| 12 | Shane van Gisbergen | Triple Eight | Holden | 53.4401s |
| 13 | Fabian Coulthard | DJR Penske | Ford | 54.5475s |
| 14 | Scott McLaughlin | DJR Penske | Ford | 58.5984s |
| 15 | Lee Holdsworth | Tickford | Ford | 1m04.2453s |
| 16 | James Courtney | Tickford | Ford | 1m08.2038s |
| 17 | Rick Kelly | Kelly | Ford | 1m09.4265s |
| 18 | Cameron Waters | Tickford | Ford | 1m11.2251s |
| 19 | Anton De Pasquale | Erebus | Holden | 1m11.5664s |
| 20 | Alex Davison | Sydney | Holden | 1m12.3247s |
| 21 | Jack Smith | Brad Jones | Holden | 1m13.3133s |
| 22 | Chris Pither | Sydney | Holden | 1m16.9474s |
| 23 | Macauley Jones | Tim Blanchard | Holden | 1m17.1502s |
| 24 | Garry Jacobson | Matt Stone | Holden | 1m22.1797s |
Drivers' standings
| Pos | Driver | Points |
| --- | --- | --- |
| 1 | Scott McLaughlin | 802 |
| 2 | Jamie Whincup | 695 |
| 3 | Chaz Mostert | 610 |
| 4 | Nick Percat | 569 |
| 5 | Cameron Waters | 569 |
| 6 | David Reynolds | 562 |
| 7 | Shane van Gisbergen | 539 |
| 8 | Lee Holdsworth | 535 |
| 9 | Mark Winterbottom | 514 |
| 10 | Andre Heimgartner | 456 |
| 11 | Fabian Coulthard | 454 |
| 12 | Todd Hazelwood | 431 |
| 13 | Jack Le Brocq | 424 |
| 14 | Rick Kelly | 398 |
| 15 | Anton De Pasquale | 395 |
| 16 | Bryce Fullwood | 366 |
| 17 | James Courtney | 354 |
| 18 | Scott Pye | 338 |
| 19 | Macauley Jones | 314 |
| 20 | Jack Smith | 282 |
| 21 | Garry Jacobson | 255 |
| 22 | Will Davison | 231 |
| 23 | Chris Pither | 216 |
| 24 | Zane Goddard | 204 |
| 25 | Alex Davison | 148 |
| 26 | Jake Kostecki | 74 |