McLaren Formula 1 racer Lando Norris has revealed he has ambitions to drive a real Supercar, after making his virtual debut in the Australian category.
Norris was one of five wildcard starters in the Supercars Eseries field at a virtual Spa on Wednesday, running a third Walkinshaw Andretti United Holden.
While showing front-running pace, including a third in qualifying, his results were hampered by a comical pit entry in the reversed-grid race and an opening-lap off in the finale.
The experience left Norris wanting more, as he revealed post-race that he's keen on a sampling a car in real-life.
It could happen, too, given McLaren boss and WAU part-owner Zak Brown has the 2011 Bathurst 1000-winning Holden Racing Team Commodore as part of his collection in the UK.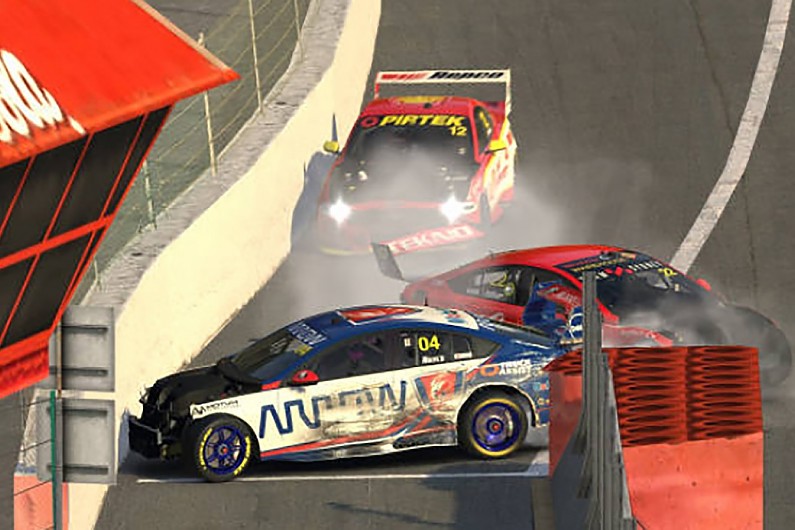 "100%," said Norris when asked if he wanted to test a Supercar. "In fact Zak Brown has one.
"We went to a trackday once a couple of years ago - I didn't get to drive it there, but he said he'd allow me to drive it if we ever go out on a trackday again in his V8.
"I would love to. Especially because it's so fun to drive on a simulator.
"I'm sure it's even better to drive on the actual race track.
"It's a handful but in a good way - it's a lot of fun to drive."
Both Carlos Sainz Jr and his father drove Brown's Holden at Navarra last November.
Norris, however, will have to settle for the virtual version for now, his post-race Twitch feed revealing that he's locked in for a second wildcard entry in the Eseries next week.
Three-time Supercars champion Craig Lowndes will also race next week, with races set to take place at Sebring and the Circuit of the Americas.
Van Gisbergen stripped of Spa triumph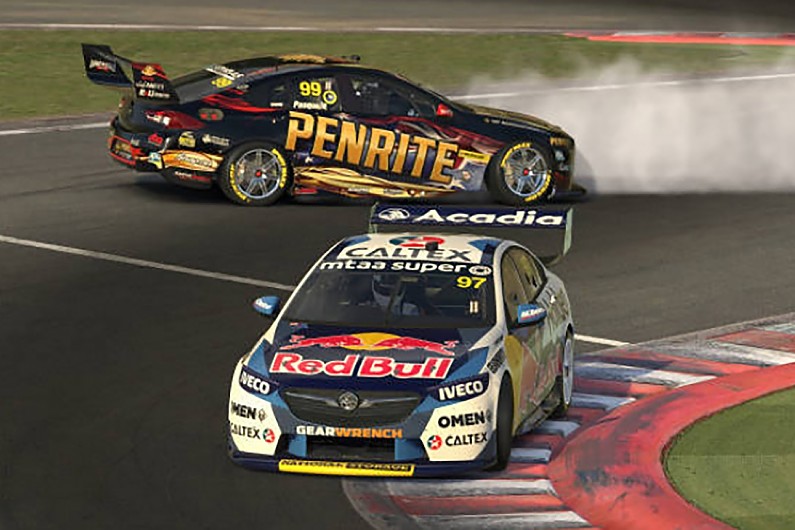 Shane van Gisbergen has been stripped of his opening race win from the Supercars Eseries round at Spa.
The Red Bull Holden driver was a controversial winner after a race-long battle with Anton De Pasquale came to a head at the Bus Stop on the final lap.
De Pasquale managed to get alongside leader van Gisbergen on the exit of the chicane, before the Red Bull Holden tipped the Erebus car into a spin.
Van Gisbergen managed to narrowly hold off Scott McLaughlin and Cam Waters to get to the line first, however race control - led by real-world driving standards advisor Craig Baird - immediately put the incident under review.
Initially it was announced van Gisbergen would be penalised in race three, as an immediate post-race penalty would have only improved his starting position for the reversed-grid race that followed.
However series officials decided to wait until the round was complete before handing out a penalty, deciding on Thursday that van Gisbergen will be relegated from first to fifth in the race one results.
De Pasquale, meanwhile, has been reinstated to fourth, having been bumped down the order due to picking up incident points for hitting the wall.
"At the time of the incident there was only one camera angle available to use for the review, we knew a penalty was most likely, but we had to review it thoroughly which we now have," explained Baird.
"Had Shane been penalised immediately after Race 15 he would've started in a better position in the reverse grid race."
The penalty means the win goes to McLaughlin, who now has a 59-point lead over van Gisbergen in the standings.