Australian Supercars driver Craig Lowndes says he would like to chase down Peter Brock's record tally of nine Bathurst 1000 wins.
After securing his seventh Bathurst crown on Sunday alongside Steve Richards, Lowndes is within striking distance of equalling - or even beating - his mentor's record.
Lowndes will also have a direct focus on long-distance races from 2019, as he scales back his full-time Supercars commitments and moves into a co-driver role at Triple Eight.
Sticking with Triple Eight means he will have a competitive seat for future Bathurst races, as he would be paired either with seven-time champion Jamie Whincup or 2018 points leader Shane van Gisbergen.
"It'd be nice to try and get nine, yes," said Lowndes.
"Roland [Triple Eight boss Roland Dane] actually said I'm good enough for another five years and I've only got a contract for one, so hopefully I can put pen to paper and get those extra four.
"But whether I pair up with Jamie or Shane I think that next year's combination will be strong."
Lowndes has experience of how tough Bathurst wins are to claim, having gone two decades between his first and second successes.
With Ford renewing its manufacturer status with a new car next year, Lowndes said he will take a measured approach when he takes on his co-driver role.
"We'll keep working on the car, and no doubt Ford will be strong with their new Mustang, so it'll be an interesting race next year," he said.
"Last year Scotty [Scott McLaughlin] had a mega car here and unfortunately had a mechanical problem. [This year] car #1 had good pace and lost a wheel.
"You never know what happens around this place."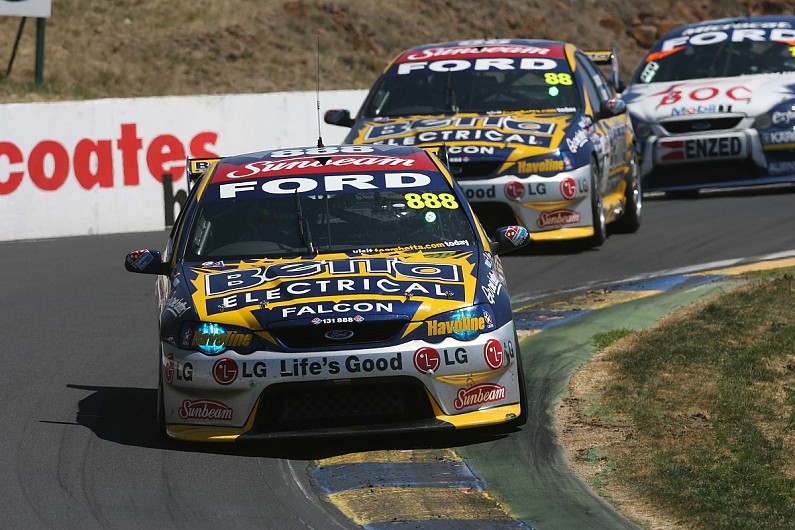 Reflecting on his 2018 victory, Lowndes said it rated close to his breakthrough second win in 2006 (pictured above) - just weeks after the death of close friend Brock.
"[The 2006 win] is sort of the special one because of the emotions that went behind it, but this is definitely right up there," he said.
"It's probably the second-best because now I know we're not going to be a full-time driver next year and these guys can all battle it out.
"But I'll be back here next year to have a bit of fun."