Nine tenths of a second.
The Silverstone National circuit might be far from the longest track on the British Formula 4 calendar, but that tiny gap was the difference between the fastest and slowest driver in qualifying at the venue in September. That's particularly impressive when you consider that one of the drivers was making their debut.
When the entire field is that close and you are up against single-seater powerhouses like Carlin, Double R, Arden and Fortec, you need to be at the top of your game and use all the tools you can to help find those crucial tenths. And that is exactly what the JHR Developments squad has been doing this season.
It doesn't have the decades of slicks-and-wings success that some of those other outfits boast - its previous glory has come in tin-tops and sportscars - but that hasn't stopped Steve Hunter's squad from challenging the 'big guns'.
In two out of the five seasons of British F4 so far, a JHR driver has finished second in the standings. But, given the competitive nature of the series, the team has continually sought to improve.
And towards the end of last year that involved installing its own bespoke simulator, using software developed by GP2 race-winner Adrian Quaife-Hobbs' Pro-Sim concern, at its Derbyshire base.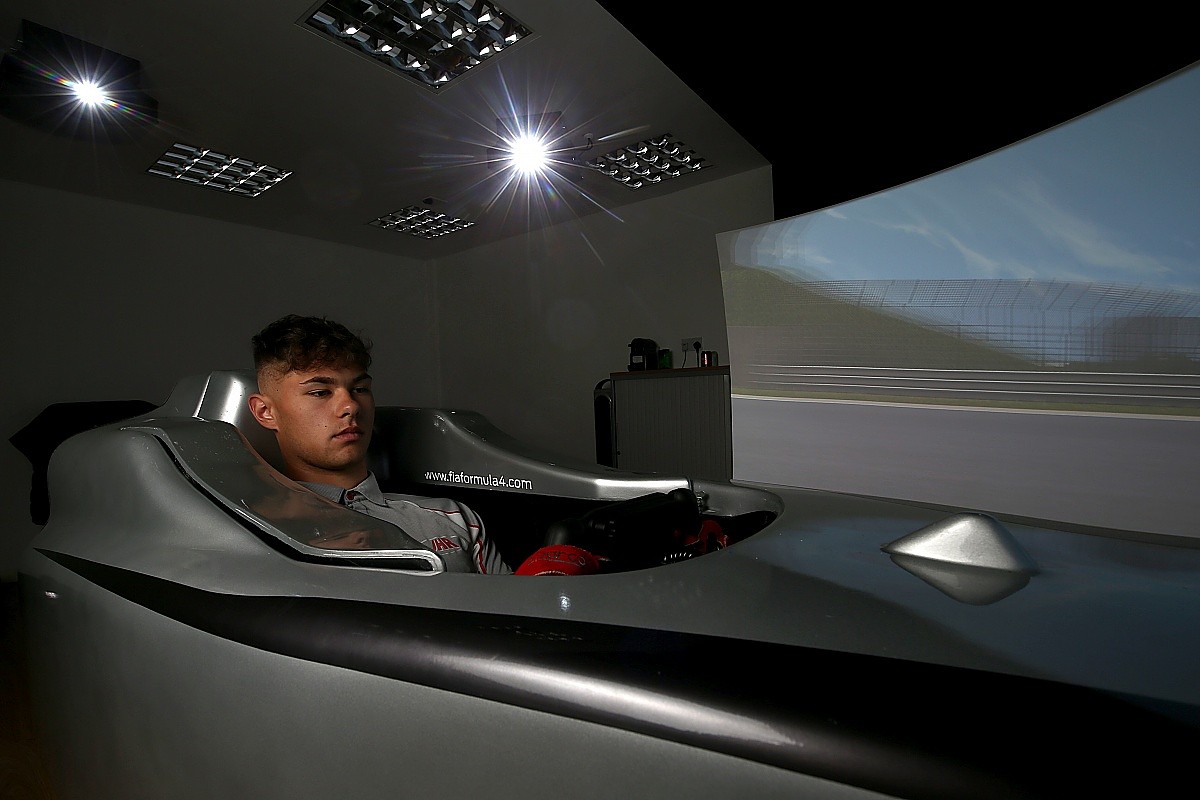 "We looked at all different types of simulator, but the main reason we were looking for a simulator was because it's just become a part of motorsport now, it's become a necessity," Hunter says.
"Prior to that we were using other people's sims and the issue we were finding was they were setting them up very differently to how our cars were and so the sensible option was to start looking at making our own."
Hunter wanted this to be specific to the cars JHR uses - meaning F4 and also BRDC British F3, as the team intends to expand into that series next year.
"We collated the information to work out which was the best and the most versatile system for what we needed and the Pro-Sim concept was the way to go" Steve Hunter
"We went to all the different simulator companies to try them all out and what we did was we used current and previous drivers to sample different things," continues Hunter.
"We had Sennan Fielding [2016 runner-up with JHR], Ayrton Simmons [2018 runner-up with JHR] and Manuel Sulaiman [2017-18 JHR driver], then collated the information and worked out which we thought was the best and the most versatile system for what we needed.
"Certainly the Pro-Sim software and concept was the best way to go.
"We then took their concept and elaborated on it with the way that we built it. We used the framework around it, the surround system, from a 3D airplane one. We flew in a guy from Sweden to get a blend between every camera so you don't get the lines and then we made our own shell, which was the next part.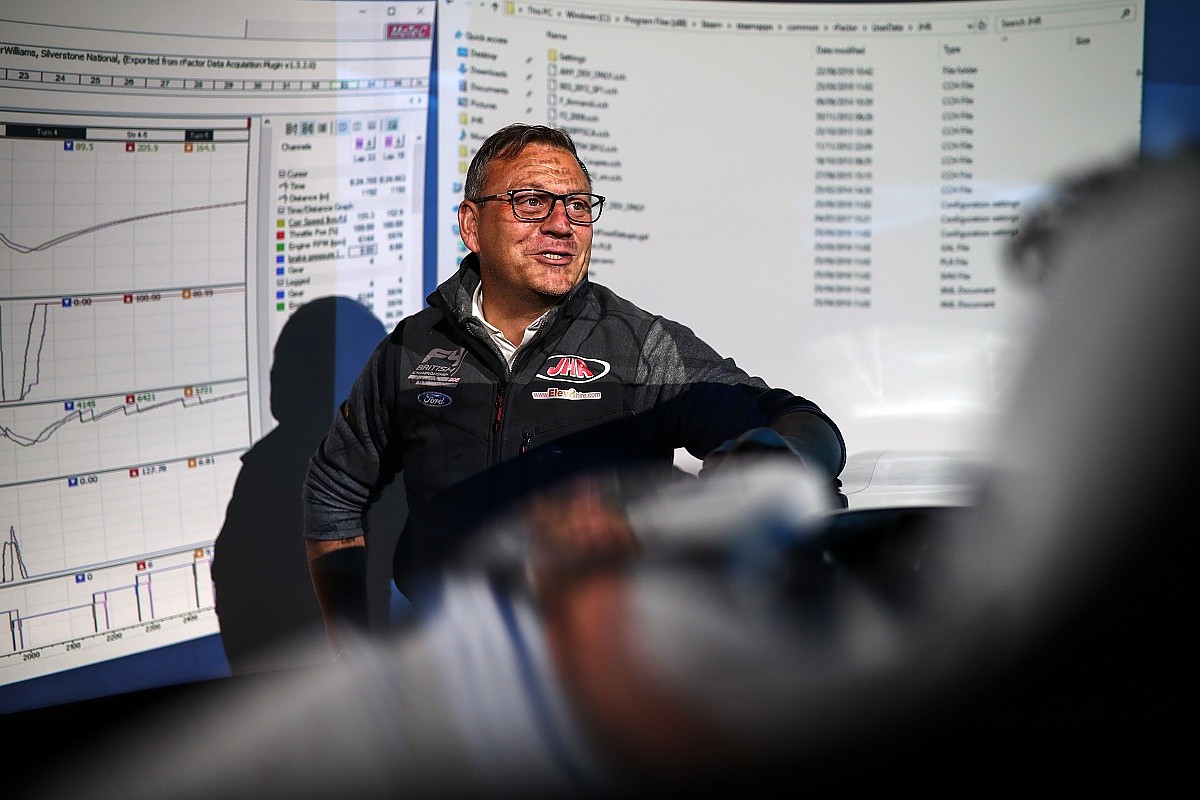 "We wanted to emulate literally everything that we could do to get to the point where we take the race seats out of the cars and put them in the simulator. Just on the evidence we've seen with our own drivers, brought them on leaps and bounds. It's made a massive difference."
The Silverstone qualifying session is proof of that, as all three JHR drivers were in the top six - including Alex Walker, who joined the team mid-season and was only in his fourth ever car race meeting. Another example is the championship's second visit of the season to Thruxton in August, where JHR drivers Carter Williams and second-year driver Josh Skelton won all three races between them.
On the back of a run of nine podium finishes in a row between Snetterton and Silverstone, Skelton went into the final round with a shot at the title and eventually finished fourth, while National Formula Ford 1600 graduate Williams ended his first season with slicks and wings in seventh.
Hunter says that the drivers' simulator work intensifies in the week leading up to each race meeting.
"We really use the simulator for polishing up and ensuring that everything is right before they arrive at the circuit," he explains.
"We tend to spend a couple of days before each race weekend where we have all the drivers together. They all do their own simulator work - some have even had the screen version of the simulator put in at home and we set that up for them so they've got the car how we would run it.
"But we also tend to have them all working together or against each other to try to better each other, which obviously brings the element of competition into it and makes it more interesting for them.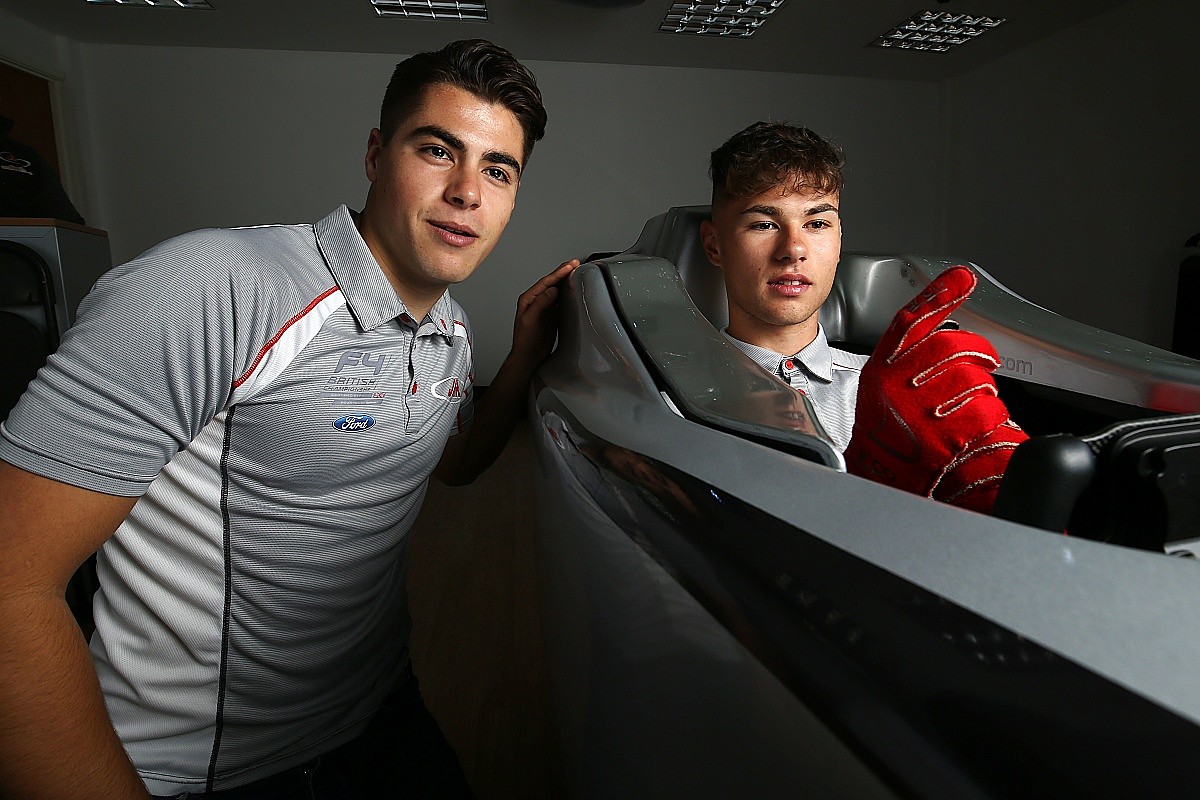 "We do a lot of qualifying runs. At certain circuits where we know the car is at its optimum on lap four or five, we will cut it down to five-lap runs, then out and the next gets in. That element of competition is so helpful to them and it also creates a little bit more of a team-feel, because they spend more time with each other."
Walker agrees that this collaborative approach pays off: "It's better when there's all three of us because we bounce ideas off each other, like a new line or a different set-up," he says.
"At circuits like Thruxton we were trying different settings, like springs and bars, and it really helped. We were on exactly the same set-up on the sim for that race" Carter Williams
"We've got a good connection and it makes a difference."
He certainly feels the simulator has been a significant factor since he joined the series mid-year. Before his Oulton Park debut, the karting graduate had just two days of testing "learning the basics", but spent two weeks "non-stop" in the sim to prepare for his first foray into car racing.
In Cheshire, he qualified 12th of the 14 drivers and was 1.4s off the pace. But, in a couple of months, and despite the rest of the field being fully up to speed with the machinery and having significantly more experience, Walker qualified sixth at Silverstone, just four tenths off pole.
"I don't think I would be at the level I am without the sim," he admits.
"It's my first year in cars, so it's been really useful for me because I don't know any of the tracks. You can't replicate real life, but it's pretty close to what it feels like."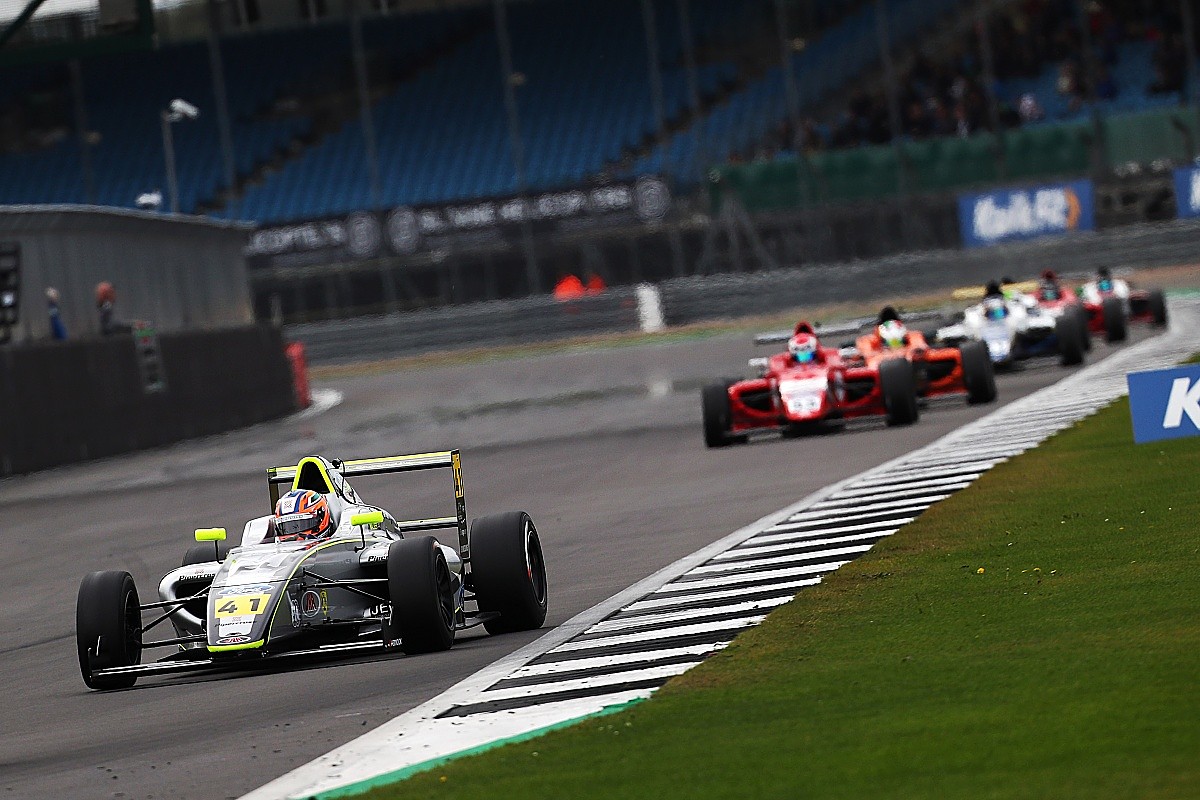 For California native Williams, it's the refining of the car's set-up that he finds the sim most useful for, as well as improving consistency.
"We go on there, do some laps and basically try to get the consistency," he says.
"Then we start to play with some of the set-up because it actually translates. At circuits like Thruxton we were trying different settings, like springs and bars, and it really helped. We were on exactly the same set-up on the sim for that race. It shows that it does make a difference [as JHR drivers won all three contests].
"It's great that we have other drivers, like new drivers for next year, on the sim and I've had the opportunity to coach them a little bit. I walk them through laps, and it helps me. I'm like, 'I could brake a bit further' and you just get a different perspective.
"It might be a mistake that they make for them, but then you watch them and think, 'Actually they're quicker, I might try that next time'. I don't know if we'd be as quick as we are if we didn't have it. We figure out a lot of things on the sim."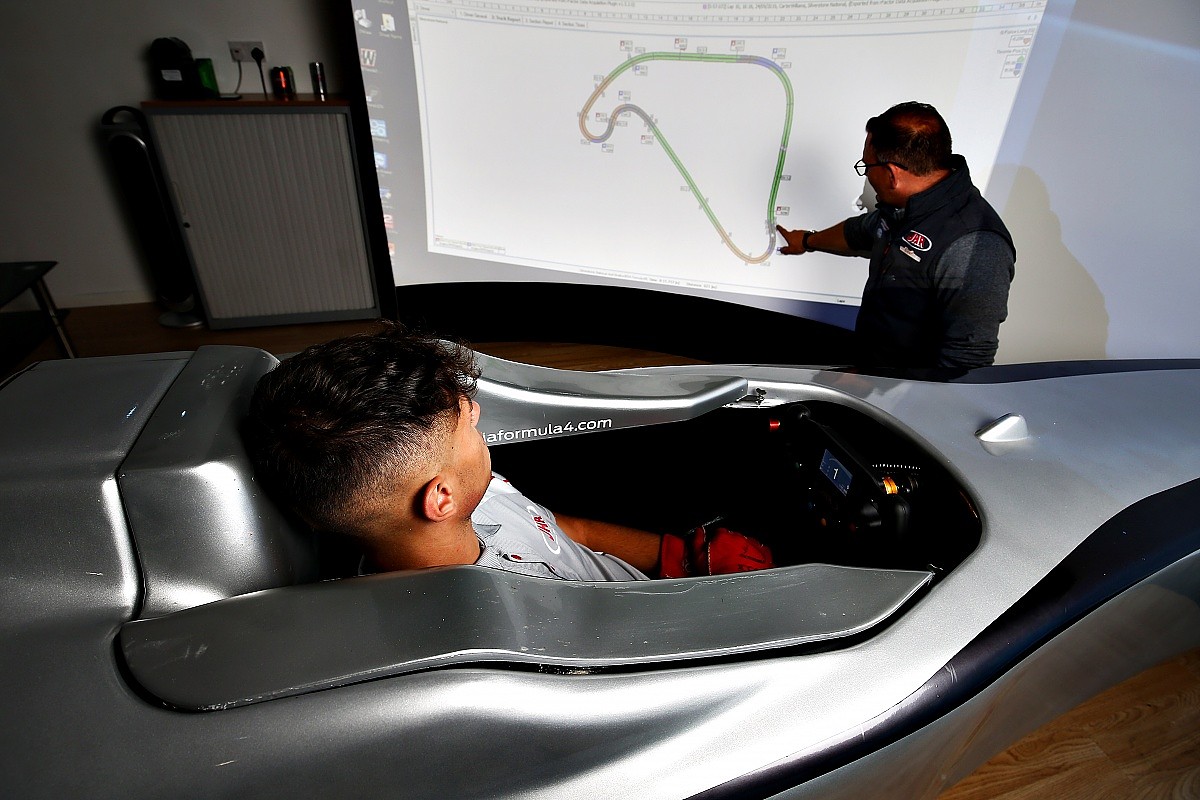 Hunter agrees and says it's important to maximise the drivers' time on it as much as possible. One example of that is the Motec data system the team uses, which allows the driver to view the data while still in the tub and not have to get out to consult a laptop.
"If a team hasn't got a simulator, they're going to be on the back foot" Stephen Hunter
While top teams already have simulators at their bases, Hunter believes more squads from various areas of the sport will make the investment.
"My honest opinion now is if a team hasn't got a simulator, they're going to be on the back foot," Hunter says. "The level of competition we're up against, we're playing with the big teams and we've got to have everything they've got, it's as simple as that. I think we've surpassed what some of them have got.
"It's certainly been a massive change in motorsport full stop. The whole of motorsport has embraced it and are using it to the best of their abilities."
Wherever this year's JHR intake go in their careers, with BRDC F3 a likely next step for Skelton and Williams, they will have had the best possible grounding in the skills they will need to make good on their potential thanks to Pro-Sim and its simulator.
This feature is part of our Autosport Performance series, designed to give racers the knowledge, skills and tools they need to improve themselves