On a warm February evening at the Circuit Paul Ricard, Mike Knight scrutinises a wall of portraits hanging in the offices of the Winfield Racing School. The co-founder of the original Winfield school, which settled at Magny-Cours before it expanded to a second site at Paul Ricard, Knight is back for the first time since the business was sold 20 years ago.
He's now head judge of the revived Volant Winfield, first won by two-time Le Mans winner Jean-Pierre Jaussaud in 1963 when it was sponsored by Shell, before Elf took over several years later. The modern iteration, held last year for the first time since 1994, is a three-day driver evaluation for 14 to 17-year-olds who haven't raced single-seaters before. The prize is a fully funded season in French Formula 4.
Knight, together with his brother Richard, Tico Martini and Simon de Lautour, oversaw the training of a generation of French Formula 1 talent at Winfield. Previous Volant winners include four-time world champion Alain Prost, Rene Arnoux, Patrick Tambay, Didier Pironi, Eric Bernard (below) and Olivier Panis.
Johnny Servoz-Gavin, Patrick Depailler, Jean-Pierre Jarier - whose antics led Knight to eject him from the school - and Jean Alesi, plus foreign interlopers Damon Hill and Jason Plato, also passed through on their way up the ladder, and their success helped forge Winfield's reputation as a vital stepping stone.
"Over the years it became quite a force," says Knight.
"There are enough people around still who always talk about it very fondly - you can ask any of the guys who became stars and had to deliver on the day to win that drive, it's one of those things that they all remember like it was yesterday. Jacques Laffite still tells me how he was cheated out of the drive!"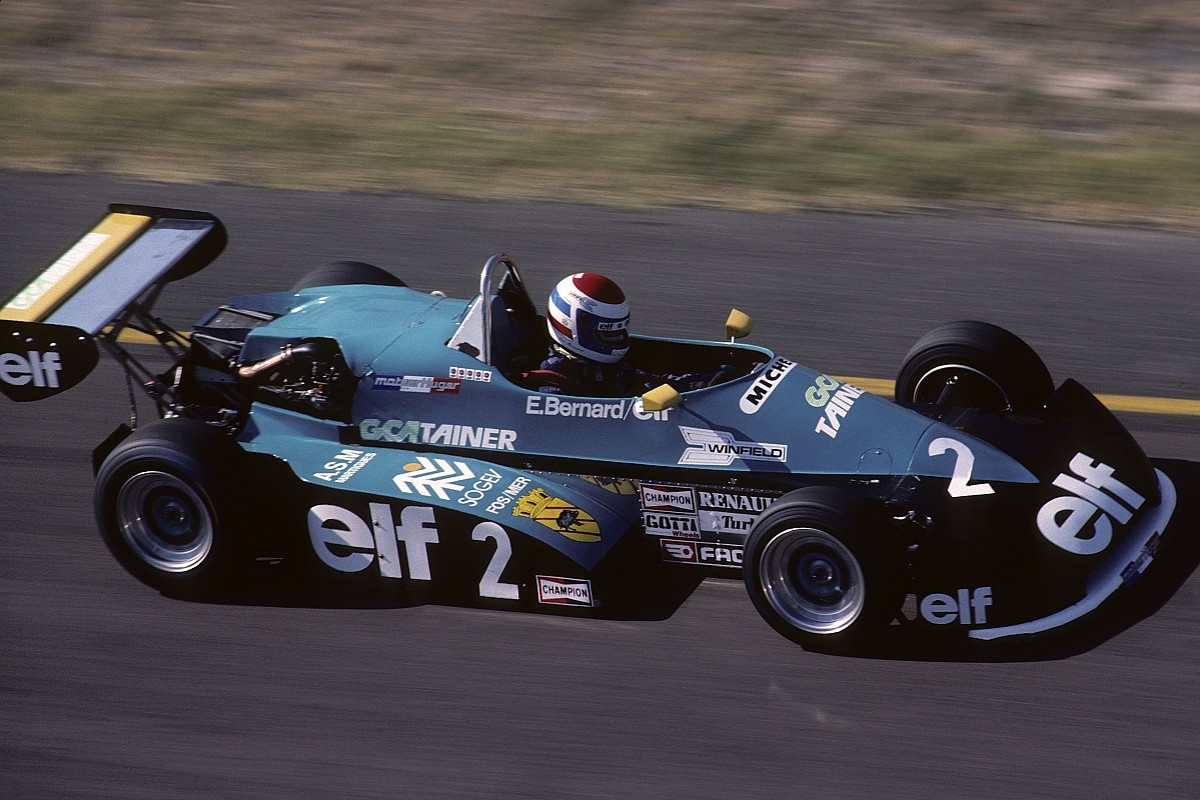 As he looks over the wall, Knight's eyes settle on the portrait of Francois Cevert, the 1966 Volant Shell winner who was killed practising for the US Grand Prix at Watkins Glen in 1973. He shakes his head sadly and turns to Autosport: "A fantastic bloke. He was charming, he had the looks, he had talent. He had everything."
Along with Jean-Luc Salomon, who beat Laffite to the 1968 Volant Shell but was killed in an F3 race at Rouen in 1970 - "I can't think of anyone I met who was more stubborn" - and 1983 Volant Elf winner Michel Trolle ("a scary little bloke, I gave him some money just to get him out of the office once"), who suffered career-ending leg injuries at Brands Hatch in 1988, Cevert is a world champion who never was in Knight's eyes.
"We could have done much more with people on their mind side of things" Mike Knight
He, like all drivers that came through Winfield (the Knights' grandmother's maiden name) were given a thorough grounding in the skills needed to make the best of the opportunity presented to them, but Knight concedes that one thing was missing: a focus on the drivers' mental capabilities.
"We understood what we were doing and we did it well," he says.
"But we were very much of the old school and I knew that was where we were weak. We could have done much more with people on their mind side of things, but we just thought, 'If they've got it, they'll deal with it.' It would be interesting to see if we could have done more with some of the very good drivers that didn't break through."
That's where the Winfield Racing School's new owners come in. Run by ex-Renault F1 marketing heads Frederic Garcia, himself a former pupil, and Anne-Charlotte Remy since it emerged from the ashes in March 2015, Winfield 2.0 aims to develop drivers that have all the tools to become the complete package. Crucially, it instills the attitude that talent is nothing without application.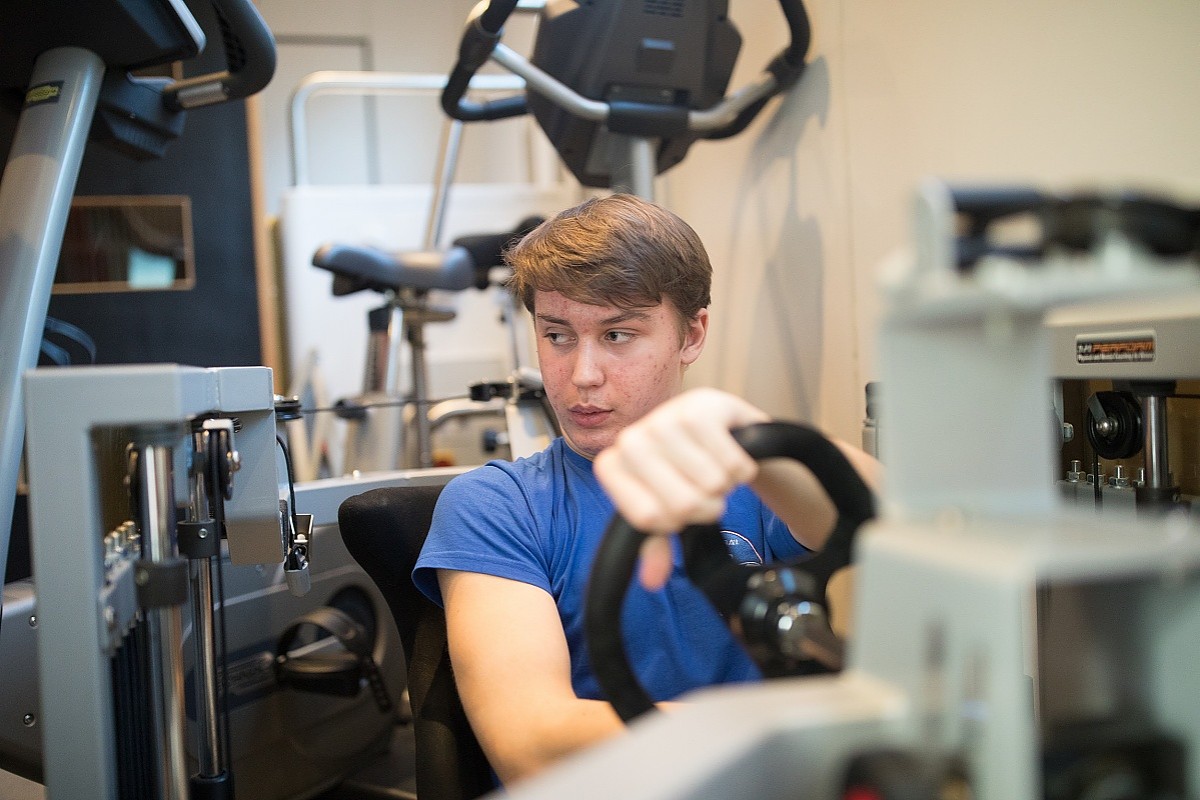 The school's heritage plays a significant role in imparting this and the iconography is everywhere. An Alpine-Renault used by Tambay to win the first Volant Elf at Paul Ricard in 1972 takes centre stage in the lobby, and photos of previous occupants of school cars (including Johnny Hallyday and members of Pink Floyd) adorn the walls.
The staff are steeped in school history too: technical director Fred Galizzi returns for a second spell at the school, while 1993 Volant Elf winner Steeve Hiesse is now sporting director and lead instructor.
But instead of dwelling on its past success, Garcia wants Winfield to create its own stars. Rather than a corporate sponsor - Elf was a state-owned company, so the Volant was open only to French-speaking drivers until the early 1980s - today the prize drive is funded entirely by Winfield's F1 Driving Experience, so the judging panel is free from political constraints and can select the driver it deems most promising.
Its first winner under the new regime, Brazilian Caio Collet, went on to dominate French F4 last season and was recently signed to the Renault Sport Academy.
Garcia has high hopes that Collet will go on to forge a successful career in motorsport, but while he admits that he would love for future Winfield pupils to emulate Prost, he doesn't think the school should be judged solely by the number of world champions it produces.
"If we have most of them becoming good professional drivers and they could say that what they learned here was important for their career, then we will have achieved our goal," says Garcia (below).
There was once a time when racing schools were ubiquitous, but nowadays young drivers are expected to know almost everything by the time they arrive in car racing from experience on a simulator, or by forking out on a coach to accelerate their learning.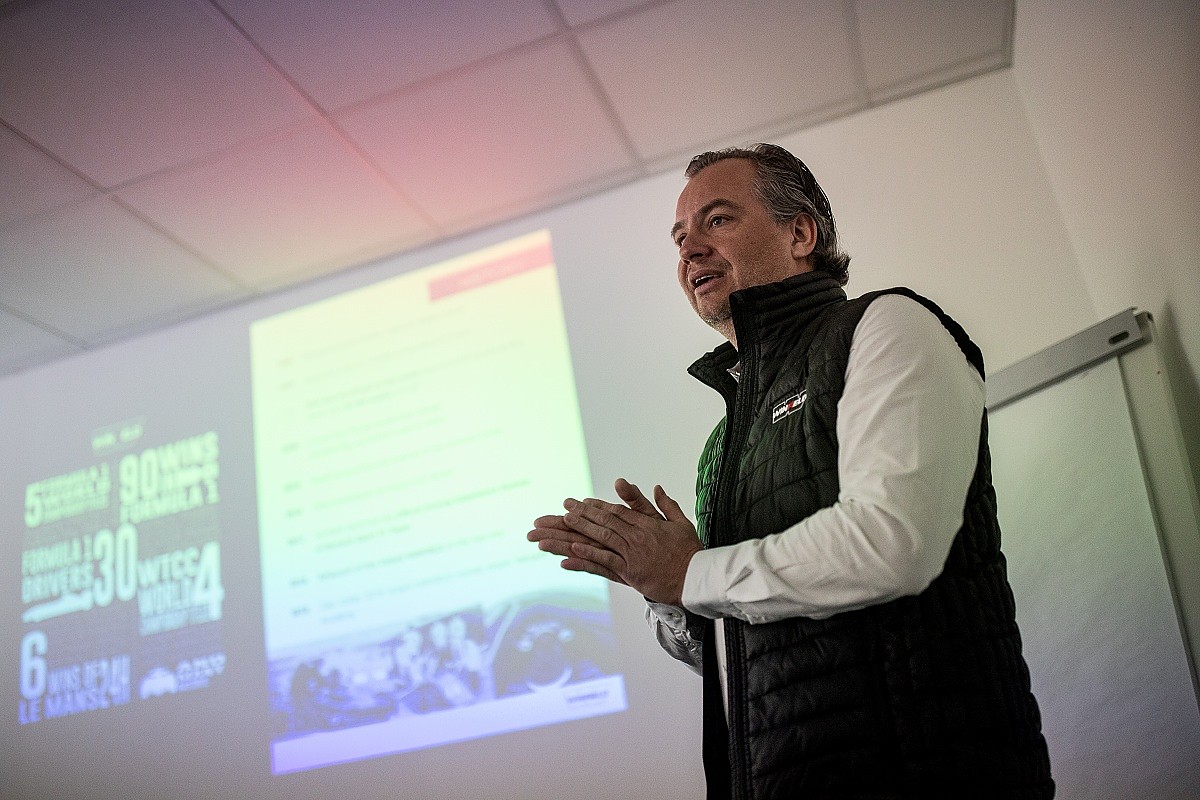 These are not bad things in and of themselves, but they cannot entirely provide the breadth of experience that can come from attending a race school.
Regardless of whether the 18 teenagers assembled have completed extensive testing, or never driven anything other than in the virtual world - as was the case for French esports racer Hugo LeHenaff - everyone is given the same opportunity to learn and develop.
While the undoubted carrot is the prospect of a free drive, all drivers in attendance will leave with a greater understanding of the skills they need to work on.
"How could you drive a Formula 4 car when you have no clue about the behaviour of the car, the weight balance and all these things?" Frederic Garcia
"Nobody is taking the time to do it like it used to be 30 years ago," says Garcia. "A lot of teams are putting the driver into the car and don't take time to teach them how to drive it, which for us is fundamental. How could you drive a Formula 4 car when you have no clue about the behaviour of the car, the weight balance and all these things?
"Where we really want to perform is on the training side. Sure, at the end we select one driver, but where I will be really proud of our work is to ensure on Monday evening at the end of the three days, everybody will say 'I learned a lot' because that means that we really opened their eyes on what it is to be a professional driver, how you need to be committed to what you are doing, how difficult it is."
Each day starts early and runs late into the evening. Autosport follows the international group on Saturday, starting with classroom seminars on working with engineers to the rules and regulations of French F4.
Then there's breathing and regeneration exercises with expert mind coach Laurent Sauriat, a track walk led by 1995 Formula Renault Eurocup champion Cyrille Sauvage, and a technical briefing of the Mygale F4 used for the evaluation. All that is followed by classroom exercises on vehicle dynamics, then a series of fitness and mental exercises with Xavier Feuillee's 321 Perform concern.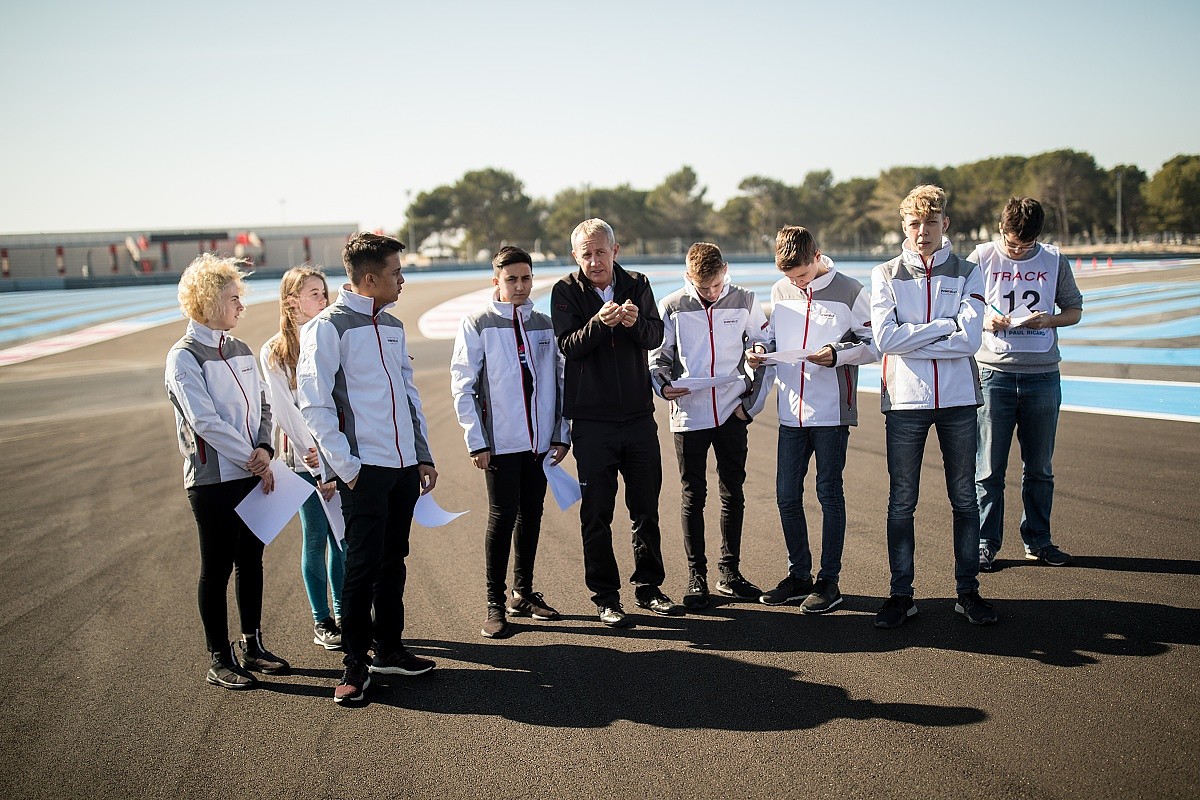 It's a tough day, and when Autosport sits down with Garcia in his office at 7pm, the international group is still working out. For Garcia, that's completely intentional: the intensity is designed to replicate the mental demands on the modern racing driver. He sees the programme as "more a training camp than a selection".
"When you look at an F1 driver or an endurance driver, they're working all day long," he says.
"Doing a grand prix for one hour and a half, almost two hours in Singapore, you have no rest. It's one of the only sports where you have to push for maybe two hours at your maximum with no rest - in tennis, you always have one minute to cool down, in football, you have half time. It's a very hard job.
"It's not just glamorous and driving, it's a lot of work and we need to show these young drivers the whole field - mental preparation, physical preparation, technical understanding of the car. All these elements are important."
Spend five minutes in the company of mind coach Sauriat and you're left in no doubt about the weight of Garcia's words. He has spent 25 years developing what he calls Techniques for Optimising Potential (TOP) working with the French Air Force, and his unrelenting energy quickly wins over the youngsters, many of whom have never engaged in mental exercises before.
His lessons about positivity, breathing, regeneration and high intensity warm-ups encourage the drivers to recognise stress and develop techniques to combat it. This worked for Collet last year, when he was weighed down by self-imposed pressure until a heart-to-heart with Sauriat helped him "pre-programme" his body.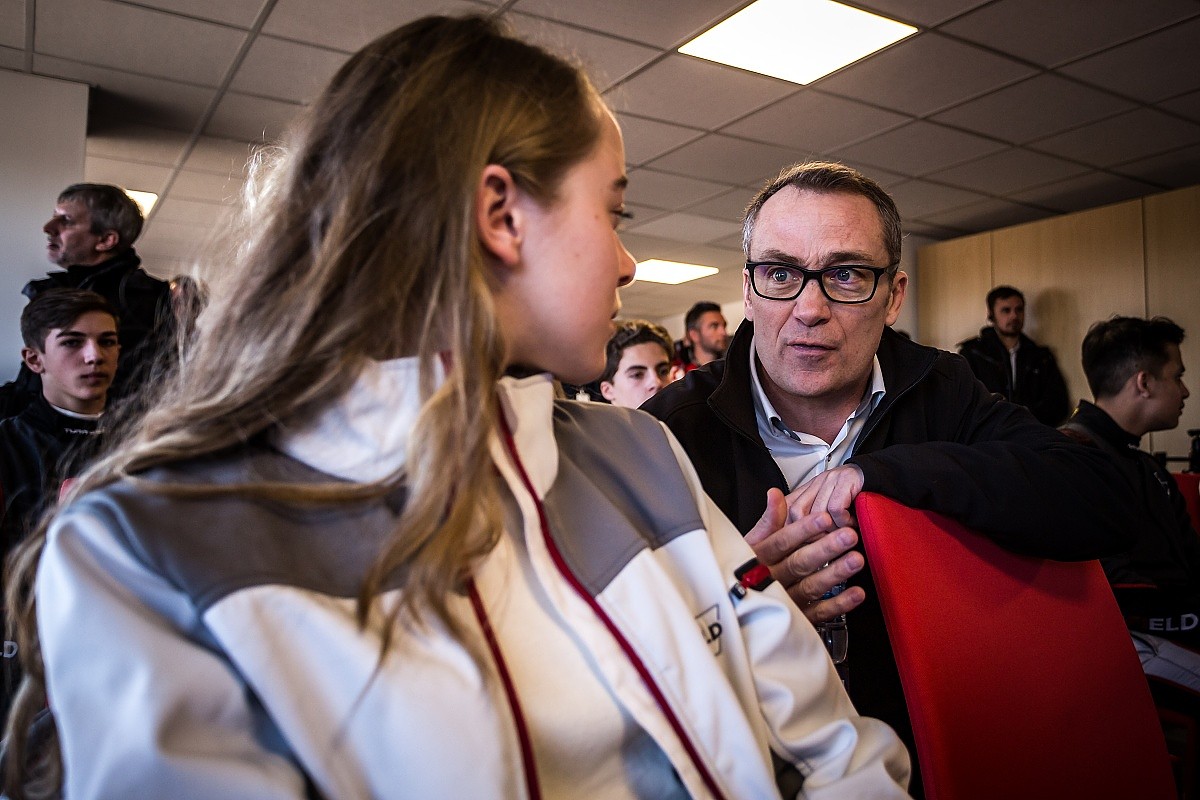 "The last thing that makes them win or not is their body, their emotions, their mental state," Sauriat explains.
"My job is to give everyone the tools to optimise their physical potential through concentration or regulation of emotions or mental preparation, because it's important for stress. Without that nowadays, you cannot be at the top."
Extra sessions with Sauriat are interspersed on Sunday with the first test sessions in six identical Mygale F4 chassis, which form the basis of the French championship, and a tyre seminar with Pirelli engineer Steve Rouse.
"The last thing that makes them win or not is their body, their emotions, their mental state" Laurent Sauriat
The all-important qualifying sessions are held on Monday after a five-page exam comprising technical questions about the car, French F4 sporting regulations, and about the Winfield school itself.
The drivers draw ballots to decide their cars for each session, ensuring there could be no questions of favouritism - all cars are ballasted to within 1kg of each other and run on base set-ups that can't be changed, putting a premium on the drivers working closely with the instructors to get better.
Knight is joined on the panel by Garcia, Remy, FFSA Academy General Manager Christophe Lollier, Paul Ricard general manager Stephane Clair, former McLaren team principal Eric Boullier and Jarno Trulli, a stalwart of 252 grand prix starts and an old friend of Garcia's from their Renault days.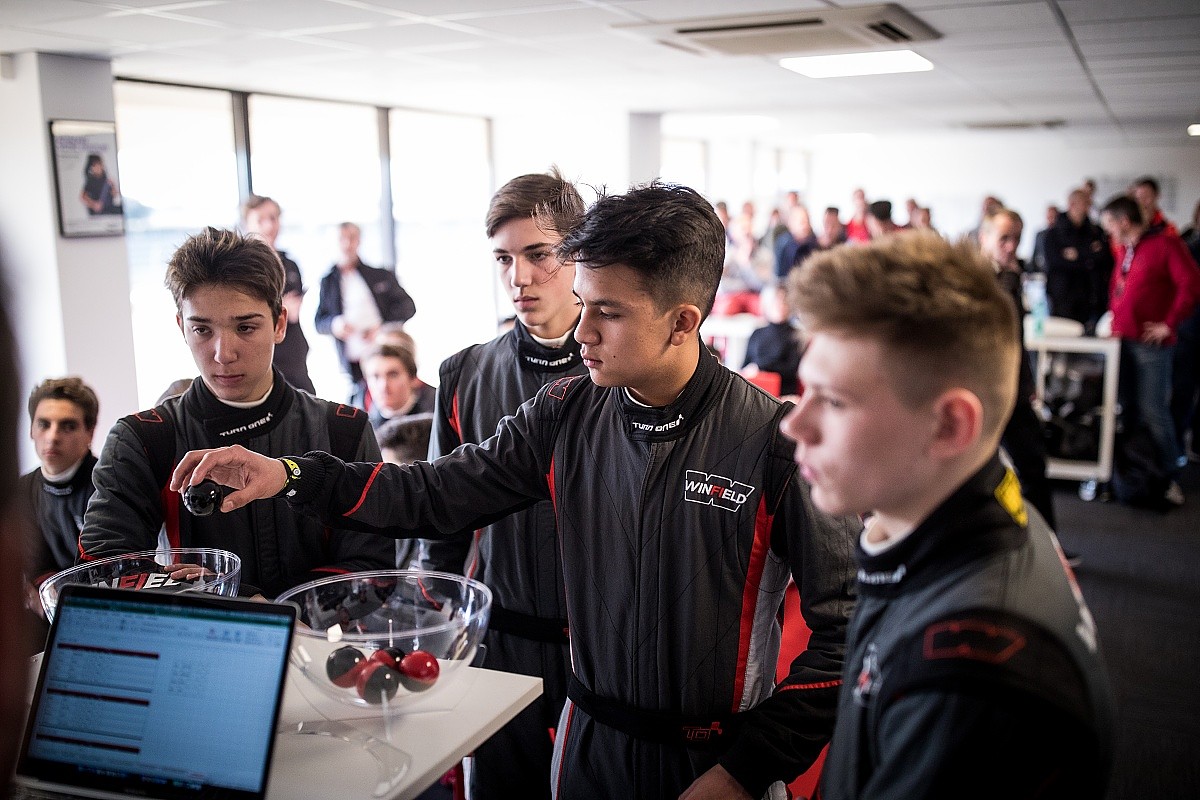 The 2004 Monaco Grand Prix winner joins Knight at the tricky complex of corners that break up the Mistral for qualifying, with an uphill right-hand kink followed by a long left-hander over a crest, before pulling the car sharply across to the left to get early onto the throttle again.
"If you can do well here, you can do well in the rest," Trulli explains.
Armed with their notepads, timesheets and feedback from the assorted experts, the judges reconvene to whittle the 18 down to three, but cannot decide on a final person to leave out. So it's a quartet of hopefuls that draw a second ballot, this time for a set of tyres that they will use throughout four sessions of five laps each, while swapping between cars.
After interviewing the drivers and deliberating for 45 minutes, the judges decide the blistering times set by Jules Mettetal (16) in the first session were enough to see off American Nicky Hays (17), Mettetal's fellow Frenchman Hadrien David (15) and Briton Callum Bradshaw (17).
Isaac Hadjar, a last-minute addition to the Volant, wins the Trophee Winfield for 14-year-old drivers. He will have a free entry to the final French F4 round at Paul Ricard, while Doriane Pin (15) is recognised as the best female and will have two days of free testing with the FFSA Academy.
Trulli, the 1994 world karting champion, was impressed by the Winfield set-up and believes the opportunity will be invaluable for young drivers in the future making the step from karts to cars.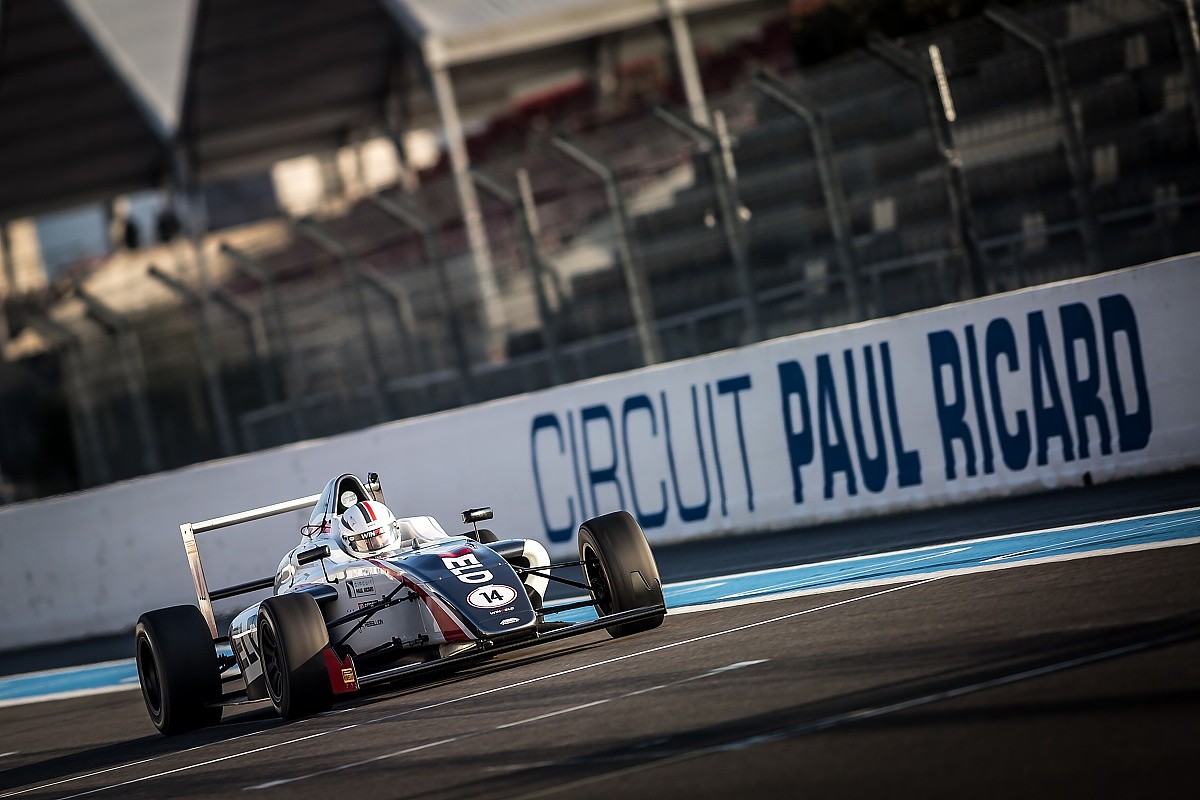 "This is an opportunity that I never had, so for talented drivers to have such an opportunity is very important," he says.
"I've seen good things, especially the way they prepare the drivers - they give each one a perfect opportunity to show off how good they are, their weaknesses and their strengths, so they have a clear picture of each driver, not only on the performance side but what kind of person they are too."
"They have a clear picture of each driver, not only on the performance side but what kind of person they are too" Jarno Trulli
The experience certainly rubbed off on the drivers. The 14-year-old Belgian karter Kobe Pauwels - son of sometime rallycross racer Koen - had never driven an F4 car before the Volant, but saw his times plummet by four seconds on day one and came away with increased confidence.
"When you start driving a single-seater it's completely different - you go a lot quicker on the straights and you need to brake much harder than with a kart," says Pauwels. "There are a lot of great people who helped me with data, video, physical and mental, so without them it would not be possible to be as quick as I was today. I will keep this all in my mind for the rest of my career."
But what did Knight make of it all? "Whether you like it or not, the driver is not the asset to the team that he was in our day," he says. "Now the team is as good as a whole bunch of people, of which the driver is one.
"These guys have understood that - they've picked up the baton and they're running with that. They're doing a very good job."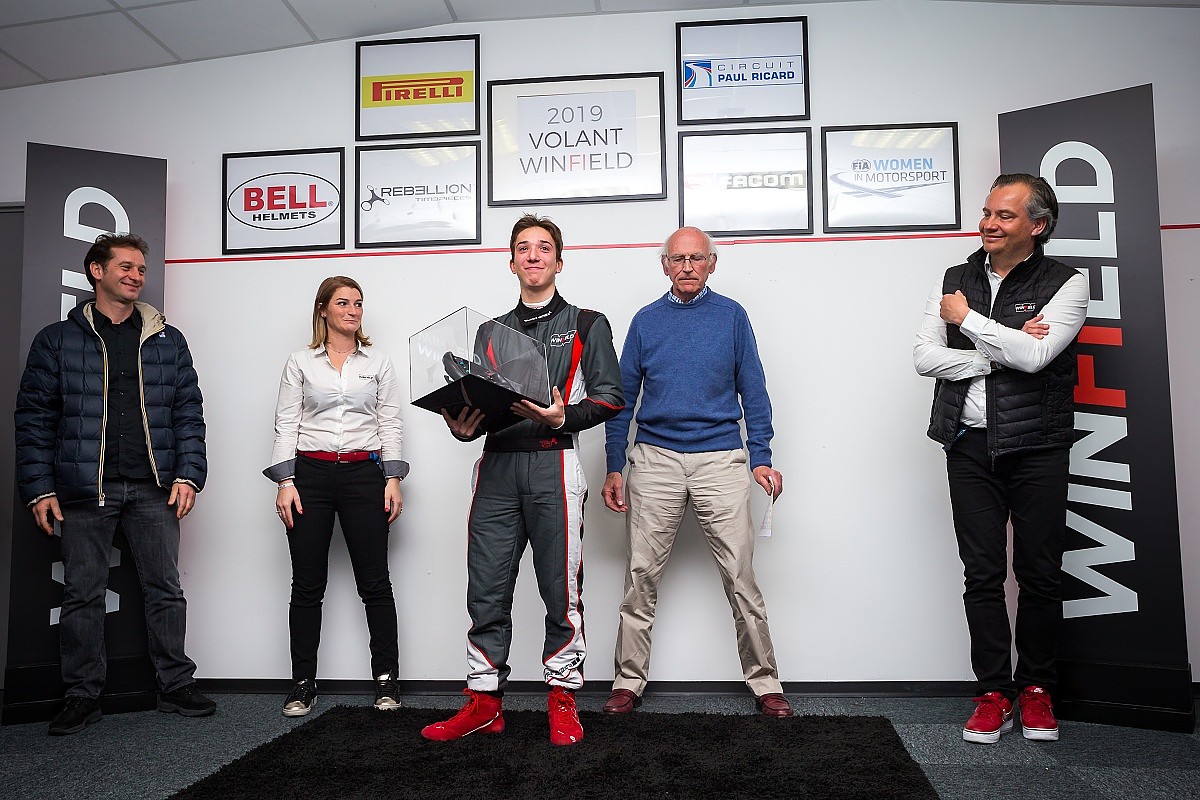 Jules Mettetal: The next Winfield success story?
Jules Mettetal, a member of the Birel ART karting team led by Giorgio Pantano, joined an illustrious list of Volant Winfield winners after setting the fastest times in three of the four sessions in the final. He was pipped by the impressive Nicky Hays in the third session, but nobody could match his benchmark lap set in the first session.
Mettetal, whose father Philippe built the Tecma-Ford that Jean Ragnotti raced at the Le Mans 24 Hours in 1975, has been a member of the FFSA Academy run by Christophe Lollier for the past three years, following in the footsteps of Pierre Gasly, Anthoine Hubert and Victor Martins.
He had been training on the FFSA simulator and testing at Le Mans in preparation for the Volant Winfield after his hopes of winning the Richard Mille Academy - ultimately claimed by Enzo Valente - were ended by a spin, a mistake Lollier says his charge has learned from.
"What allowed him to win today is his ability to be very quick in the pace and not to make any mistakes," he says. "We worked hard on the sim for him to stay focused and added a bit more pressure so that he could manage that kind of situation. He showed us that he managed it perfectly."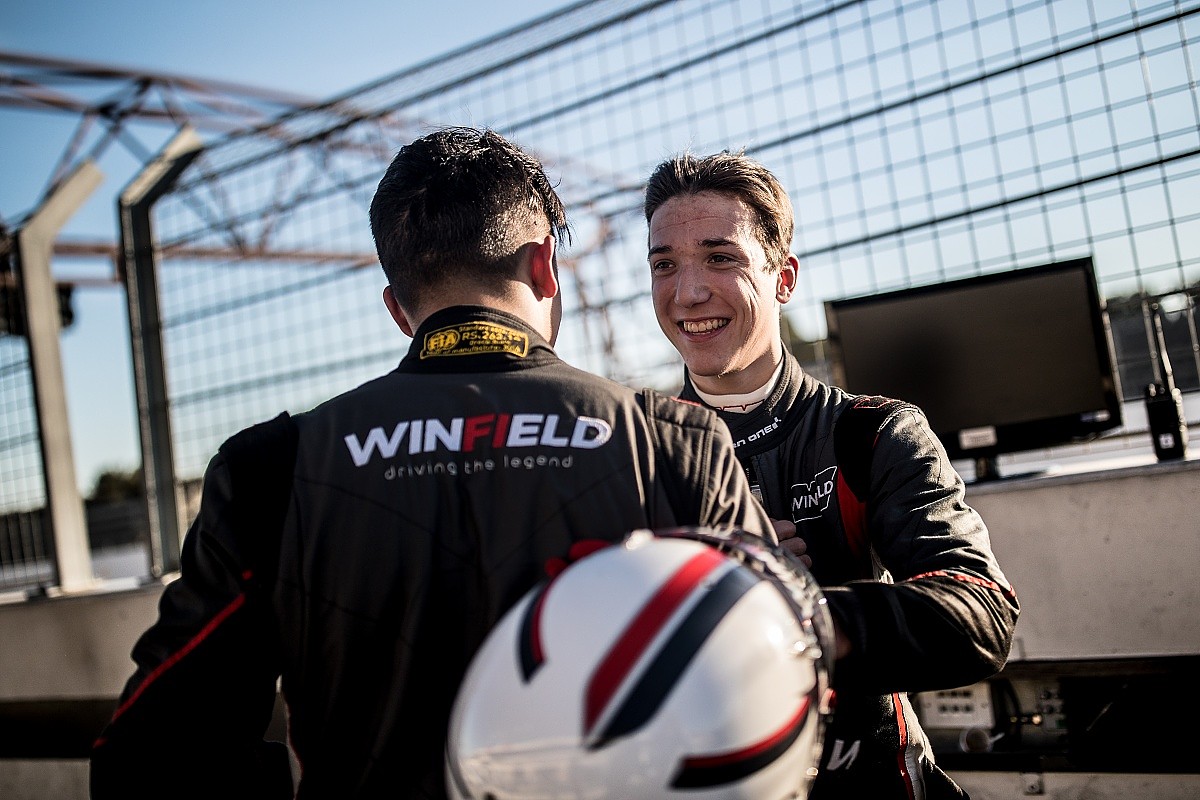 Lollier's first priority upon encountering Mettetal was to get to focus on his studies and physical preparation, which has helped him become one of the Academy's top young prospects. But he is keen not to put too much expectation on him at an early stage.
"We are pretty much at the start of his career so we still have to work with him so that he can be really ready to start the championship," he says. "At the moment he has got good potential, for sure he can do something great, but it's still too early to see how he will grow."
"This is the beginning, it's not the point of arrival" Trulli
As Jarno Trulli points out, how far the youngster will go in the sport will largely depend on Mettetal himself.
"This is the beginning, it's not the point of arrival," he says. "If we repeat the same test tomorrow, you don't know if he is going to win again - not because I don't think he deserved it, but you have to be on top of your game every time you drive the car.
"Now it's down to him to use this opportunity properly, listen to people, learn and improve as a person and as a driver. A driver is not only someone who drives the car, it's someone who communicates, understands technically and is ready to put himself in a situation where he can improve. Driving the car is probably the last thing you have to do!"
This feature first appeared in the oval racing special issue of the Autosport Performance supplement, which includes an agony aunt column from Sarah Fisher, Brad Keselowski's tips for racing at Daytona and Kyle Busch's tribute to frontal head restraint inventor Robert Hubbard. Out every other month, the next issue of Autosport Performance will appear on June 13.
Click here see the full list of previously published Performance articles.