There's an element of romanticism to the story of a single-car independent team holding its own against the British Touring Car Championship's manufacturer-backed giants, but Speedworks Motorsport has no plans to rest on its giant-killing laurels just yet.
Independents Trophy champion Tom Ingram won four times on his way to third in the standings last year and returns for a fifth season at the team with the overall title as his stated aim. Ordinarily, that might appear fanciful for an outfit of Speedworks' size, but team boss Christian Dick has an ace up his sleeve.
Since Speedworks installed a Pro-Sim Evolution Simulator, built by GP2 race winner Adrian Quaife-Hobbs, at its Cheshire HQ last March, Ingram is one of a number of regular visitors to make great strides in his driving, helping build Speedworks into a more competitive proposition on the track and off it.
Simulation is now a key part of the business model, with on-site coaches provided for the team's sportscar drivers and private clients alike.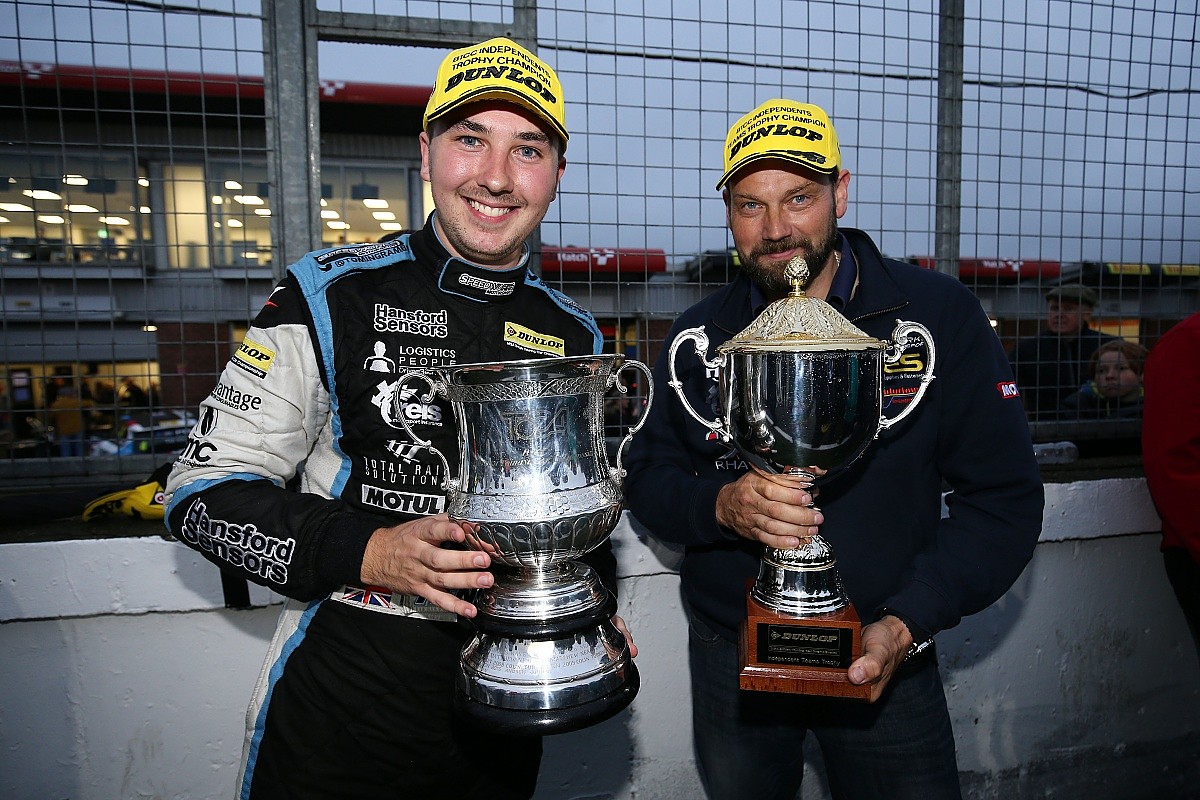 "Simulators weren't accurate enough or readily available when I was driving, so I was a bit sceptical about how much value it would bring to the team," says Dick, who competed regularly until he was injured in a crash at Zandvoort in 2014.
"But since we invested and we've had it up here, it's definitely brought something to the table. We did have it pre-season last year but it was only just before [the first race], so it's the first winter we've had it in place to keep drivers race-fit.
"There are a number of areas where it can improve drivers, whether that be trying to find those last tenths in a sprint format, or for an endurance racer to focus his attention and bring those concentration levels up. To do that on-track would cost a fortune, so to have that controlled environment is fantastic. The more of a complete, one-stop shop we can be, the better."
According to Dick, Ingram "knows the sim inside-out" and has been conducting extensive preparations over the winter to be ready for the Brands Hatch season opener, a happy hunting ground in recent times.
Should he repeat his trick from 2016 and '17 of winning the first race of the year - the one time all season that the entire field runs on a level playing field without ballast - Ingram would become the only driver in the championship's 60-year history to do so in three successive seasons.
"It is true that you do get rusty," he says. "The first time I jumped in the sim, even after a couple of weeks, everything felt so clunky and disconnected. I really had to think about what I was doing. Within 15 or 20 minutes on the sim, it was back, but that's valuable track time when you're going into [real-world] practice."
Structuring the sessions is important to make the simulation experience as realistic as possible. Rather than hammering around and logging the laps with no definitive goal in mind, Ingram does a full run-through of free practice one, two and qualifying in the days before each event.
"I do it as you would do the race weekend because then you've gone through all the scenarios," he says. "If you just go and do an hour straight, then you can guarantee in the last 10 laps of the session you'll find stuff that you wished you'd done earlier.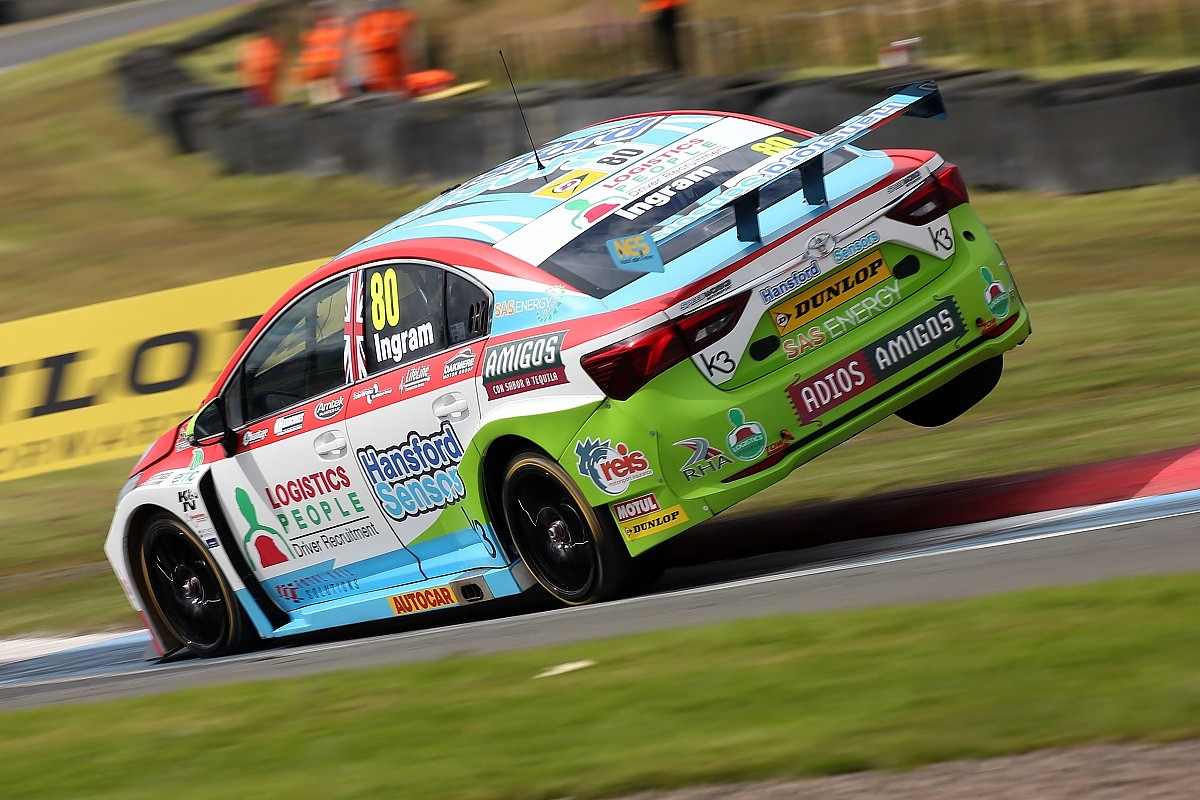 "The fastest person at each circuit won't win all three races, so there's more to it than just trying to be the fastest person on the simulator. It's a case of looking after your tyres, your brakes and having a strategy for everything. By the end you know how you can approach the weekend because you've already done it before you get there."
Dick describes Ingram as "unique" for the time he can spend on the sim without falling into bad habits, and it is this blend of diligence and self-discipline that Pro-Sim founder Quaife-Hobbs believes is crucial to get the most from the tool.
"As more and more people train and practice, just doing a four-hour session or even a day before each race isn't enough," he says. "As with anything, doing a little bit every day is better than trying to blast it in one go because that way it sinks in - you'll be quicker because you're not trying so hard."
Taking a team approach to sim work is still somewhat unusual in the BTCC, although many drivers have installed devices in their homes. Quaife-Hobbs also provides one-to-one coaching services at his own facility in Sussex, but believes more teams can benefit from having on-site simulation capabilities that enable drivers to work closely with their engineers in a more relaxed setting.
"The [engineers] run it and they know their drivers better than anyone else, which makes it a lot more tailored to the drivers' needs - they can work on exactly what they see," he says. "It's not really a one-size fits all, you need to adapt it for each driver.
"When people come to me they feel like they need to be driving all the time, but at the workshop they can get more out of it because it's not the same pressured environment."
Ingram is perfect proof of that and, with a winter of preparation under his belt, heads into the new season in confident mood. Little wonder, given his recent record on the Indy Circuit. After all, it's not often that a genuine slice of BTCC history comes up for grabs...
"Fingers crossed, that's what we're hoping for," he laughs. "A hat-trick would be pretty cool!"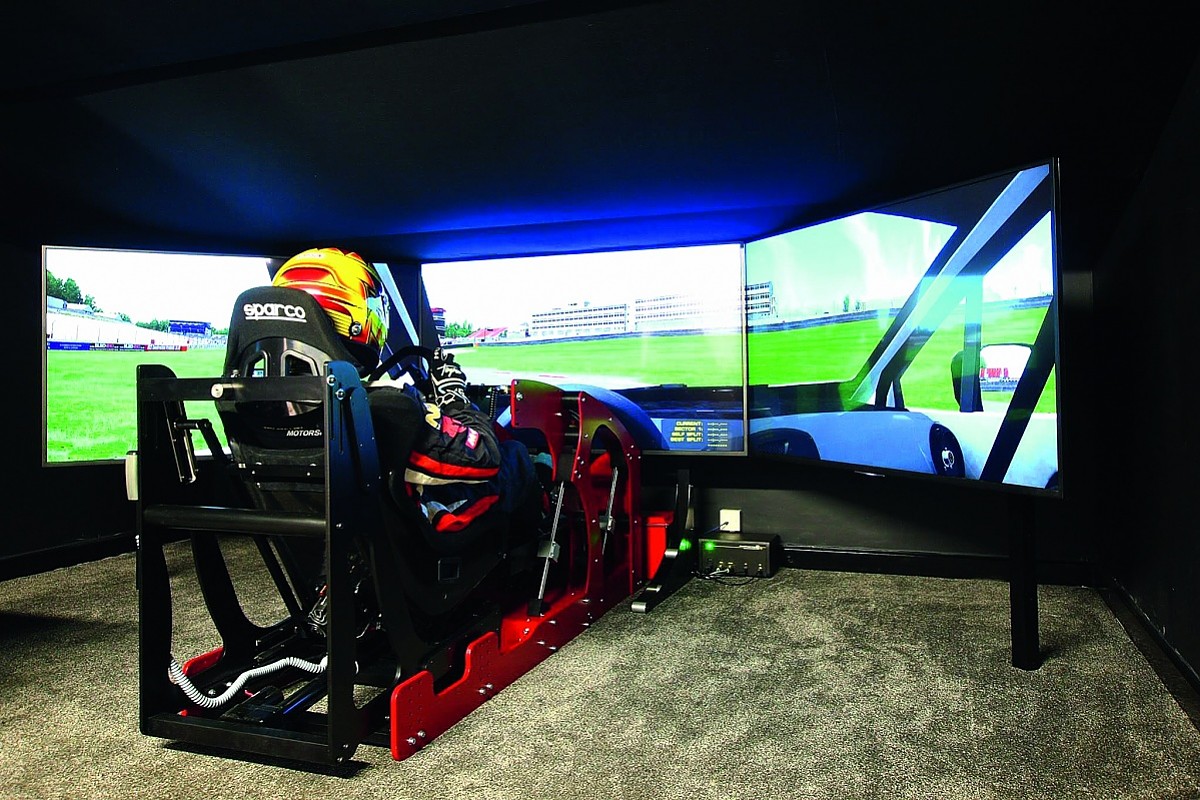 Utility and Versitility
Unlike Formula 1 teams that use an on-site simulator, the Pro-Sim unit installed at Speedworks is geared more towards developing drivers than the car, which is particularly useful for a team that runs different types of car.
Croft in a BTCC Toyota and Dubai in an LMP3 Ligier couldn't be more different, but the Speedworks sim has models of a wide range of machinery - including GTs and single-seaters - with base set-ups pre-loaded, allowing the driver to focus on improving their technique.
"The sim they've got can adjust to any position, they've got different steering wheels for GT cars or single-seaters, they've got a manual gearbox on it and brakes can be fully adjusted, so with the software they can create any scenario they want," says Pro-Sim founder Adrian Quaife-Hobbs.
Speedworks kicked off the season by entering its Ligier JS P3 in the 3x3H PROTO Series at Dubai in January, with team regular Jack Butel, Konstantin Gugkaev and 17-year-old Kay van Berlo taking a brace of class victories after a broken driveshaft forced them out of race one.
According to Speedworks boss Christian Dick, simulator time was "invaluable" for learning the track and getting used to how it evolves over a race stint, particularly for car-racing debutant van Berlo.
"Kay did an exceptional job with not only the circuit new to him but the car, the tyres, the brakes, everything," he says. "But thanks to the accuracy of the sim, he felt comfortable straight away."