Any professional driver will tell you that a basic understanding of set-up is important. Not everybody will wind up in a scenario whereby you are leading the development of a car, of course, but being able to identify what your issue is behind the wheel and what options there are to help fix it will always stand you in good stead.
That goes for a driver in a professional team liaising with their engineer as much as it does club racers who are literally on their own.
So, after our first trip to Position One, we're back for a lesson in using simulators to help with car set-up. Once again we're in the Porsche Supercup car at Monza, so I don't waste time relearning a track/car model.
Years of karting mean I have a solid base - I know what kind of vehicle dynamic suits my driving style - but set-up expands into a whole new world with cars. Looking at the programme for the day, I'm reasonably assured in what to expect from an increase in rear wing. What difference fiddling with front and rear anti-roll bars, or rear ride-height, will make is a little more daunting.
Position One chief and Gulf Racing team manager Matt Beers is overseeing this test, while Supercup frontrunner (and soon-to-be World Endurance Championship debutant) Ben Barker resumes his role as driver coach. I'm told what changes are being made beforehand, but not what to expect. My feedback comes first, then Barker explains what he experienced and, like always with these tests, equates them to reality.
The purpose of this is twofold. First, it means I have to focus more on what I'm feeling from the car - "It's quicker" or "It's slower" doesn't cut it and "It feels better" or "It feels worse" is only marginally better. Second, I will improve my understanding of how a set-up change can affect a car's behaviour, with a good point of reference for how applicable these lessons are in terms of real life.
After all, what use would a simulator be if we made myriad changes that made me better virtually, but wouldn't make a lick of difference in a real car?
WORKING THROUGH CHANGES
The following table details the set-up changes we ran through, best laptimes and run averages, and the feedback post-session.
| | | |
| --- | --- | --- |
| Set-up change | Best laptime | Run average |
| More rear wing (+2) | 1m51.902s | 1m52.549s |
| Softer on front anti-roll bar (-70) | 1m51.940s | 1m52.281s |
| Lower rear ride-height (-10mm)* | 1m51.933s | 1m52.234s |
| Induce camber (-1.0) | 1m51.716s | 1m51.974s |
| Remove rear anti-roll bar* | 1m51.709s | 1m53.499s |
| Fit and stiffen rear anti-roll bar (+70) | 1m51.223s | 1m51.531s |
Working through the set-up changes, we keep or discard certain tweaks as appropriate. We retain the increase in rear wing and the softer front anti-roll bar. Lowering the rear ride-height though, that's not something I like. So we go back. A little negative camber helps, and all that gets kicked up a notch when we stiffen the rear anti-roll bar (after an unsuccessful experiment without it). After small changes yield small benefits, suddenly there's a big jump in laptime gain and consistency. I like this final set-up a lot because the car's at its most predictable and I'm able to be aggressive without making mistakes.
If you look at the data trace below, you might be able to make out three significant points - speed at the top, brake pressure just below, and throttle at the bottom.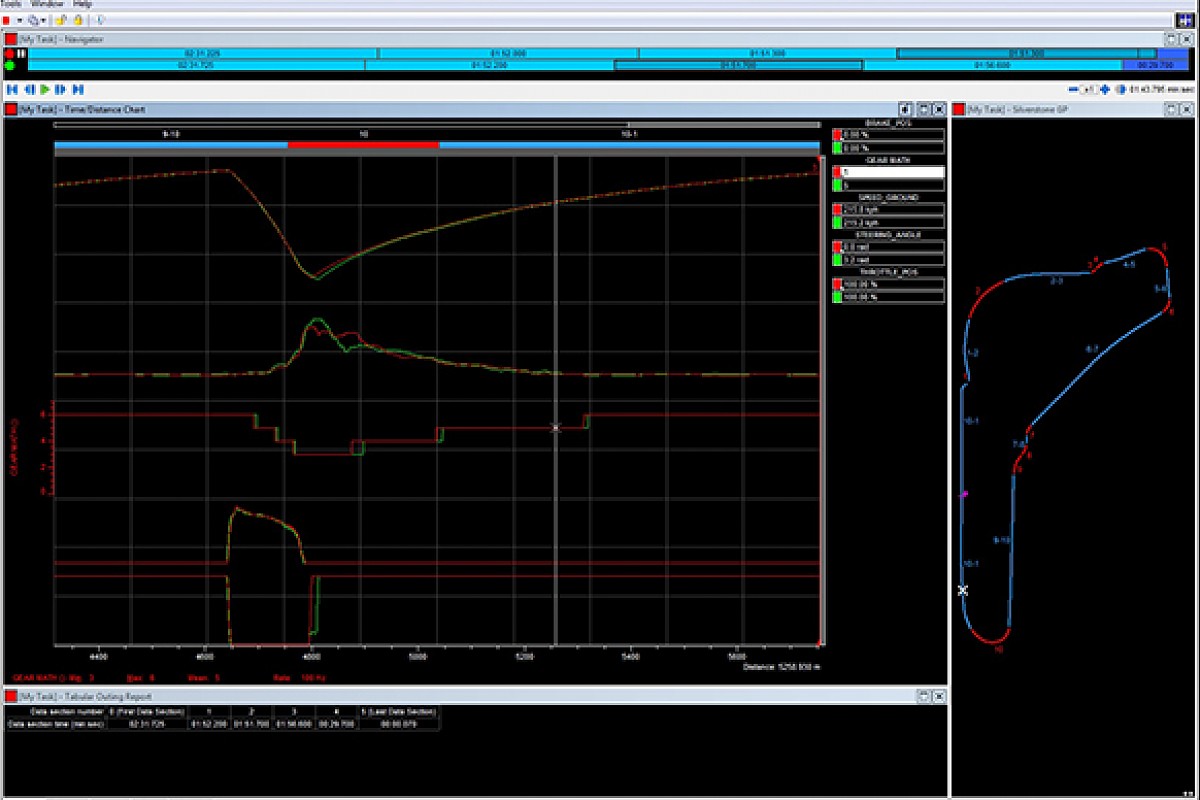 This trace is from the Parabolica, a corner that is very significant for judging the handling of a car at Monza because of its speed and duration. The red line denotes the fastest lap from the final session, my best time of the day, and my previous best. In one corner you see the benefits of the set-up change. The minimum speed is lower, the bleed off the brakes is smoother and the transition to full throttle is sharper. This is all because of the earlier rotation the combined tweaks to the set-up have afforded me.
Importantly, another conclusion drawn from this experience is based on the best laptimes in each set-up. I did not get on with the understeer-inducing rear ride-height change, yet went slightly faster than before. The same was true when we removed the rear anti-roll bar.
This was thanks to Barker's in-session coaching over the radio, which helped guide me through tweaking my driving style - it was harder to get a laptime (as the drop in consistency shows!) but the ultimate pace was pretty decent. This marries two of the greatest benefits of simulators - live telemetry that can be relayed to the driver quickly, and as-it-happens driver coaching. Naturally, the importance of being able to adapt your driving to get the most out of a set-up that isn't perfect shouldn't be understated, and the simulator environment plays a part in that here.
THE BIGGER PICTURE
The main lessons seem obvious but the effect is significant. Our run plan is akin to the sort of changes that would be expected of a typical test, and in four hours (from arrival to departure, including a break for lunch!) we have 60 laps of data to hand from six significant runs. For reference, that's a larger total lap count than two practice sessions on a Porsche Supercup weekend at Monza - and that's a series in which you only get one session before qualifying.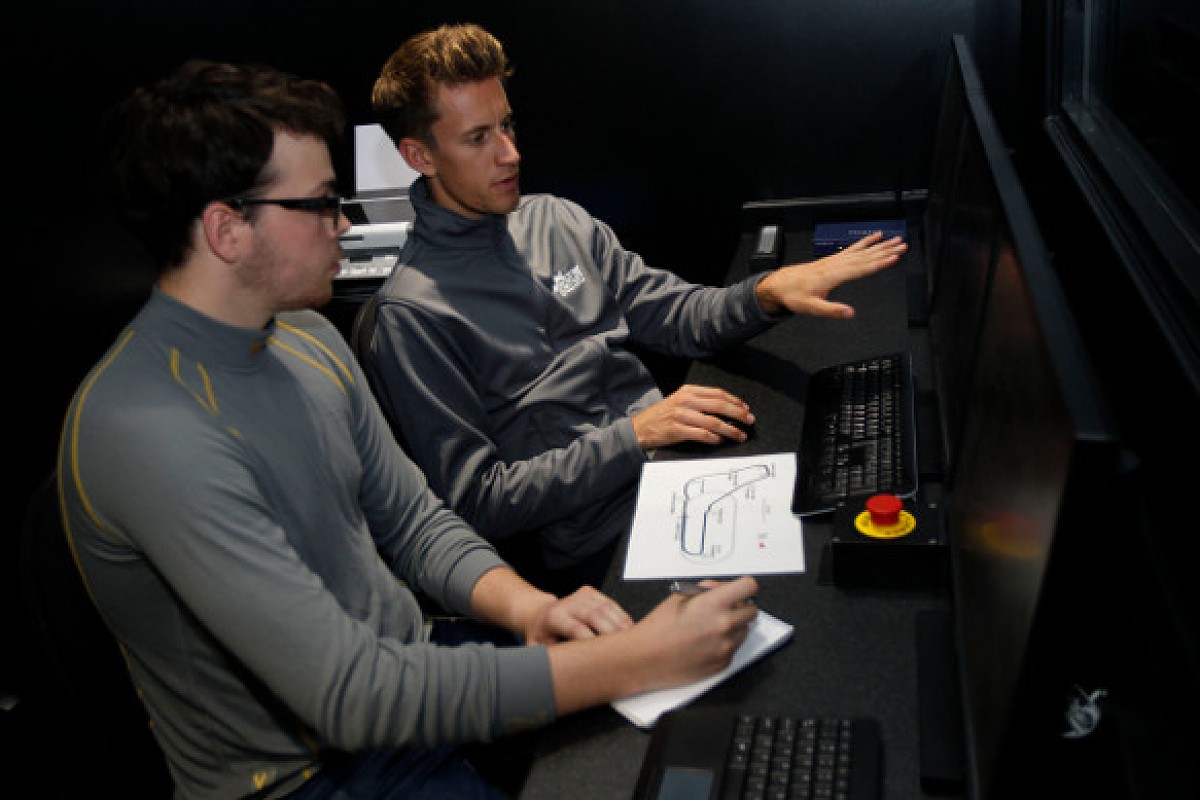 In addition to racking up mileage, we can get immediate validation of the changes from the driver's feedback and a debrief (that doesn't even need me to get out of the simulator). Plus, it's easy to equate these changes to reality with Barker on hand, so there's a warm fuzzy feeling of validation when he says: "That's the sort of thing you'd expect to find on the sim."
More importantly for a driver lacking in experience, for whom simulators offer the best opportunity to learn, it's a great way to rattle through a number of set-up changes while endeavouring to understand their impact.
I'm not going to turn up at Monza anytime soon and tell Lechner Racing to bolt this set-up on and watch me take pole, but at least I know in this environment why I had much greater success after certain changes. More bite, balance and braking stability tallies with what I've always sought from a car - understeer is no friend of mine - but before this test, if you'd said to me, "Ah, so you prefer a stiffer rear end and a softer front", my response would have been as sophisticated as a blank smile.
Knowledge improving, and having found half a second on my best lap, I'd love to keep pounding round to find more gains (I'm quicker than the Supercup 2015 pole time but as Barker says he's got into the 1m49s in real life I'd suggest that's not the most accurate of comparisons).
But as with reality, this virtual test has to end at some point. And it does so with the objective very much achieved.
VIDEO: POSITION ONE MOTORSPORT'S DRIVER TRAINING