Former World Rally Championship driver Alister McRae is starting 2009 with one of the biggest challenges of his career, as he tackles the famous Dakar Rally for the first time.
It's been a tough initiation for McRae, who is participating mainly to support the customer drivers using the McRae Enduro buggies, including former Formula One man Eliseo Salazar, rather than to push for a result himself. As the Dakar paused for its mid-point rest day in Valparaiso, autosport.com's Toby Moody talked to McRae about his impressions so far.
Q. How are things going?
Alister McRae: We're still going, which is a bonus... Well, I'm not actually sure if it's a bonus, listening to what everybody's saying about the next week.
Q. Even the big boys are saying it's going to be a killer...
AM: How do you think that makes us feel?
Q. How many of your cars have you lost so far?
AM: Well, we didn't actually lose one guy... A turbo went, and rather than the truck going to him, he turned the oil feed off and we just said drive slowly and get to the service, there's no problem, and he said 'no, I've had enough' and drove out of the stage. Then Eliseo has missed more time controls than he should have done, so we're waiting to find out (if he can continue). Eliseo's a day and a half down.
But all four cars should still be here. It's not been mechanical things. We've had problems, the guys are working all night, every night, but we're still going. All the time we lost at the start helping out the other guys, I'm not saying we're now just looking after ourselves, but we've caught up a fair bit. We'll maybe try and work a wee bit with Michel (de Groot) over the next few days. He and I are reasonably close.
Q. Are you the leading McRae car now?
AM: Aye, we've gone from being second to last up to being the leading one. After the first day, when we stopped to help Eliseo, we were second to last.
Q. What's the big thing that's really hit you about this event?
AM: Just the severity of the punishment the car takes. You expect it to be tough and hard on the car, but not like it is. And it's continual. I'd have thought it would have been a bit like the Acropolis Rally, where you get 10 or 15 kilometres of rough stuff, but then you get good stuff. So maybe 20 per cent, 30 per cent of the stage is bad. Here, I thought it would be the same. But it's 90 per cent bad and 10 per cent okay.
It's just that and obviously trying to keep the thing going. The big problem for us, when you're running further back and you're catching people, is the dust. Okay, we've been stuck quite a few times, but probably 50 or 60 per cent of the times we've been stuck were because we've been in the dust and hit something we didn't know was there. But you've got to try to get close enough to get the sentinel to work to get past them... If you just hang right back, somebody else comes up behind you. You've got to push on. But it's interesting.
Q. Is this your first experience of driving in the sand?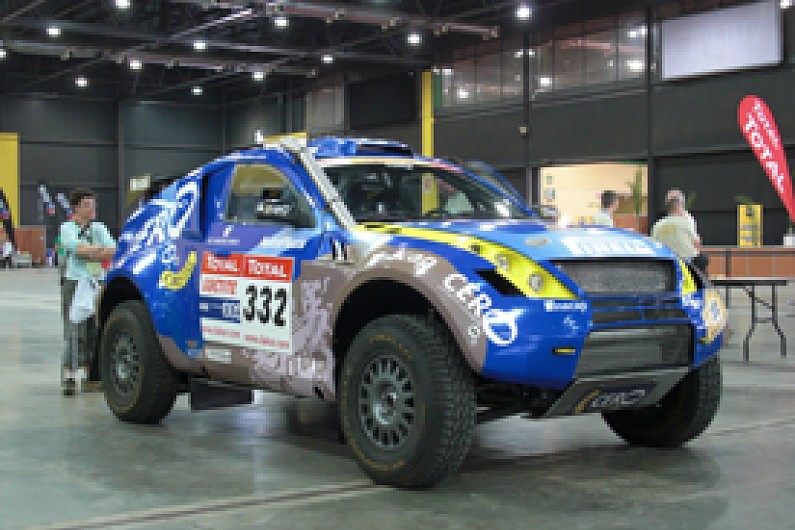 AM: I went down when the team did a test in Tunisia, so I did a little bit there, but not a lot, and the dunes weren't the same as here. I've lost count of the days, but it must have been the sixth day... Because we got stuck on the fifth day and spent the night in the desert. When they cancelled from CP2 on, we'd already got past, so we spent the night in the desert digging it out.
We got back to service just before eight in the morning, then left at 9.15 to go and do the next stage. But the dunes that day were good, you could see where you were going. So I enjoyed that, that was good, and then yesterday was shorter, but it was still a really rough day, and the fesh-fesh was really hard.
Q. The fesh-fesh has caught a lot of people out, even more than in Africa.
AM: We just stop on the belly pan, and it's like 'not again...' Get out and start again. But we'll hopefully get the next week in and keep coming.
Q. Are you enjoying it overall, or have you had moments where you thought 'what am I doing?'
AM: Oh definitely, quite a few moments like that... But you get to the service at night and think 'okay, that was fine'. You just have to get through the bad stuff to get to the good stuff.
Q. Everyone always has one particularly bad day on the Dakar, do you think you've had yours?
AM: The first three days were bad, and then we started to get better. We've started to climb on top of the wave now. We were in the trough for a long time, but we've started to move forward now.