A Formula 1 driver, typically, has been racing in karts when they are barely out of nappies - but for club racers, the bug can bite a lot later in life.
Age is not a barrier to becoming involved in club-level motorsport and there are plenty of cost-effective, friendly series that welcome newcomers, whether you're interested in single-seater racing, rallying or motorcycle racing.
It can still be daunting entering the world of motorsport for the first time however much of an enthusiast you may be, so here is the basics of how to start out in club racing from the equipment you need to what to expect at your first race.
How do I get started in motorsport?
The best way to get a feel for driving on a circuit is to take part in a trackday, if you haven't already.
Starting at around £150, trackdays are a good opportunity to get used to a certain circuit and is a cheap way to make sure motorsport is definitely for you before moving onto the pricier stages of the process. Novice-only trackdays are also available with a limited number of cars on track and expert instructors on hand to give advice and answer any questions.
For trackdays it is not mandatory for helmets to meet the same safety specifications as they must for racing. However it is still advisable to get the best protection you can, especially if you then plan to use the helmet for racing in future. Most circuits do have helmets available for trackdays if you do not want to splash out purchasing one just yet.
Motorsport is a notoriously difficult sport to get into as, unlike football or rugby, you cannot just grab a ball and practice in the garden.
However the realism of modern sim racing has made it easier for drivers to practice from home.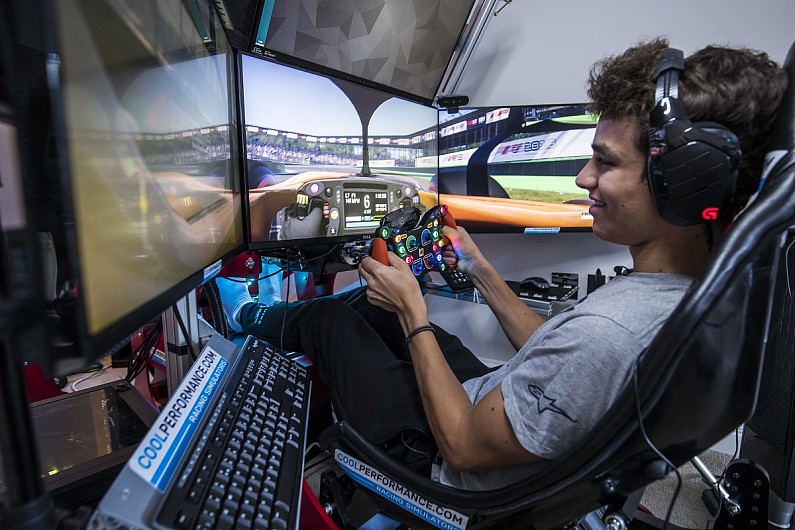 From amateurs to Formula 1 drivers, sim racing and Esports are rapidly gaining in popularity and while the most realistic set-ups can be pricey, a basic wheel and pedal set can be bought from as little as £200 and combined with a wheel stand for under £100 - which works well for a beginner.
For a high-end rig, it is possible for the costs to run into the thousands if you want it to more closely resemble Lando Norris's set-up.
Arrive-and-drive karting is another way to hone your racecraft before taking the plunge into the world of circuit racing. There is a reason that most professional drivers start out in karts; it teaches you valuable skills that will stand you in good stead throughout your racing career.
A day of karting at a centre can cost as little as £40 and with no need to buy your own kart or equipment it can be a cost-effective way of getting a bit of extra practice.
How do I get my race licence?
To get started in club-level motorsport it is necessary to hold an Interclub (formerly National B) competition licence. This allows you to take part in most club-level racing, although you can compete in some autocross, trial and cross-country events with only a RS Clubman licence, which is available for free without a test.
To gain your licence first you need to buy a Go Racing pack from Motorsport UK which includes an application form, a medical form and all the information you need to pass your ARDS course. The pack costs £99 but that also includes the cost of your first licence.
The ARDS course costs on average between £200 and £400 depending on which circuit you attend and any extra tuition included. Most UK circuits are ARDS member schools and offer tests, including Silverstone, Brands Hatch, Oulton Park and Knockhill.
The day will include a written test on circuit racing and the meaning of different flags, then a practical section where you must show your ability to drive the track safely. The emphasis is on delivering consistent and confident laps rather than going for the track record and demonstrating an awareness of the other cars on track.
Once you have completed six Interclub races you are eligible to apply for your National licence, which opens up your options to more professional events.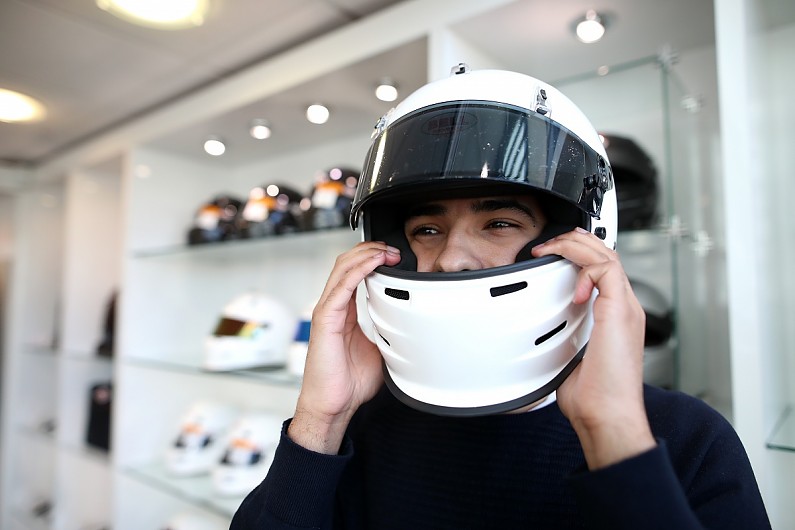 What safety equipment do I need?
All items must meet the required safety standards contained in the current year's Motorsport UK 'Blue Book' as well as the regulations of the club you intend to compete in.
A helmet, Frontal Head Restraint (otherwise known as a HANS device), a fire-retardant race suit and underwear, gloves and boots are the usual essentials that are mandatory to race.
In terms of helmets it is best to go for closed-face even if you are racing in saloon or GT cars for the extra protection. Helmets can be made of fibreglass, composite and carbon. While fibreglass is the cheapest, it is also the heaviest and the least penetration resistant.
Composite helmets are made up of a mixture of fibreglass, Kevlar and carbon whereas carbon-only helmets are exceedingly strong and light but a bit more expensive.
For club racing, helmets must be SNELL homologated to the SA2010, SAH2010 or SA2015 safety standard. You also need to make sure that it is fitted with posts to attach your HANS device.
Helmets usually go for anywhere between £400 to £3500, and it's always important to try on a few different helmets before you buy to get a feel for the comfort and to help you to decide if it is worth spending a little bit more.
Race suits must be FIA standard 8856-2000 in order to race at UK tracks with the FIA homologation standard stitched on. Suits can be bought ready-made or custom designed, improving the fit and allowing for customisation of colour and logos.
Most race suits are available for between £250 and £1200 and, as all suits should be FIA approved this is potentially an area you can save money, with the price reflecting comfort and design rather than quality of protection.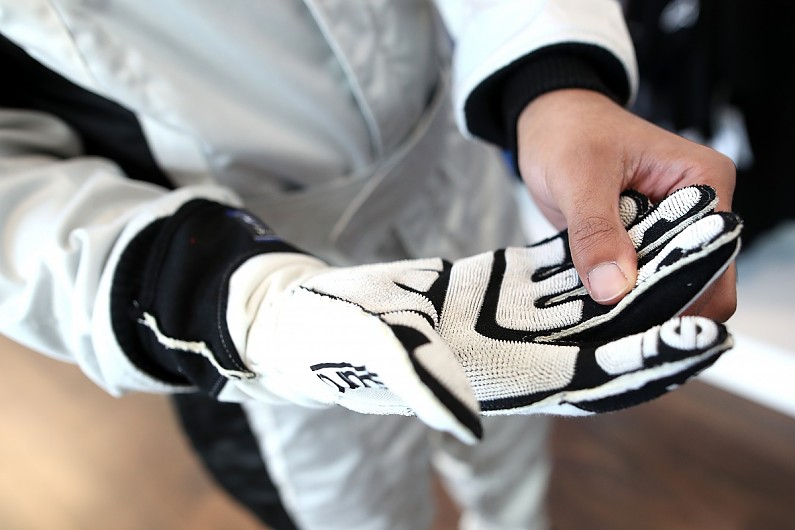 Boots are available from between £80 and £350. The entry-level boots tend to be suede and therefore hard to dry in rainy conditions - so it's often better to splash out on leather boots for racing in the lovely British weather.

Expert racewear insights from GPR
However there is no need to go top-of-the-range for most club racing as what little gains are made in performance from having thinner soles is overshadowed by their impracticality for walking around the paddock and speed in wearing out. The same goes for gloves, where the £60 versions are much more durable than the £200 options.
There are lots of different options when it comes to Frontal Head Restraints (FHR) ranging from approximately £250 to £960. In general the cheaper ones tend to be heavier than the top-end carbonfibre versions but for most club racing this is not too much of an issue.
Which series or championship should I enter?
Firstly it's important to decide what kind of racing you want to take part in. Whether you go for single-seaters, sportscars, sprint or endurance racing there are a variety of cost-effective options across all the clubs but you may want to consider how easy it will be to get a car that complies with the regulations, what circuits they visit and to get a general feeling for the atmosphere of the club.
There were 177 series organised by English clubs alone in 2019 so there are plenty of options out there for every interest and budget. The bigger clubs such as the British Automobile Racing Club, British Racing and Sports Car Club and 750 Motor Club have plenty of options, with the three running over 80 series between them last year - so those are a good place to start looking.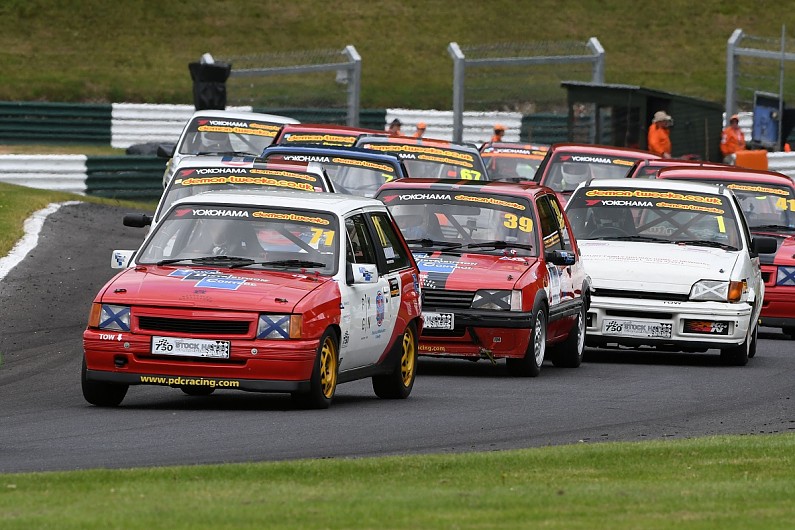 The cost of a membership to a club varies from £25 per year for 750 MC to £150 for BRSCC, and then it is necessary to pay for registration to a series - the price of which varies between approximately £135 up to over £300.
Race entry fees depend very much on calendar size - and the series itself - with a lot of variation in price, but it is typically around £3,000 for a season, with rates available for one-off drives or part-campaigns.
Once you've narrowed down your options, it is a good idea to reach out to the championship coordinator who will able to give you more information about the day-to-day running of the series and advise you as to what your next move should be.
How do I get a race car?
There are many ways to end up with a race-ready car. The easiest for a newcomer is an 'arrive and drive' package where for a fee a car is provided and prepared for you either for a certain event or a whole season. Many teams and series offer "arrive and drive" packages that can be a hassle-free way of starting out racing.
The recently launched Focus Cup works as solely an "arrive and drive" championship, with randomly allocated chassis for each race to ensure a level playing field. For £19,000 you can have a season of racing in a fully-prepped car with mechanical support, including everything but your racewear and helmet. You can do a single event for just £3,000 without all the trouble of buying and transporting your own car or needing a great deal of engineering know-how.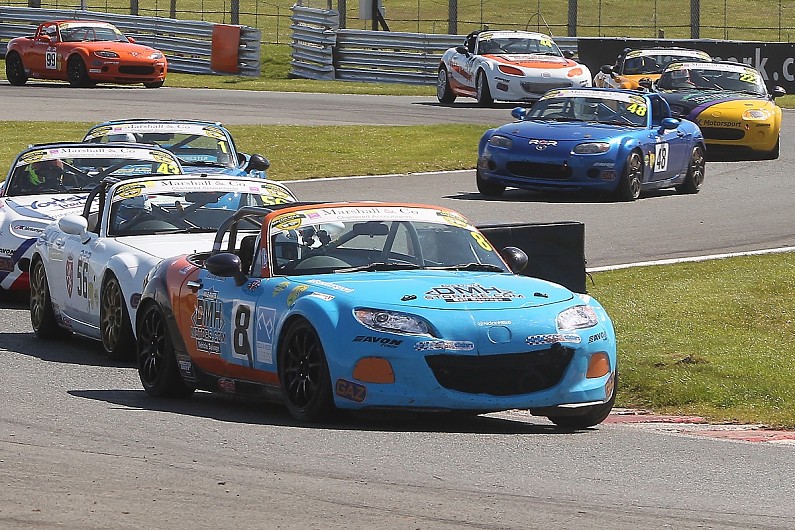 There are also second-hand cars widely available in the classified pages of the series' websites as well as in motorsport publications and on specialist second-hand race car sites. There you can also buy a wide range of pit equipment, as well as the trailers and transporters necessary to get your racing car to the track.
A lot of the most popular cars are available second-hand reasonably cheaply. A typical second-hand MX-5 race car is available for between £4,500 and £6,000 and cars eligible for the Hot Hatch championship can be bought or made from under £4,000.
If you choose to build your own car to a series' regulations or to convert a road car, the mandatory safety upgrades include a roll cage, bucket seat, harness, electrical cut-off switch, plumbed-in fire extinguisher and a high-intensity rain light, the total cost of which starts at approximately £1,000.
What will happen at my first race?
About a week before your first race you will receive the final instructions for the event which will contain a schedule of the weekend, instructions on how to use the pit and paddock area and other important information. This will help to make sure that you are in the right place at the right time and should hopefully answer most of the questions you may have going into the weekend.
When you first arrive at the circuit it is important to make sure that you sign on at race admin so that the organisers are aware that you have arrived and are ready to race.
Another activity to expect early on in the weekend is scrutineering where your car will be examined to check that it meets the championship's technical regulations and that it is safe and legal to race.
If there are any problems it is then your responsibility to fix them or you will be at risk of having wasted a lot of time and money.
There will be a compulsory drivers' briefing for your championship or series at some point before the racing begins. Here the clerk-of-the-course will go through the procedures of racing, explain the key areas for track limits and give a brief refresher on flags and other protocol. It's also a final opportunity to ask any questions before you head out on track.
In your first race it's important to enjoy it and focus on getting a feel for the car. The priority is to gain experience rather than worrying too much about how competitive you are right from the off. Many of your competitors will have been racing for decades so the aim is to feel comfortable out on track.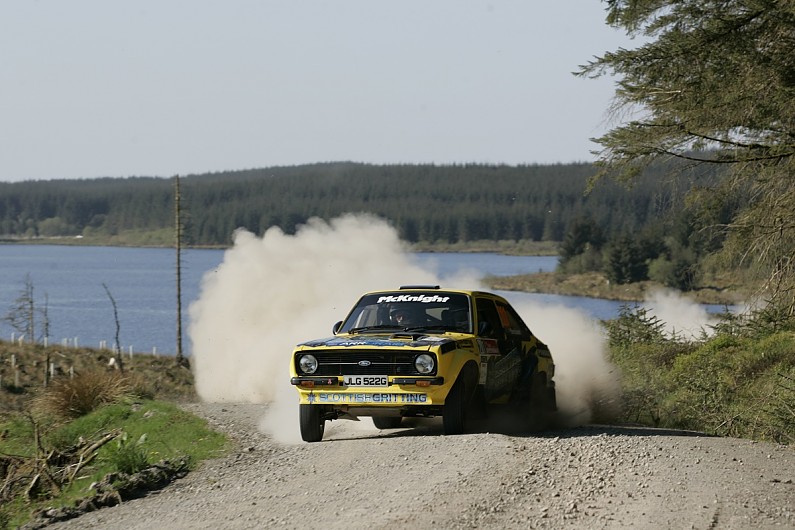 What about other forms of racing?
The process of getting your licence is much the same for rallying as it is for circuit racing, with a Go Rallying pack also available from Motorsport UK for the same price and a similar examination process has to be untaken.
Entries for single venue rallying events start at around £200 and cars are available from around £4,000 upwards.
For motorcycle racing, it's a little bit different. You must first be part of a club before you can apply for your licence, such as the British Motorcycle Racing Club (known as Bemsee) which costs £35 for example.
The ACU test costs around £150 and comprises the Competitor Training Course exam and the practical Basic Rider Assessment. Once you pass you become a Novice rider, unless you already have your bike road licence and you then become an Intermediate Novice.
Bemsee has a Rider Development Programme that provides a number of benefits to rookie riders such as an experienced paddock buddy, free instruction on Friday test days and track walks as well as running several rookie classes for new drivers to compete in.
In terms of costs of racing, an MZ experience weekend through BMZRC costs around £500 for everything you need including Friday testing with instruction from an experienced rider and four races.
Yamaha Past Masters Racing Club offers a similar package for the same price. If you want to buy your own bike, many options are available second-hand from £3,000.