Formula 1 design legend Gordon Murray's all-new T.50 supercar will incorporate fan car technology inspired by his controversial Brabham BT46B.
Gordon Murray Automotive promised "the most advanced aerodynamics yet seen on a road car" on the unveiling of the first images of the T.50 back in November 2017.
"The T.50 supercar takes aerodynamics into a completely new domain," said Murray, designer of the McLaren F1 supercar in the early 1990s.
"It borrows technology from my Brabham fan car and a little bit from the McLaren F1 where we started looking at boundary layer suction."
It is understood that the T.50 will use an electric fan to create downforce, rather than driving it from the gearbox as on the Alfa Romeo-powered BT46B, which won the 1978 Swedish Grand Prix - its only race start.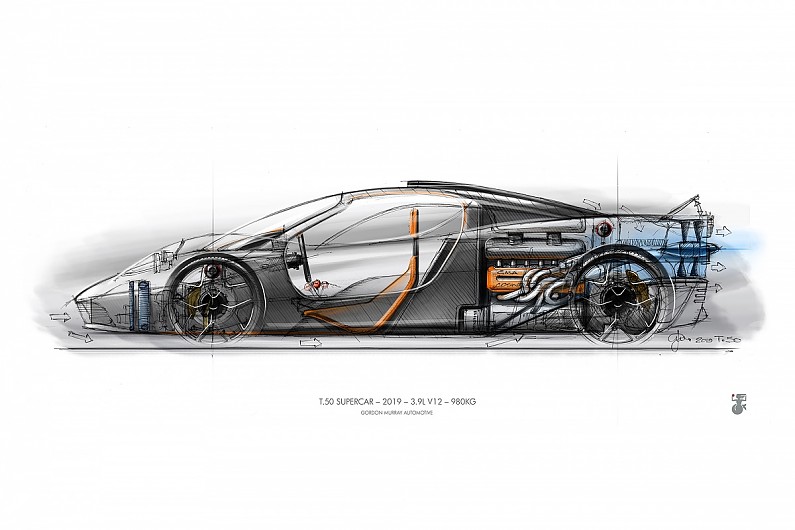 The design of the non-hybrid T.50 machine has been underpinned by what Murray is calling a "lightweighting strategy" that will result in a car weighing just 980kg.
"Our principle has always been performance through light weight," he said.
"I did a check of the average weight of all the supercars of the past 15 years and it came about at 1400kg, so I thought it was appropriate that we had a target of under 1000kg.
"The attention to detail on everything on the motor car gives us that lightweight result."
The T.50, like the McLaren F1, will be a three-seater with a central driving position.
Murray said he wanted to offer a "matchless experience behind the wheel", which is why it will have an H-pattern gearbox.
The car will be powered by a V12 engine developed in conjunction with Cosworth, which is claimed to be the highest-revving powerplant ever used in a production car.
Murray's company is aiming to build 100 T.50s, with deliveries starting in early 2020. "We've been working on the car for 18 months and it is now very well advanced," he said.
"We have been going out to sale privately and individually with potential customers and we have had a massive amount of interest so far."
The T.50 will cost £2million before taxes.