Red Bull Formula 1 junior Dan Ticktum has described his Suzuka Super Formula season opener as "very difficult" and admitted that he "struggled" in every session for his Mugen team.
The 19-year-old had qualified 16th for his third Super Formula race - and the first for its new generation car - after failing to knit together a clean lap in a frenetic qualifying session marred by red flag periods.
Ticktum was then eighth in the race after a 30-second post-race penalty for Team LeMans' Kazuya Oshima gained him a position.
The Mugen driver's race was impacted by set-up and grip problems and he also lost time in the pits when his team double-stacked and placed Tomoki Nojiri at the front of the queue.
"Well, qualifying would have been good if I had got a chance to put a lap in," Ticktum told Autosport.
"I didn't get a chance to do one lap because of all the red flags.
"It was a bit like Macau, to be honest. It was just who got a good lap at the right time. And I didn't unfortunately. Wasn't anything I could do about it.
"I think our pace this weekend was not amazing anyway.
"It was possible to [have a] top 10 in qualifying. Maybe eighth, ninth - something like that. But I didn't get a chance.
"Then the race was crazy. Unfortunately, in the first pitstop I had to wait behind my team-mate, lost a lot of time. So that was unfortunate.
"Just generally struggled with balance and grip for every session. Very, very difficult weekend. So I tried to do the best I could."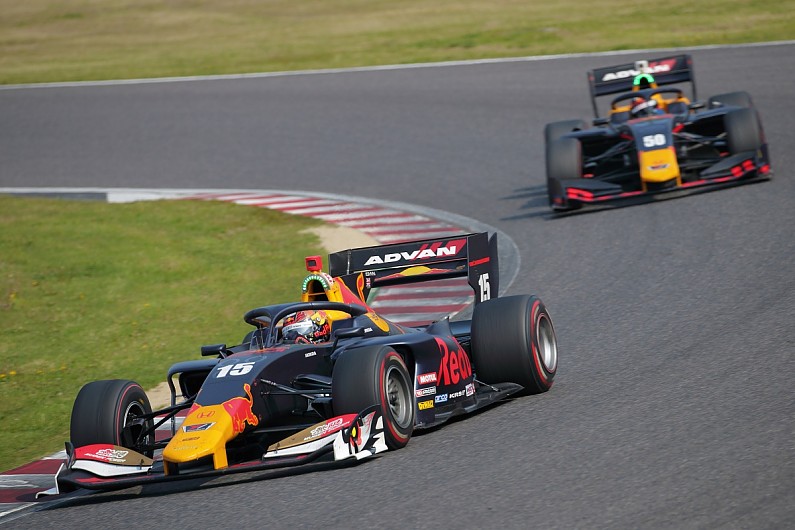 The Suzuka race was won by Nick Cassidy, who described his victory as "incredible" considering he had "strange issues" that had left him 12th on the grid.
Cassidy switched from Kondo to TOMS for 2019 and, despite strong Suzuka testing pace, he was 1.5s off the best time in qualifying.
"When we arrived this weekend we had something very strange going on with my car," said Cassidy.
"I have been more than one second too slow, not a little bit, it's been really huge.
"So I think it's absolutely incredible that we could win today because in the race I still had the issues.
"We need to find the problem and get back to our form in testing. And we can be even stronger. So I'm looking forward to that."
Cassidy took the win thanks to an early strategy call to switch to ditch the medium tyre early on.