The new Formula Renault Eurocup car that features the halo has conducted its first public running, with reigning champion Max Fewtrell driving the car at Vairano in Italy.
Fewtrell - who took six wins on his way to the 2018 Eurocup title, having been top rookie the year before - completed 250 kilometres of running and called the car a "perfect fit" for the series.
Renault Sport had tendered to become the European Regional Formula 3 Championship, but failed in its bid and was beaten to the tender by the promoter of the Italian F4 and World Karting Championships.
The marque promised to press on regardless with its car, which is built to Regional Formula 3 specification.
It features anti-intrusion technology and the halo, plus a 270bhp 1.8-litre turbo engine from the Renault Megane road car. The chassis is built by Tatuus.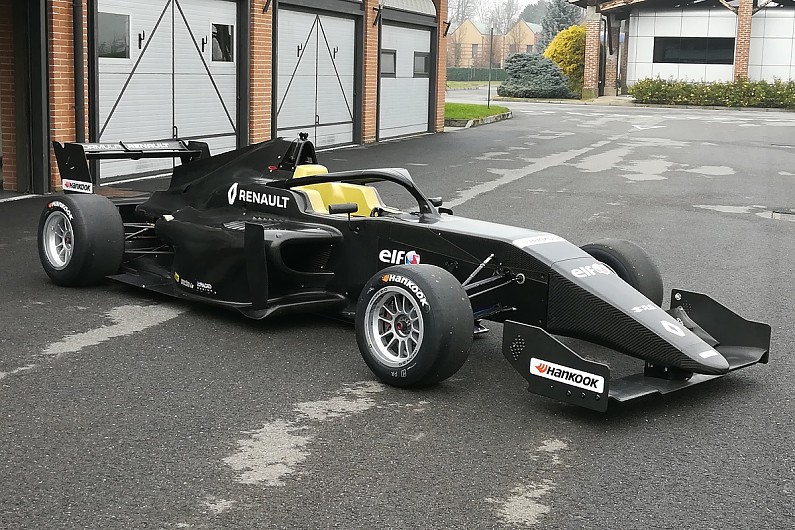 "It has been a huge honour for me to drive the new Formula Renault chassis number one," said Fewtrell, a finalist for the McLaren Autosport BRDC Award won by Tom Gamble.
"Straight away, I felt the car was evenly balanced and it just feels really nice in the corners. The additional power nicely compensates for the weight increase due to the introduction of the different safety elements.
"Overall, I had a terrific time and it looks like it's the perfect fit for the next generation of Formula Renault."
Fewtrell will not return to the championship in 2019.
He tested with ART Grand Prix in the GP3 post-season at Abu Dhabi and could join the team in FIA Formula 3, which replaces GP3 from 2019, although no official announcement has been made regarding his plans.
Allied with Fewtrell driving the car, a number of drivers have been announced for the coming season.
Oscar Piastri, the 2017 British F4 runner-up, joins reigning teams' champions R-ace GP, while BRDC British F3 regular Kush Maini, brother of Formula 2 racer Arjun, has teamed up with M2 Competition.
Victor Martins, who was fifth overall last year, has signed with MP Motorsport for his sophomore campaign and is the highest placed driver from 2018 to confirm a return.
Among the new teams for 2019 is Fernando Alonso's FA Racing team, which steps up from karting and Formula 4.