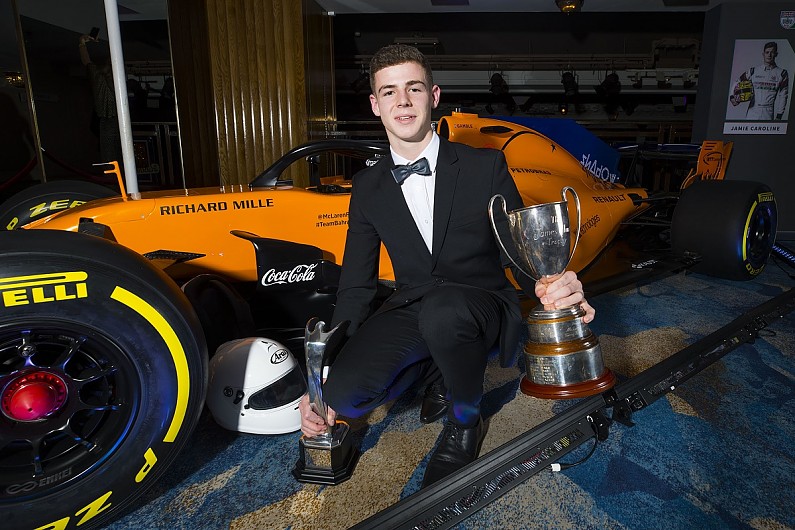 Tom Gamble is the 2018 McLaren Autosport BRDC Award winner. Autosport magazine editor and judging panel member Kevin Turner explains how the the BRDC British Formula 3 racer triumphed
One of the keys to winning the McLaren Autosport BRDC Award is being quick out of the blocks, but another less-heralded factor is a driver's progress over the two days at Silverstone.
Given Tom Gamble's relative lack of experience - only one year in single-seaters in BRDC British Formula 3 after graduating from Ginetta Juniors - it was not a surprise that he was not the fastest driver at the beginning of day one in the MotorSport Vision Formula 2 car.
He was up against fellow British F3 race winner Jamie Caroline, Formula Renault Eurocup title winner Max Fewtrell - a finalist for a second year in a row - and British Formula 4 champion Kiern Jewiss.
But Gamble's rate of progress was very impressive and once he was battling at the top of the timesheets he stayed there.
That was true both with the new-tyre/no-boost runs on day one and the new-tyre/extra-boost sessions that followed on day two.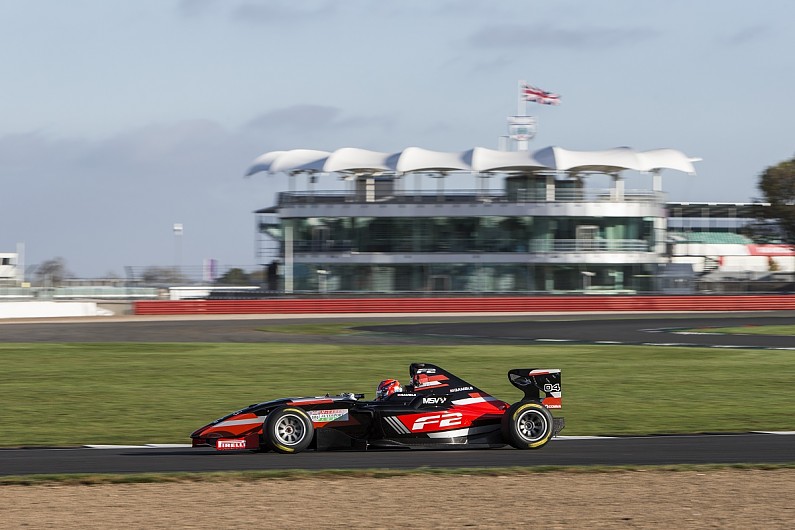 The margins covering all the drivers were small, but Gamble was always in the mix and ended up quickest. He also impressed in the final 10-lap 'consistency' run that concluded the tests.
Perhaps the highlight, though, was Gamble's run in the Ligier JSP3.
The 420bhp LMP3 machine was new for the Award in 2018 and was therefore a fresh challenge to all the finalists, even returnee Max Fewtrell.
The running was limited compared to the MSV F2 cars, with one session on used tyres and one on new rubber. Gamble, who was 16 years old at the time of the assessment, was comfortably fastest on the new tyres and even outpaced benchmark driver Alexander Sims.
Gamble was particularly fast in the high-speed corners and backed that up by setting the pace in the McLaren 650S GT3.
So, the well-prepared Gamble quickly came to terms with the challenge of the Award and impressed in all three cars. He is a worthy 30th winner of the Award and the McLaren Formula 1 test chance that comes with it.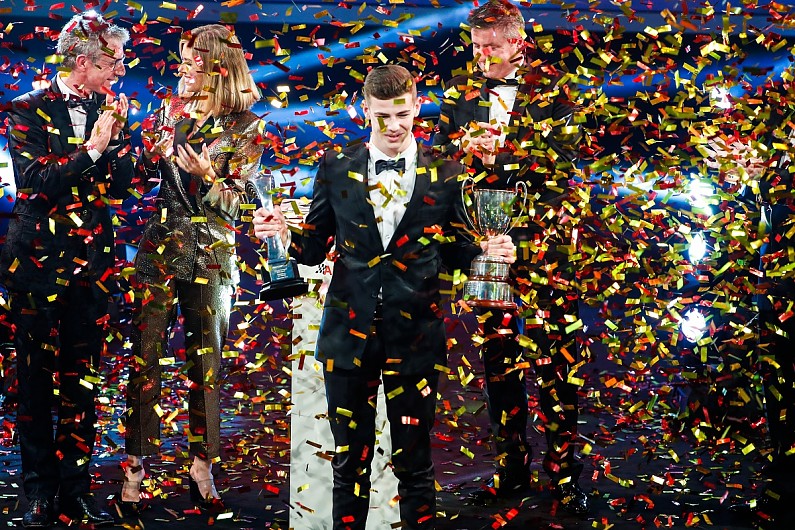 Autosport Awards 2018: The full list of winners
Rider of the Year, presented by Tata Communications
Marc Marquez
International Racing Driver of the Year, presented by Pirelli
Lewis Hamilton
British Competition Driver of the Year
Lewis Hamilton
Rally Car of the Year
Ford Fiesta WRC
Richard Mille Rookie of the Year
Charles Leclerc
Rally Driver of the Year
Sebastien Ogier
National Driver of the Year
Dan Ticktum
Racing Car of the Year, presented by Pirelli
Mercedes-AMG F1 W09 EQ Power+
The McLaren Autosport BRDC Award
Tom Gamble
The Autosport Williams Engineer of the Future Award
Owen Heaney, Imperial College London
The Mahindra Pioneering and Innovation Award
Awarded to the FIA for the halo
The Gregor Grant Award
Stéphane Ratel, CEO & Founder, SRO
The Gregor Grant Award
Jacky Ickx
The Gregor Grant Award
Mika Hakkinen
The John Bolster Award
Toto Wolff