Ken Block has used the famous Pikes Peak Hillclimb course for the latest in his series of 'Gymkhana' videos.
The World Rallycross Championship racer and former World Rally Championship regular's 'Climbkhana' film features his sideways, doughnut-filled, progress up the 156-corner, 12.42 mile course - which climbs 14,000 feet.
Block fitted two turbochargers to his 1965 Ford Mustang Hoonicorn RTR, which runs on methanol and produces 1400 horsepower, for the film.
He had competed in the Hillclimb at the start of his career, in a much lower-powered car.
"When I was young, I caught the Pikes Peak International Hillclimb on TV once or twice," said Block.
"Even as a kid I remember dreaming about racing there some day because it looked so epic.
"Eventually I did, back in 2005, but it was in a Group N rally car which didn't have much power up in that high and thin air!
"It was an underwhelming experience because of the horsepower issue, but I loved the road and mountain and I had always wanted to go back and do it right.
"So, to drive it like I get to drive in my Gymkhana videos - and do it in the Hoonicorn with 1400bhp - well, that truly is a dream come true."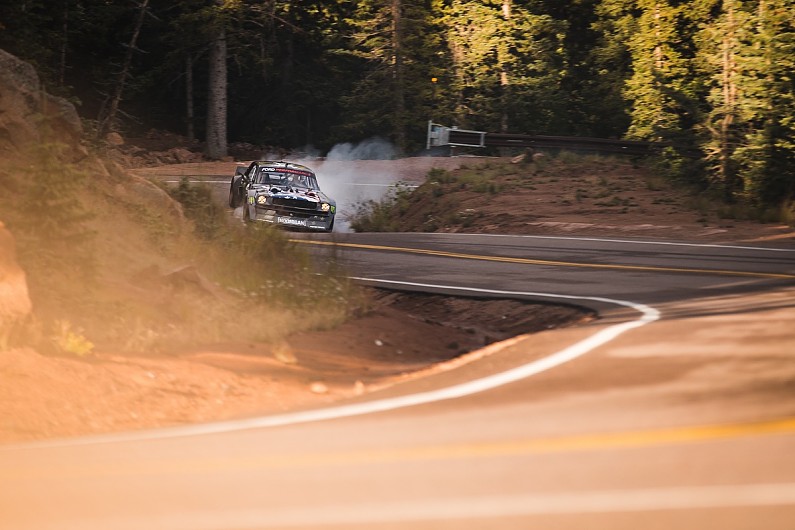 Block admitted the car was almost a little too extreme, particularly given the drops from the top of one of the highest mountains in the Rockies.
"This car is insane," he said. "I feel it genuinely wants to kill me!
"Before we added the twin turbos, it was the most fun car I've ever driven.
"Now it's still quite fun to drive, but it melts tyres ridiculously quick.
"To have this thing be such a beast and then take it to this very dangerous mountain, well, I thought I'd maybe finally taken on a project that might be too much for me to handle.
"This is the most powerful all-wheel-drive-type car in the world to be driven this way, so I'm genuinely glad I didn't die making this video!"
Block's time up the mountain was undisclosed, but it was certainly slower than Sebastien Loeb's 2013 record run of 8m13.878s in his 850bhp Peugeot 208 T16.