Frank Matich, one of Australia's finest drivers and engineers, has died in Sydney, aged 80.
In the mid-1960s Tasman Series in Australia and New Zealand, Matich was consistently the best of the local drivers, challenging and sometimes beating grand prix racing's finest.
His 1965 duel with Jim Clark at Lakeside, which saw the two men go wheel-to-wheel for nearly 50 laps, is written large in the sport's pre-Formula 1 history in Australia.
As well, he ranked second only to Sir Jack Brabham as Australia's finest designer/constructor/driver.
In 2013, Matich was named by AUTOSPORT as one of the best 50 drivers never to have raced in Formula 1.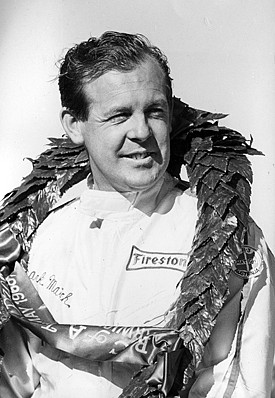 As a teenager Matich trained not as an engineer but as a mechanic, and started racing in hillclimbs, in an MG TC, in the 1950s.
In the following years he raced whenever he could afford to do so, always taking as much interest in the development of his cars as he did in driving him.
By the mid-1960s he had become the country's pre-eminent racing driver and was fighting with the likes of Clark, Brabham and Graham Hill in the annual Tasman Series.
So obvious was the speed he showed that he was offered F1 seats by three team owners; Brabham (in the seat that went to Denny Hulme), Rob Walker and Colin Chapman.
One can only wonder what he might have done in Europe in a Lotus, but at the same time, the pragmatic engineering skills he possessed may not have worked with the famously minimalist Chapman.
In the end though, Matich chose to stay, as he put it, "a big croc in a small puddle".
He turned down the offers to race overseas, staying faithful to a long-term sponsorship deal with Total Oils, which applied only to events in Australia and NZ.
There was also a family to be considered; by the time he was 30, Matich had married to Joan and was the father of three (and eventually, four).
Sportscar racing was popular in Australia and Matich turned his mind to that, but dissatisfied with racing second-hand cars - he said he was unable to afford to buy new models - he set down to build his own.
The results were the famed Matich SR3 and SR4 designs, cars so fast that they relegated every other sportscar in the country obsolete.
With virtually no competition, Matich turned to the USA - just as McLaren's Can Am monsters became behemoths.
His five-litre, Repco-engined SR4 was fast, but not in the same league as McLaren's seven-litre cars, and he returned home somewhat vanquished.
In the late 1960s, Formula 5000 came to Australia. Matich had enjoyed a close friendship with Bruce McLaren and sourced a series of McLaren M10s, and his small team developed them, in league with the factory, into winners.
His Repco V8-powered M10B won down under and then proved more than a match for the best cars in the USA when he ventured back there in 1971.
Matich won the L&M Series opener at Riverside and after finishing second a week later at Laguna Seca was actually leading the championship.
As planned, though, he returned to Sydney without competing in any more US events, keen to complete the first bespoke Matich F5000, the A50, in which he would go on to dominate local racing.
In cars of his own design, Matich won the non-championship Australian and New Zealand Grands Prix, and finally triumphed in the Australian Drivers' Championship in 1972.
Sponsor Repco withdrew from racing in 1974 and Matich decided to hang up his helmet.
He continued as Australian agent for Goodyear racing tyres and Bell helmets, while the engineering business he had established to build his cars diversified into areas such as composite construction and solar energy.
Matich was predeceased by his wife Joan and is survived by his four children Kris, Kim, Katrina and Lee.