To say I spent the entirety of last week in a heightened state of excitement would be an understatement. I was practically having kittens as I headed down to Brands Hatch on Thursday afternoon for my seat fitting.
Fortunately I didn't end up giving birth to any junior felines, and managed to regain my composure in time to meet and greet the team ahead of my British Formula Ford championship debut.
Jamun Racing made a special effort to get its fourth car ready for the first round of the new-look slicks-and-wings series. My mechanic Adam Fill was busy bolting the final bits together as I arrived at the track.
Apart from a minor modification to the gear stick, I fitted the car pretty well straight away. This was great news, because I knew being as comfortable as possible would be crucial if I wanted to have a strong weekend.
Having driven Ford's 'show' EcoBoost car with wings at Brands on Valentine's Day, I had some idea of which way things went. But going through some data with the team's lead driver, Scott Malvern, gave me more food for thought ahead of Friday's free practice sessions.
"You need to have good throttle technique to keep the boost up - any hesitation or backing off will really hurt you," said the reigning Formula Renault BARC champion, who had shaken down his car at Snetterton the previous day.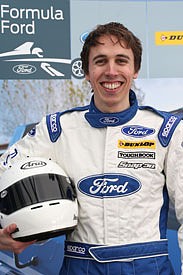 AUTOSPORT's Ben Anderson © LAT
"The brakes aren't brilliant and the tyres have a soft sidewall so the car will roll on its rubber at the rear. Patience and relaxation are really important."
I tested Jamun's patience immediately by overshooting the pitlane entry road on my way out for the first session on Friday! Assembly Area gate closed, I had to reverse my way back through the paddock before finally venturing out onto the track to bed in my brake pads.
A minor issue with the left driveshaft interrupted my running. The fact we had no other technical problems with the car all weekend is a testament to the thorough job Adam did prepping the car in such limited time.
After a brief trip back to the paddock to investigate, I completed the last 15 minutes and posted the sixth fastest time (47.0s) on used Dunlop tyres - roughly a second slower than Malvern.
The second and final Friday session presented my only chance to try new tyres before qualifying. I completed 34 laps and again posted the sixth fastest time (improving to 45.9s). JTR's Dan Cammish set the pace (45.0s), but Scott was only a tenth up the road. Things were looking pretty respectable.
I was gaining time on all my Jamun team-mates at the exit of Clearways, but losing it in the faster corners of Paddock and Graham Hill. With some small improvements, I felt confident of qualifying on the first three rows.
It wasn't to be - partly due to the most bizarre situation I have ever come across at a race meeting.
Halfway through the session the startline marshals began waving a black and orange 'mechanical problem' flag at me. I toured into the pits expecting to find something hanging off the car, only to be confronted by Amy Whitehouse of championship promoter RacingLine.
"You haven't signed on! You haven't signed on!" she yelled.
"What are you talking about? You signed me on yesterday and I handed over my licence," I replied (with a few extra choice words I won't repeat here).
"Well you need to sign this," she said, thrusting a piece of paper and a pen into the cockpit.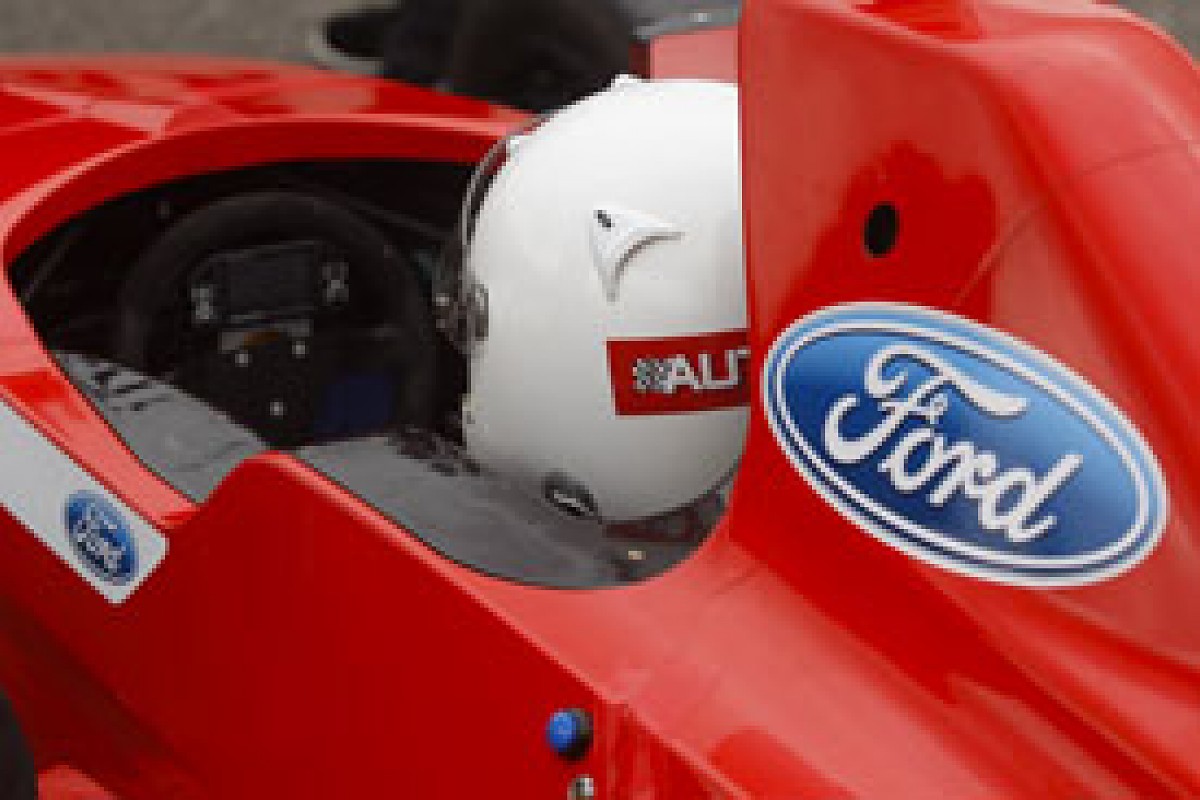 Signing on in the Formula Ford cockpit wasn't the easiest of tasks © LAT
I don't know if you've ever tried to sign your name while strapped into a racing car, with adrenaline pumping and only the steering wheel to lean on (they didn't even provide a clipboard!).
I can tell you it's not easy.
Duly signed on (for the second time), I made it back out for the final five minutes and improved by a tenth to a 45.8s best. Trouble was, some of my rivals found more. So I was consigned to starting ninth (twice) and eighth for the three races.
Much of the talk after qualifying concerned the control Dunlop tyres, specifically whether they would last the distance (drivers get one new set per weekend, plus two nominated spares for the season).
The bitterly cold whether caused them to grain badly. Everyone suffered to some degree, but Jamun was particularly badly hit on Saturday. Malvern retired after 14 laps of race one, while my team-mates Luke Williams and Nico Maranzana both fell away badly late on.
I was conscious of looking after mine, having felt how badly they went off towards the end of Friday's practice run. I won a big battle for seventh with Sinter driver James Abbott, and finished right on the tails of my team-mates as their rubber went off.
There was much head-scratching in the Jamun camp during the evening, and the team decided to employ different set-ups on each car for race two in an effort to understand the issues.
Each of my team-mates took their two spare new tyres for race two, while I remained on my old ones having taken better care of them in race one. I again moved forward from my lowly grid position in the only live televised race of the weekend, but was compromised by spending the first few laps bottled up behind karting graduate Harrison Scott.
Our man came home fifth in the second contest © LAT
Once I'd worked my way round the outside of his Falcon Motorsport Mygale into Paddock, the rest of the pack was some eight seconds down the road. Calculating I had little to gain from pushing too hard trying to catch them, I concentrated on stroking the car home and conserving my tyres for race three.
When Luke Williams stopped with alternator failure, and Lassi Halminen collided with Camren Kaminsky at Paddock, I collected a fifth-place finish - my best result of the weekend.
My two new tyres were fitted to the left-hand side of the car for the final race, so I knew this would be my best chance of an even better result.
However, my prediction that my rivals would run out of grip towards the end of the race, and thus I would be set fair for an easy podium, proved a miscalculation.
My race was decent enough: I rose from eighth to seventh at the start, then jumped to sixth when Malvern was turned around at Graham Hill Bend on the first lap.
I chased hard after Halminen and Maranzana early on, but gradually fell back into a defensive battle with George Blundell as I began to struggle selecting gears at Druids.
In all honesty I was a little disappointed with my lack of progress in the final race, but Jamun boss James Mundy cheered me up by showing me the timing sheets.
My fastest lap was only two tenths shy of the best, and on combined best sector times I was fastest of all! (Three tenths clear from the middle of Cooper Straight to the finish line, best not to talk too much about the rest of the lap).
Not bad for a 'journo'!
Next it's on to this weekend's Radical SR3 Challenge at Snetterton, where another battle with James Abbott (son of marque boss Phil) no doubt awaits...
Ben Anderson's 2013 AUTOSPORT racing blog so far