The popular Mini 7 Racing Club categories are set to again feature alongside the British Touring Car Championship this season after securing a place at the August Brands Hatch meeting.
The club's Mini Miglia and Mini Se7en championships proved to be a hit when they joined the BTCC support bill at Thruxton last season and the categories will again benefit from featuring at a BTCC event this year.
Prior to the coronavirus outbreak, the club was set make its second appearance alongside the DTM at Brands Hatch but, with the German series focusing on events in its home nation and Benelux countries this year, the Mini 7 Racing Club has instead attracted another high-profile appearance.
There is provisionally due to be three races for a combined Miglias and Se7ens field at Brands Hatch on the Grand Prix circuit on 8-9 August.
"We're really excited about the BTCC - we're very fortunate to get the date," the club's commercial manager Colin Peacock told Autosport.
"We expect to get 46 cars on the grid and I'm sure we can put on a good show."
The Brands Hatch event is due to be the second meeting of a revised Mini 7 schedule that begins at Donington Park on 11 July and also features races at Snetterton, Castle Combe and Thruxton.
Peacock says he's been encouraged by the level of interest in the Donington opener - where the categories will again be combined - adding that "people are raring to go".
"We've got 32 entries already for Donington - that's unprecedented with over four weeks still to go," he said.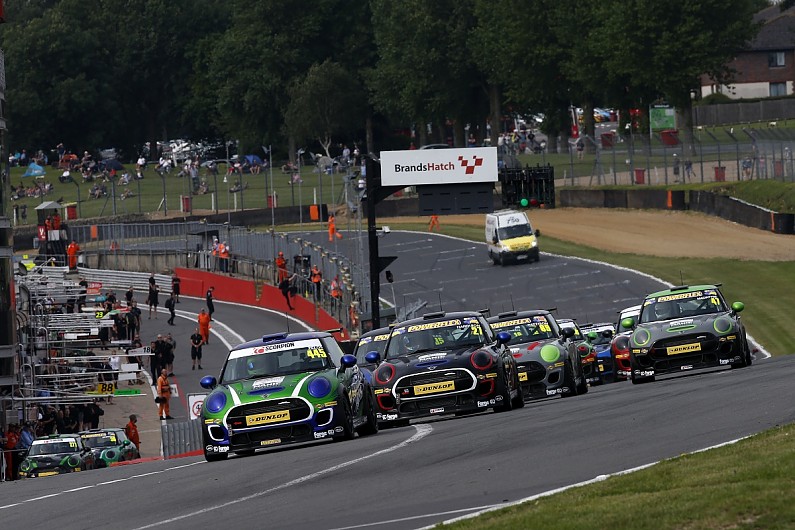 The classic Minis have secured the Brands BTCC races after the Mini Challenge JCW championship (above) for modern machines - which joins the BTCC support series roster for the first time this year after taking the spot of the Renault UK Clio Cup - has reduced its calendar from eight to five events.
The series will now only feature at the Donington Park opener, along with events at Knockhill, Silverstone, Snetterton and Brands Hatch Indy.
The decision to drastically reduce the calendar has been taken because series organisers believed the condensed revised BTCC schedule - that features nine events in the space of just three months - was too much of a financial and logistical burden on competitors.
"Our entrants are what make our championship what it is and it was only right and proper to fully involve them," said championship director Antony Williams.
"It has been heartwarming to receive the support of the vast majority of our competitors and to have worked with them in such a constructive way to agree a plan that respects their personal, business and economic challenges, whilst also appreciating that everyone has to make compromises against the backdrop we all face."
The Cooper class for less modified Minis was originally due to appear at two events, but will now race alongside the BTCC for "at least three meetings".