Ex-Formula 1 driver Martin Donnelly must wait up to another four months before finding out whether he can keep the leg damaged in a recent charity moped ride crash.
A GoFundMe campaign set up by historic racing driver Jonathan Lewis, with whom Donnelly is expected to start a Ginetta Junior team in time for the 2020 season, raised in excess of £50,000 to support Donnelly while he is unable to work.
The former Lotus F1 driver was injured last month when he was hit by another rider while touring Ireland to raise money for the Teenage Cancer Trust.
The 55-year-old suffered an infection while in hospital, which meant he was unable to have a cast fitted to his broken leg.
"The whole of the thigh just turned to what looked like bubble wrap," Donnelly told Autosport.
"It was red and orange blisters, and then it moved to my other leg and back. It was all infection."
Donnelly's left leg almost required amputation after it was fractured multiple times as a result of his crash during practice for the 1990 Spanish Grand Prix at Jerez.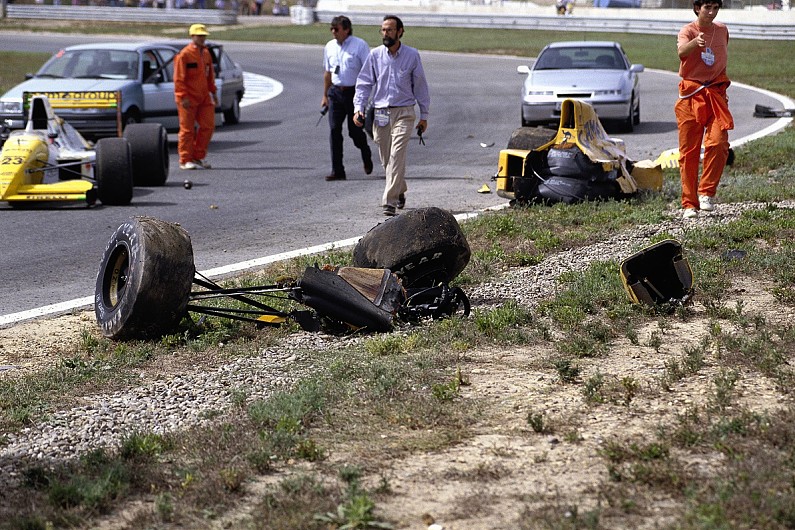 While recovering from that incident, Donnelly contracted the MRSA bacterial infection.
That has resulted in his body being slower to embrace the metal structure that has since been screwed into his bone.
Last Thursday he was due to receive a verdict from doctors on if he will be able to keep his leg.
That decision has now been postponed for between three and four months in order to give Donnelly's body more time to begin the healing process.
Donnelly's extraordinary story
"Thank God for the morphine and the anti-biotics," Donnelly said.
"Eventually they took the MRSA out of the system, so they could put a cast on.
"I've had to go back to hospital twice because the hot weather is really aggravating my leg in the cast, so they've now put it in a brace.
"It'll be big day for me when I find out. I need the callus of the bone to bond onto the brace."
Despite the "inconvenience of it all", Donnelly still plans to fly to America later this month.