It was a scene motorsport thought it had left in the 1960s. A driver laying on the track, flung from his utterly destroyed car.
The glimmers of yellow from the overalls and orange and blue from the helmet told you it was Lotus rookie Martin Donnelly crumpled beneath the remains of the seat he was still strapped to, his lower limbs at angles the human body shouldn't have to endure, protected by Pierluigi Martini parking his Minardi broadside across the track to form a shield against rivals coming upon a picture of devastation they'd never have imagined encountering in their careers.
As the medical vehicle navigated through the wreckage, Sid Watkins was struggling to identify what car the smouldering pieces had once been, let alone whose life he might now be attempting to save.
'Is Donnelly the next Mansell?' asked Autosport's cover a month earlier. Nigel Mansell was retiring (or so it seemed at the time), Johnny Herbert was among those who had "been and gone" (or so it seemed at the time) along with Jonathan Palmer and Julian Bailey. Martin Brundle was "hovering on the sidelines" in sportscars, Derek Warwick's "time is running out" and Allan McNish, Mark Blundell, Eddie Irvine, Damon Hill and Andrew Gilbert-Scott were "still shaping up".
Donnelly appeared the man to fill Britain's post-Nige gap, we argued.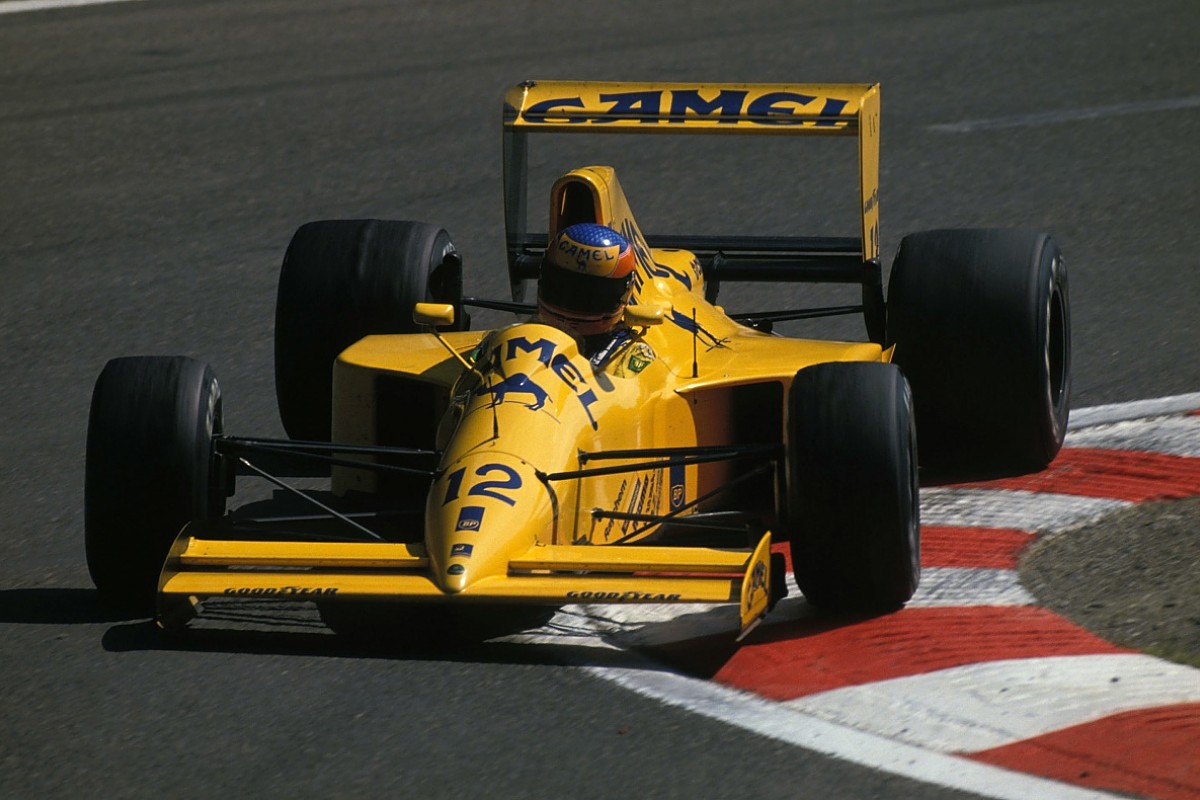 And we might've been right, though being hitched to a fading Lotus team would've been a hindrance. He had been nip-and-tuck with Jean Alesi - the man igniting Formula 1 in 1990 - when they were paired at Eddie Jordan Racing in Formula 3000 in 1989, with their qualifying speed much more equal than Alesi's points margin suggested.
Indeed Donnelly could've been the one placed in the Tyrrell seat if Jordan hadn't already put him at Arrows for a short-notice grand prix debut at Paul Ricard in 1989 after Derek Warwick was injured in a karting accident. Alesi was still fuming at Donnelly getting the Arrows call when the Tyrrell chance came up instead.
"When I went off it shattered like a car windscreen. It fragmented. And I went out with the inertia" Martin Donnelly
A year on, while Alesi was taking advantage of every Pirelli-assisted, giant-killing chance Tyrrell offered, Donnelly was showing his potential by at least matching now-team-mate Warwick in a troubled Lotus chassis used with a Judd V8 in 1989 and "designed for Nakajima and Piquet, who were like little jockeys", Donnelly adds, and now lumbered with "that big Lamborghini V12 Messerschmitt engine".
"The team was very much in decline by then. They didn't have enough money to design a new car," says Donnelly. "Those things were all kept behind closed doors. They hadn't fallen behind on paying the drivers, but I'm sure the suppliers were left hanging for a while."
Donnelly had interest from Tyrrell, Arrows and the F1-bound Jordan for 1991, but Lotus took up his option and the contract was signed on the morning of Friday September 28 ahead of practice and qualifying for the Spanish Grand Prix at Jerez.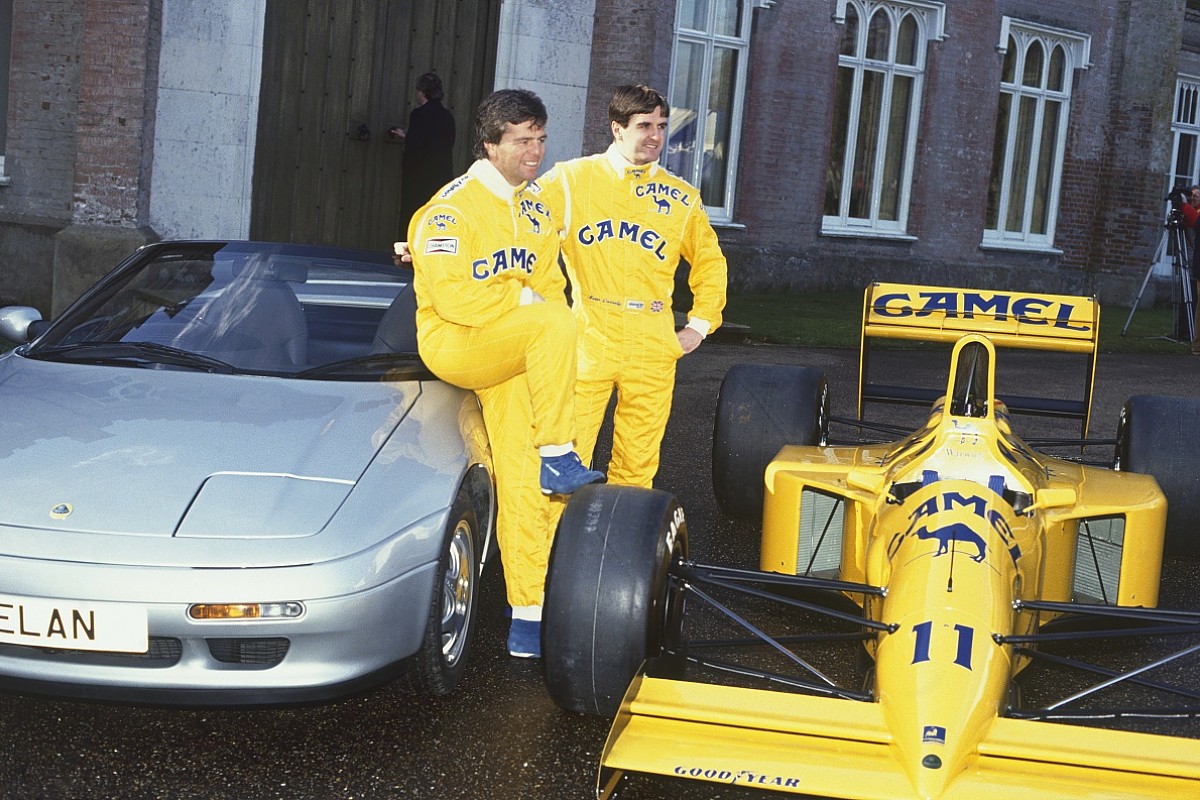 He still has the original $40,000 cheque, a reminder of a day now blank for him. There are snatches of the week before - of sunburn from a brief holiday following the Estoril race, of parma ham hanging up in a Jerez restaurant and of 10-pin bowling before heading to the track. Then it's "null and void".
A tighter diversion now bypasses the fast right-hander behind the pits at which Donnelly's front suspension failed in qualifying that day, pitching him into the barriers head-on at 140mph.
"It's not a criticism, but they made the tub light, more like a crisp packet, because back in those days weight was time on the stopwatch and the lighter you built them, the quicker they'd go.
"When I went off it shattered like a car windscreen. It fragmented. And I went out with the inertia. That's the actual thing that saved me."
It was a horrible throwback to the days of racing without seatbelts because flying through the air by yourself was felt a safer bet than being strapped in the car as it took its course. Donnelly landed 40 metres beyond the horrifically bowed Armco marking the point of impact, far from the engine and gearbox assembly that was the only remaining vaguely recognisable part of his Lotus 102.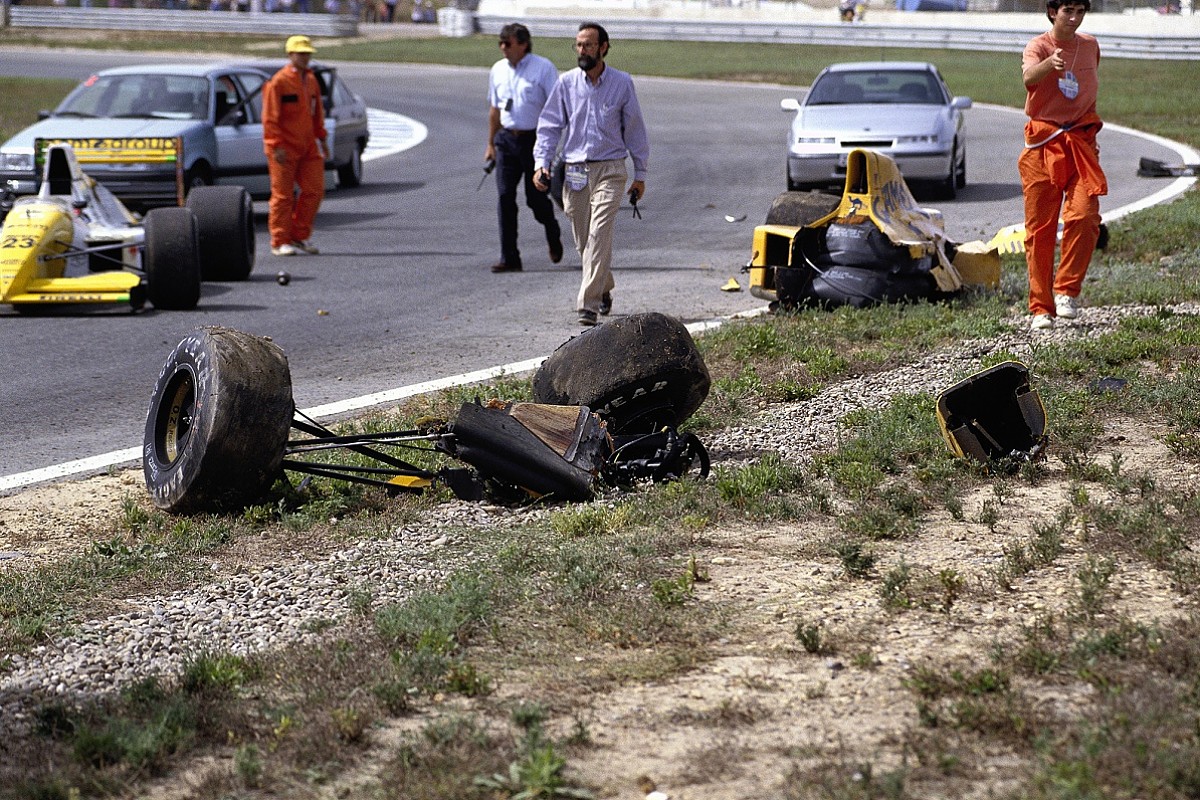 Roberto Moreno, spectating at that very corner, took a lot of convincing that Donnelly had survived, albeit with a head injury, broken cheekbone, collarbone, multiple fractures to his legs and internal bruising. But the injuries immediately evident were just the start.
"All bones will eventually heal and fix themselves, but Sid Watkins knew my body would go into shock," Donnelly says.
"The very next day exactly what he predicted happened. My lungs and kidneys all failed and I was put into a coma and on a respirator for seven weeks.
"I had the last rites given to me. I was given the 'jump-start' because my heart stopped, twice. And I'd stopped breathing on the track because I'd swallowed my tongue. So three times they brought me back from the beyond.
"My mum's a very staunch Catholic and there was a time when Sid Watkins said to her, 'We don't think we can say Martin's going to be around a lot more. You should say your goodbyes to him now'. She got the hospital priest to come in. And Sid did get that bit wrong, didn't he? Because here we are now..."
A burst artery was among the threats averted in the London hospital where Donnelly was transferred by Watkins after a week in Seville, and where he would stay - bar a brief return home for Christmas - until February 14 1991.
"The [BBC] Sports Personality of the Year Awards came to my hospital. I got all cleaned up and said in a very hoarse voice that I'd get back behind the wheel for the following year. That was the morphine talking. Good stuff.
"I was still on drugs, I didn't appreciate at the time just how bad I was. I got home for Christmas for three days and that made me realise how hospitalised I'd become and how much I depended on other people, which wasn't me.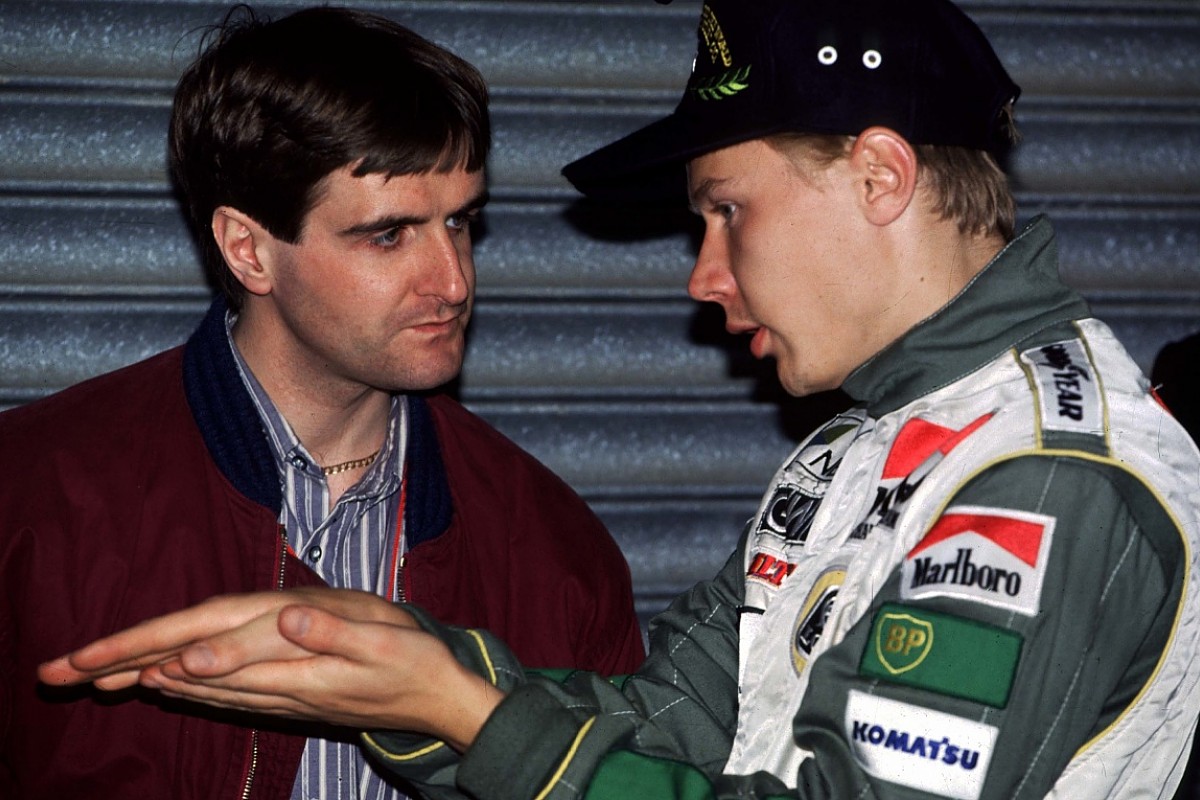 "I came out of hospital on Valentine's Day 1991. Then I went straight to Willie Dungl's clinic in Austria for 13 week of solid physiotherapy and hydrotherapy. When I got to Dungl's, I was 53 kilos in body weight. I couldn't walk, I couldn't do anything.
"Dungl was the guru back then. He got Niki Lauda back in the car, he got Gerhard Berger back in the car. I thought, 'I'll get there, do what I've got to do, Willie will wave his magic wand and I'll be back behind the wheel of an F1 car in three or four months'.
"I made a promise to my fiancee that I'd get out, get to Dungl's and walk down the aisle when we got married. I achieved that, then went back to Dungl's."
"You're wrong, you may know your job as a top surgeon but you've never come across a guy like Martin Donnelly before" Donnelly to surgeon Andy Williams
Whatever he tried, the impediment would be a thigh muscle left fused to the bone, limiting the mobility in his left knee. He describes urging Andy Williams, a Chelsea and Westminster Hospital surgeon known for his work with footballers, to "give me a general anaesthetic, jump on the bottom of my leg and... [he makes a wince-inducing 'pouwwk' noise] pull the muscle off the bone".
Williams' efforts could only get a 90-degree leg bend, and other fractures reopened too. He advised Donnelly, pictured above with Mika Hakkinen in 1991, that his F1 career was over.
"That's the only time I broke down in tears. When I'm doing after-dinner talking, I always stop on a slide of me flying through the air with my legs all twisted and bent, and in the background the car looking like a bomb's gone off, and I say, 'You might think this was the lowest ebb, it wasn't'. The lowest ebb was when Andy Williams told me I'd never be a professional driver again."
It didn't stop him trying: "That motivated me to go back to Andy Williams and give him the finger and say, 'You're wrong, you may know your job as a top surgeon but you've never come across a guy like Martin Donnelly before and I proved you wrong'."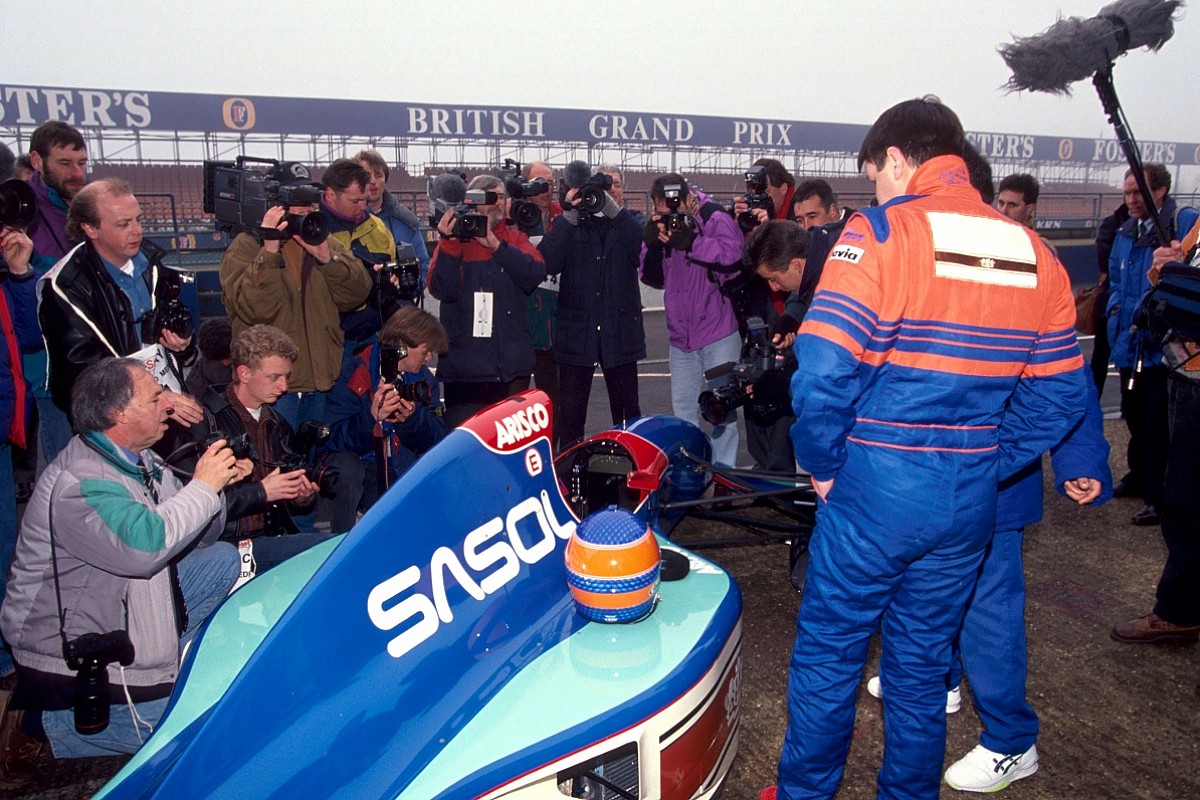 And he did, thanks to a run in a Jordan-Hart F1 car ahead of the 1993 season. It was the fulfilment of a promise Jordan made to Donnelly during his recovery rather than an audition, and it ended after two laps due to an oil leak, but that didn't matter.
"It was short and sweet, but it served its purpose. I told the journalists it felt like two and a half weeks away not two and a half years because it just felt natural. I don't remember the accident, so I've got nothing to be afraid of."
His return to the cockpit had actually come in a Formula Vauxhall Lotus run by the team he had set up post-F1.
Troubled that "there was no adrenaline rush, my heart wasn't beating through my chest, there was absolutely nothing" in the FVL, he took engineer Paul Jackson's advice to try something more powerful and arranged a test in Madgwick Motorsport's F3000 car.
"It had brakes, horsepower and grip and it was all still there. I did eight to 10 laps in a lunchbreak at Snetterton and was within a second of the lap record."
Later life included various Lotus sportscar outings, a spell in the shortlived Formula Classic and a surprise British Touring Car Championship appearance for Infiniti this year.
He reckons a previous BTCC chance was his best shot at a professional comeback, when he lined up Talking Pages backing for a works Renault seat before the Williams F1 team took over the programme in 1995.
"Martin Donnelly and Talking Pages weren't on Frank Williams' radar, and they went in a different direction. And that was it."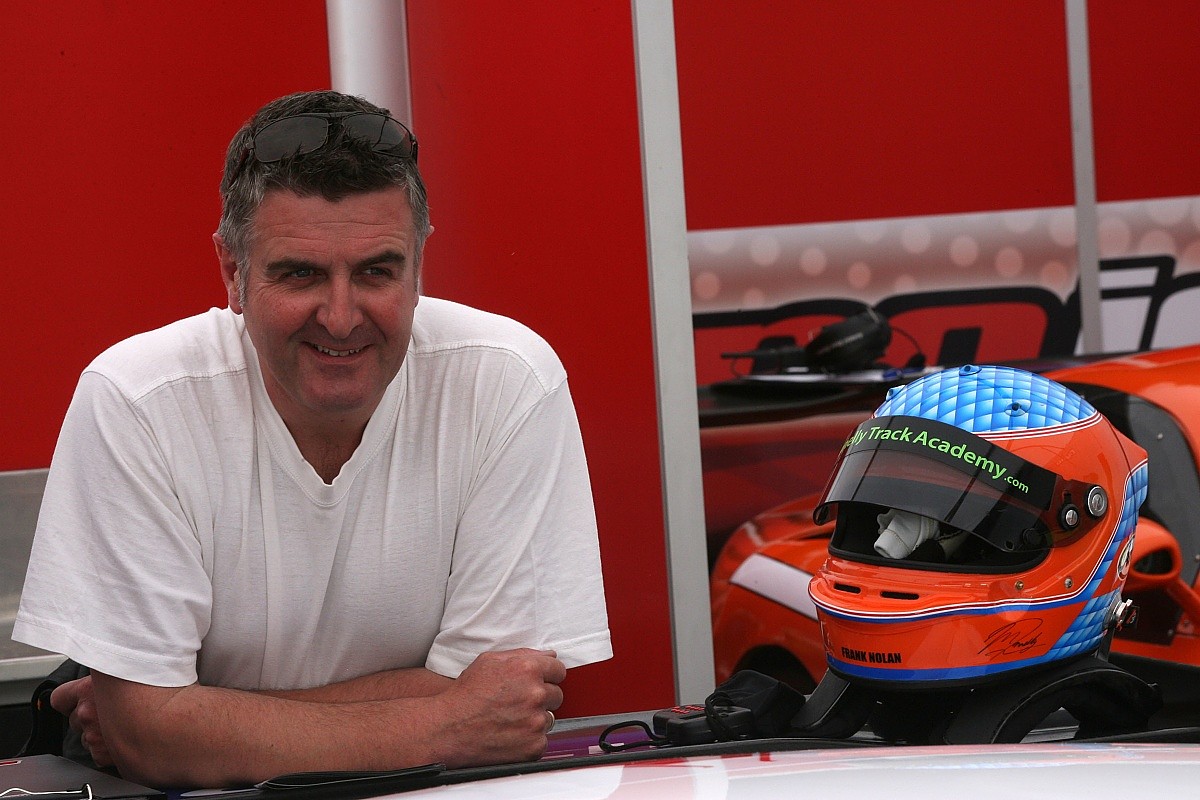 Continued sportscar work with Lotus and appearances on F1's FIA stewards' panel are among the ways Donnelly has kept busy and in motorsport. The 'next Mansell' tag would go elsewhere, but he's comfortable with that.
"If you sat down and thought about it you'd go mad thinking about what could've been. You can't sit back in your tears all the time. A few more million in the bank wouldn't go amiss, but I've got my health and I'm still very much involved in the sport I love.
"It's not until after you get out of the F1 paddock that you realised there's loads of life that isn't driving an F1 car. You ask any of those guys now the price of a stamp or a loaf of bread or a pint of milk. They couldn't tell you, because they're not living in the real world.
"Ayrton Senna's death in 1994 was the final nail in the coffin for me because it makes you realise. I think it's maybe the man upstairs saying, 'Martin, what more do you want? You've got a good life, you've got a great family, the fact you can't race F1 professionally anymore - let it go'."
This article originally appeared in Autosport's 1990 retro special magazine in 2015