A new organisation to promote LGBTQ+ inclusivity in motorsport has been launched, with support from leading charity Stonewall UK.
Racing Pride aims to raise visibility of lesbian, gay, bisexual and transgender participants in all areas of motorsport, and create a network of driver ambassadors and industry partners.
It has been inspired by Stonewall's football-based Rainbow Laces campaign.
Le Mans Cup racer Charlie Martin and W Series frontrunner Sarah Moore are two of the scheme's first driver ambassadors.
Leading sportscar squad Team Parker Racing (pictured below) is among the initial industry partners and will be the focal point of Racing Pride activities as the project makes its public debut at this weekend's Silverstone 500 round of the British GT Championship.
The scheme was co-founded by national racer Richard Morris, who currently competes in the RGB Sports 1000 Championship with Spire Sports Cars, and journalist Christopher Sharp.
Morris told Autosport that Racing Pride was "an opportunity for motorsport as a whole to show it wants to be an inclusive and positive environment for LGBTQ+ people."
"I want Racing Pride to put in place the role models for people entering motorsport in whatever capacity, whether as drivers, with teams or as fans, that so far haven't been there," he added.
"It will link up people who felt they had nobody else they could talk to and show they're not alone in motorsport."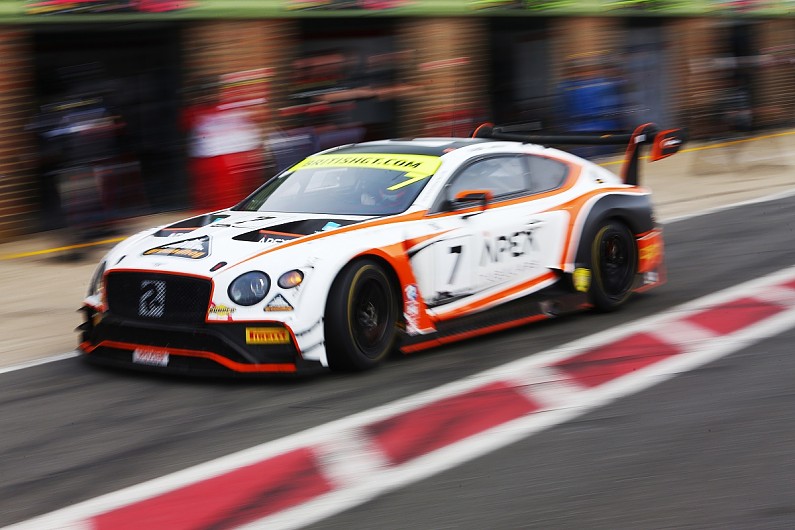 Stonewall UK's director of sport Kirsty Clarke called Racing Pride's launch "trailblazing work in helping create a more inclusive culture in sport".
She added: "Sport is one area where lesbian, gay, bi and trans people often feel unwelcome, or even excluded, not only as participants but even cheering in the crowds.
"It's extremely important that we kick discrimination out of sports - and we're keen to work with more sport organisations who want to come out for LGBT and make sport everyone's game."
Damon Hill, the 1996 Formula 1 world champion, said Racing Pride represented "a great step towards making motorsport a more inclusive environment", and emphasised his belief that such a scheme was necessary.
"Motorsport has only ever asked that people give their best, whether they're drivers, engineers, mechanics or organisers," said Hill.
"If people from the LGBTQ+ community in motorsport feel it's a difficult place for them to do that, it's incumbent upon all of us to change those conditions.
"That's why I'm supporting Racing Pride and look forward to the day that they no longer have to campaign for acceptance."
Former Clio Cup racer Nick Reeve has also been involved in Racing Pride's creation and will be a driver ambassador, while the 750 Motor Club is another of the scheme's industry partners and will launch its support at its next meeting at Anglesey in mid-June.
Morris said Racing Pride's founders were determined to "create a platform for the long term" rather than focusing on a one-off campaigning event.
"We're not launching with a finished product, we're launching with a call to arms," he added.