Aston Martin Racing Academy driver Alex Toth-Jones believes "there's good results on the cards" to come this season, despite a difficult British GT meeting at Snetterton last weekend.
Toth-Jones and team-mate Will Moore are racing a new Aston Martin Vantage GT4 this season with Academy Motorsport, but the Silver-Silver pairing were on the backfoot at the Norfolk circuit for the second meeting of the season.
A difficult qualifying session put them towards the rear of the grid, and they were eventually forced to retire from the first one-hour race due to damage sustained by contact with another car as they made progress through the field.
Despite these problems, the pair managed to salvage 10th in class during the second one-hour race and showed promising pace.
"It looked like it [the weekend] was going to be quite strong even though we knew that we were struggling for straightline speed but the car has strengths in other areas," said Toth-Jones, who is one of 23 drivers aiming for a works Aston Martin drive at the end of the season.
"Testing looked good, we nailed a few things, but qualifying was a nightmare. I lost my fastest time because of track limits and I never really got chance to do another lap.
"Going into race one we had our backs against the wall, we started to come through with good pace but it's [contact] one of those things trying to fight your way through.
"Race two was about getting a decent finish, when I was in the car it was just about finishing the race."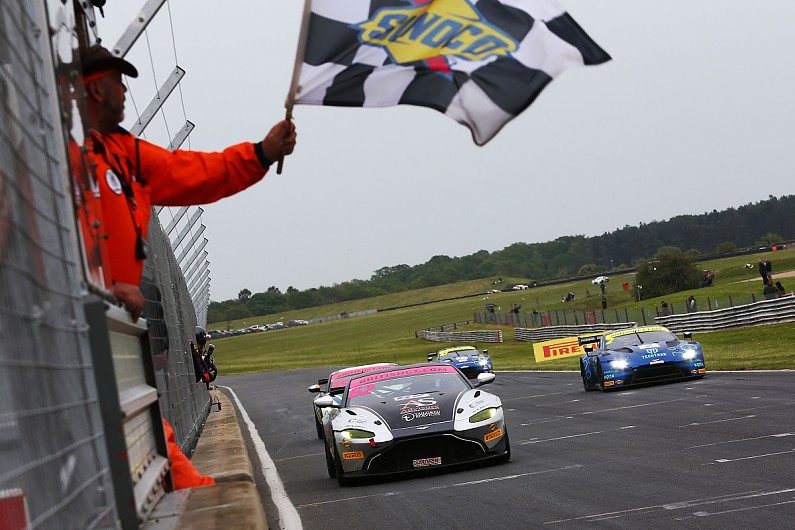 Despite the setbacks, Toth-Jones believes he and Academy Motorsport have shown glimmers of promise, both at Snetterton and the opening round at Oulton Park, and that a good result will eventually come their way.
"I took a lot away from the weekend, learnt about our race pace and ticked that box of racing at Snetterton," he added.
"I think it's good that when we were running without problems we were comfortably the second fastest and sometimes even the fastest Aston Martin.
"It's another round under the belt, a bit more experience and it's just about building on it.
"I think when things flow in our favour there's good results on the cards, if things fall in our favour we'll be right there. I can't fault the guys at Academy Motorsport or Aston Martin Racing."
The next British GT round will take place at Silverstone on June 8/9.