World Touring Car Cup frontrunner Rob Huff has linked up with Teamwork Motorsport to launch his own race team, which will compete in TCR UK in 2019.
Huff has worked with Teamwork since 2013, most recently taking part in two TCR Malaysia races with the squad in which he took pole and a podium at Sepang.
He also came close to winning the China Touring Car Championship in 2017 with the SAIC VW333 Racing squad that Teamwork provides technical support to.
The Volkswagen Golf squad will now enter TCR UK as Teamwork Huff Motorsport, with support from British Touring Car Championship team Ciceley Motorsport, and running TCR China champion Sunny Wong as its first driver.
"I've been working with the Teamwork guys for years, and now with Teamwork Huff Motorsport, it's great to be trying my hand at something else," said 2012 WTCC champion Huff, who is not currently lined up to race for the team in the UK.
"I've spent a lot of time in China with the guys, guiding their progress.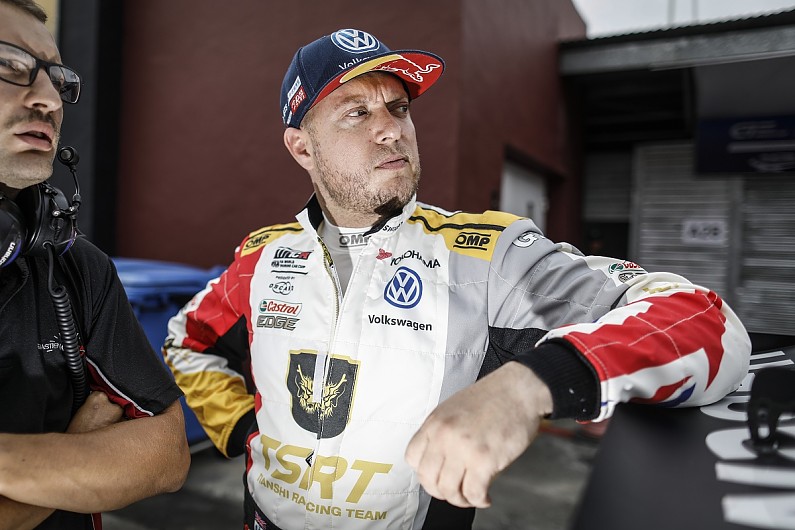 "Now it'll be something different to work with them in the UK, and not only work with them on how to get the best out of the car, but do that at some of the circuits where I grew up racing.
"It'll be a great experience, and also to have my name on a race team, working with some top drivers as we try our best to do well in the TCR UK championship, will be an exciting and fun new challenge."
Huff's new squad will run two cars in TCR UK, which struggled for grid numbers in its inaugural season last year.

Sean Walkinshaw Racing has been considering entering a second car this year and Zest Racecar Engineering has also explored entering TCR UK.
Lewis Kent and Darelle Wilson are so far the only drivers to have confirmed they will remain in TCR UK for 2019, a month ahead of the season opener at Snetterton.
Marcello Lotti, president of WSC Group and TCR's global promoter said: "It's great that a successful team such as Teamwork Motorsport chose TCR UK for its debut season outside of Asia.
"And we are delighted that Rob Huff is involved in the team's management.
"Rob has always been one of TCR's most enthusiastic supporters since the inception of the concept. And more than that, he's a good friend of mine.
"So it is with great pleasure that we welcome him in the TCR family in his new capacity.
"We wish him to achieve at least the same success with the team as he's having as a driver."
Huff is continuing with the Sebastien Loeb Racing VW team in WTCR this year.