By the end of November, it's only usually the World Rally Championship that is in full swing, the majority of championships have died down for winter.
But Jack Morton is an eager co-driver with his eyes on reaching the top of the sport. For him, sitting back and relaxing isn't good enough, so for budding young navigators, it's necessary to look for something to keep the competitive juices flowing and their instructions sharp.
The 23-year-old's answer to this is a single-venue circuit rally, the Neil Howard Stages at Oulton Park.
It's the opening round of the Motorsport News Circuit Rally Championship, and with well over £1,000,000 in machinery split across the top 10, it's a competitive field and one that can't be approached with complacency.
Morton partnered John Stone in his new Ford Fiesta RS WRC. The main challenge of a single venue event on a circuit is splits.
To send the cars in different directions around stages, they will reach a junction - or split. They will go left twice and right once or vice versa depending on the stage.
If you go the wrong way at one of these splits, a massive time penalty is accrued and any chance of a good result is pretty much through.
"Some people get complacent because they thing 'it's a single-venue rally or a circuit, how hard can it be?'," says Hexham-based Morton.
"On some of these events like Oulton Park, there's multiple splits.
"If you're not really concentrating and you're just having a ride, you can forget what you should be doing at the split.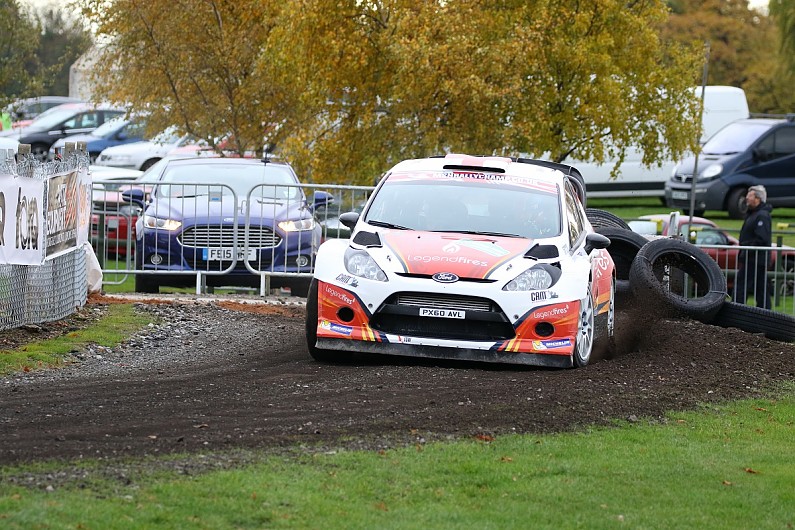 "One car followed us to finish the stage when he should go the other way last month. It's easily done.
"Obviously there's difficulties with pacenotes and pacenote events, but you have to be massively on the ball on a circuit rally.
"If you go the wrong way at a split your chance of a good result is over. "You should be concentrating as much if not more on a single venue.
"You're looking down at the map and up at the splits, making sure you get everything right.
"A stage rally is very complicated but on the stage your job is to keep your place and just read the notes, you don't even have to look up."
Morton has a wealth of experience despite his age, including being invited to join the MSA's co-driver academy after a phone call from the legendary Nicky Grist.
Competing as he did with Stone on the event came with a number of challenges in the new car.
"With it being a new car, it's a bit tricky with fuel," says Morton, with co-driver's being responsible for the juice in the car. "You need to know what it uses on stage.
"Obviously there's no road miles, but you still have to be vigilant.
"You have to find that information on the computer inside which takes a bit of learning." And it's not just the practicalities of the car to look after.
"The car has a lot more grunt than perhaps John has been used to. He's a driver who does need pushing on a bit, not over the top, but I'm not afraid to push him on and sometimes it's needed.
"It's a confidence thing really. It's a fine line between being over the top and distracting and being encouraging to get the best out of the car.
"You don't want to be telling him how to drive the car, but sometimes drivers need to know they can go a bit quicker in places."
Singe-venue events are a great place to stay tip top, and as Morton points out they are a lot more difficult than perhaps they appear.
Even those destined for greater things in the sport can learn from them. It's so beneficial that Morton will be out in the Fiesta again this weekend at the NHMC Stages at Cadwell Park.
Follow Jack Morton on Twitter: @TheJackMorton