Very few racing drivers can claim to have conquered their country, their continent and the world. Karter Mark Kimber has done just this. And - wasting no time - he did it in the space of three seasons.
This year he became X30 Euro Series champion, adding to his British crown - in the Super 1 National Senior OK Championship - from last year on top of Kimber's World Rotax Junior title in 2016.
The treble is an exceptionally rare achievement - in the last 10 years among British drivers only Lando Norris has also won a British, European and world championship 'big three'.
Kimber might even have done it in two seasons rather than three, as he lost the European crown on a technicality in 2017. This only stiffened his resolve for this year.
And Kimber is only just starting. He's clear too on the wider impact that his success will have.
"Winning races really shows people that you can do it and it puts your name out there as someone to beat," he says, "and if you're always fast you show people that you're always up there and they have to compete with you.
"Getting to know a lot of people, and showing them I'm performing on track well always helps you get noticed, and then speaking to people to see what's around [in career opportunities]."
Kimber's karting exploits have also impacted where it most matters - his driving skills that he will carry throughout the rest of his career.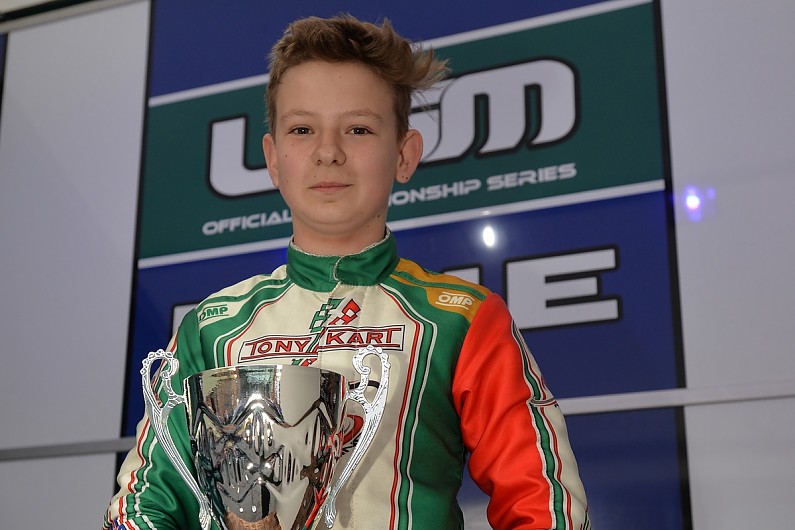 It goes far beyond pure pace too. In winning his latest karting title Kimber kept the big picture in mind.
"This year I have had a great season in Europe," he says, "mainly dominating the first round and then just keeping it consistent throughout the other two."
Then there is sharpening the skill most commonly associated with karting - racecraft.
"Over the last two years I've improved a lot in my driving and my racing," Kimber continues, "so it's really helped me to those championships.
"Karting is always the basic steps that you learn most of in terms of racing and racecraft, so that will help me move onto cars."
The specific karting series he's competed in have been particularly beneficial.
"Racing against some of the best drivers in the UK and everything really helps you develop as a driver," Kimber notes. "The grids in Senior X30 in the UK and Europe have been really big and to race against some of the top drivers really helps you improve."
So what are the specific benefits?
"Mainly defending your position," Kimber says, "because obviously there's a lot of ways for someone to overtake you, and to stay in that position is quite difficult and when you've got to overtake people there's certain places to do it where it can not affect you as much or help you gain an advantage over them, and it's learning where is the right place and how to do it properly.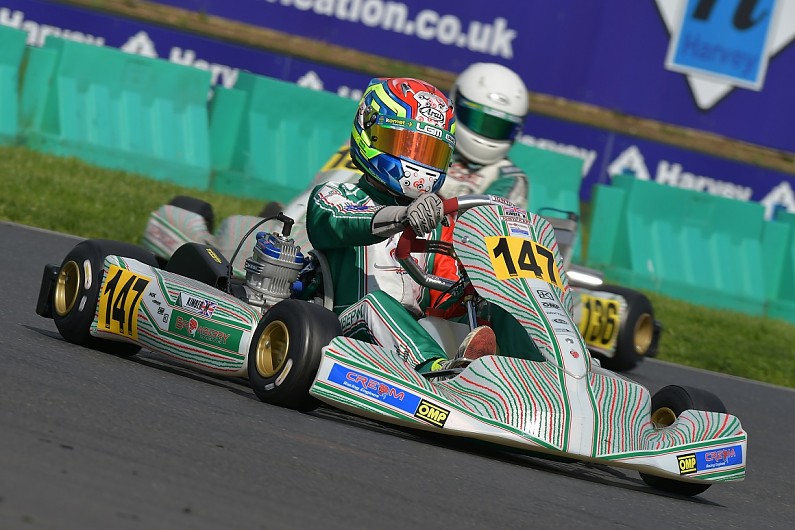 "Something which is [also] important is looking after the tyre, because sometimes over the course of the weekend the tyre can grain quite a lot and the person who saves it the most can often have an advantage over the rest."
Kimber has ambitions to move into car racing, though his plans for 2019 have yet to take shape.
"For the next year we just have to look at our options and what's the best route to go down, whether it be cars or to stay karting for longer," he explains.
"I'd like to do some sort of GT racing [in the future] because it's one of the best championships.
"It's a realistic goal and the cars are great, and it's quite a high class of motorsport. Probably over the past two years I've realised the goal for me in terms of racing.
"I don't really have any individual drivers who I look at [for inspiration] but I know a lot of people who I've raced against, or they've raced a bit before me, who've gone onto race in different types of car racing."
You would not bet against Kimber becoming the latest.