Mick Schumacher, the 15-year-old son of seven-time Formula 1 world champion Michael Schumacher, will make his car-racing debut this season in the ADAC Formula 4 Championship in Germany.
Schumacher will race with Van Amersfoort Racing, the Dutch team that propelled Max Verstappen - son of Schumacher Sr's 1994 Benetton F1 team-mate Jos - to prominence in Formula 3 last season.
The ADAC F4 Championship, Germany's new series for Tatuus-Abarth cars run to the FIA's new F4 concept, kicks off at Oschersleben on April 25-26, by which time Schumacher will be 16.
He has competed in karting under the names Mick Junior and Mick Betsch (his mother Corinna's maiden name) in order to deflect attention.
Last season was his most successful, as he finished runner-up to Briton Enaam Ahmed in both the CIK-FIA World and European KF Junior championships (pictured below).
His maiden test in a racing car was in a French F4 Championship machine, and he got his first taste of an ADAC F4 Tatuus with Jenzer Motorsport in the pre-Christmas sessions at Valencia, where VAR was running its Formula 3 cars.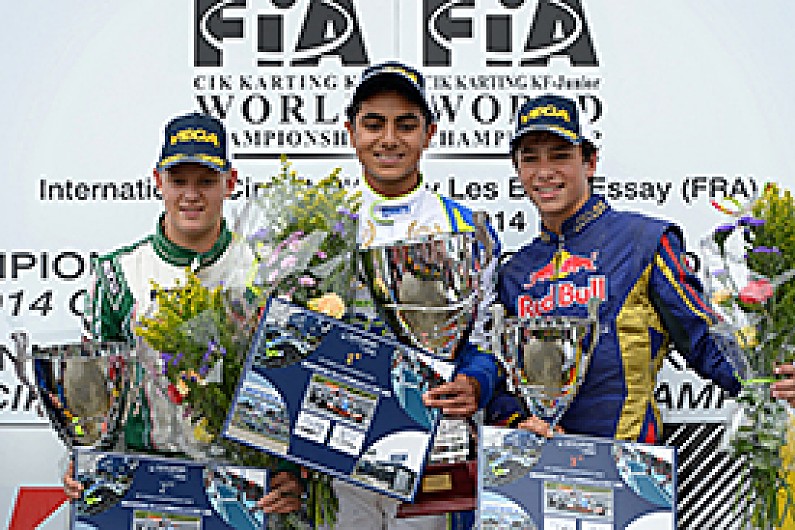 Team boss Frits van Amersfoort said: "We have seen his skills in testing and we are looking forward to a successful season.
"In the last couple of years, it has become a tradition for us that we offer the runner-up from the German junior karting championship a test session in our simulator.
"This is handled by the DMSB, the German motorsport authority, and that is how we first got in touch with Mick Schumacher last autumn.
He spent a full day in the simulator at our headquarters in the Netherlands, then we witnessed him during a test session at Valencia and, eventually, we reached an agreement to compete together in this year's ADAC Formula 4 series."
Schumacher is the first recruit for VAR's F4 team, and comes despite his uncle Ralf Schumacher having a heavy involvement with Mucke Motorsport, which also has an ADAC F4 squad.