Harrison Newey, the son of Red Bull Formula 1 technical guru Adrian, will make his UK single-seater race debut in the BRDC Formula 4 Winter Series.
Newey will drive for the frontrunning HHC Motorsport team in the two-round series, which kicks off this weekend with four races at Snetterton.
The 16-year-old, who made his race debut in the French F4 series last month at Paul Ricard, has undertaken multiple tests in a BRDC F4 car and was run by HHC for the first time at Snetterton last week.
He had previously targeted a BRDC F4 campaign in 2015 but only agreed a late deal last weekend to contest the Winter Series.
"It's going to be a big step up from karting, but I'm really looking forward to it," Newey said.
"I've been able to do a lot of testing with the car in the past few weeks so I'm very familiar with it and I'm confident of making strong progress by working alongside the team."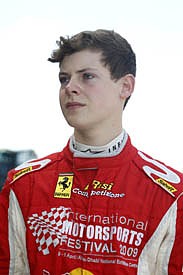 HHC commercial director Charlie Kemp said bringing the youngster on board was a coup for the team.
"To have Harrison as part of our team is really exciting for us," Kemp told AUTOSPORT.
"Not just because he can show some more pace with more development, and we're perfectly placed to help him do that, but it's a lovely feather in the cap that someone with such a famed pedigree in single-seaters has chosen us.
"I think everyone is going in with realistic expectations. We want to come out of the weekend having learned as much as possible."
Newey will join main series race winner Will Palmer and fellow rookie Zubair Hoque at HHC, while Formula Renault BARC frontrunner Alex Gill will join Mark Godwin Racing for his BRDC F4 race debut. The 17-year-old finished fourth in FR BARC this season with one victory.
A number of other drivers have been confirmed for the opening Winter Series round, bolstering the grid to double figures, including Connor Jupp with the new Mectech Motorsport team and Mexican Rodrigo Fonseca at last year's champion team Douglas Motorsport.