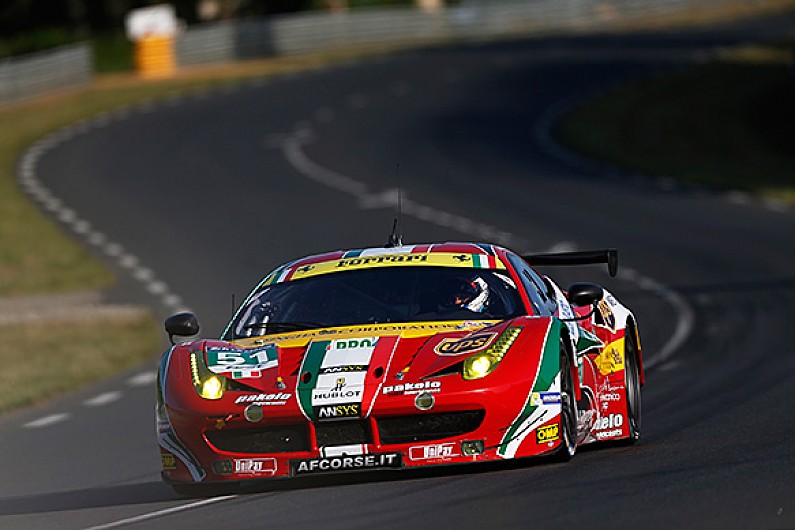 Le Mans 24 Hours class winners Toni Vilander and Emmanuel Collard will join a bumper AF Corse Ferrari entry at the Spa British GT round.
LMP2 and LMP900 class winner Collard will partner Francois Perrodo in one of five 458 Italias run by the squad, while two-time GTE Pro winner Vilander will join Yannick Mallegol.
Perrodo, who is Collard's team-mate in the World Endurance Championship with ProSpeed and with Crubile Sport in the European Le Mans Series, is contesting the Spa 24 Hours with Jean-Marc Bachelier, Yannick Mallegol and Howard Blank in the Gentlemen Trophy class later this month.
"I'm racing with Francois because he wants to get some practice at Spa before the 24 Hours," said Collard, who drove with Perrodo for ProSpeed in the ELMS last season and partnered him in an AF Ferrari at the Bahrain WEC round.
"It will be the first time in British GT for me and I hope we will be competitive."
AF team manager Ugo Maceratini confirmed that Filipe Barreiros and Francisco Guedes will complete the five-car entry, in addition to the team's regular British GT pairings Aaron Scott and John Dhillon and Pasin Lathouras and Richard Lyons.
GUESTS COULD MAKE GRID SEASON'S BIGGEST
The AF Corse quintet and an additional Barwell BMW Z4 could make the British GT grid at Spa (July 11-12) the biggest of the season.
Barwell will run a second Z4 for regular ELMS drivers Jonny Cocker, who partnered Marco Attard in the main British GT car at Snetterton last month while Alexander Sims was on Nurburgring 24 Hours duty with BMW, and Timur Sardarov.
That is set to bring the grid to 38 - two more than started the three-hour Silverstone round.
In addition to several regular drivers returning after missing the two Snetterton races, ex-GP2 race winner Adam Carroll and former BTCC racer Jeff Smith will continue as team-mates to Gary Eastwood (FF Corse Ferrari) and Rory Butcher (Motorbase Aston Martin Vantage) respectively.