When certain championships have been around for a while, they can lose their sheen and sort of fade into the background, becoming part of the racing furniture, as it were.
Lawrence Tomlinson took over Ginetta in the mid-2000s, and there's no doubt that he breathed fresh life into the struggling British sportscar manufacturer by developing a new, modern-looking range of GT-inspired racing cars and creating new opportunities for talented drivers to build careers through his 'ladder to Le Mans' programme.
The subsequent success and longevity of Ginetta Junior, the GT5 Challenge, Ginetta Racing Drivers Club and the GT4 Supercup has established Ginetta as a cornerstone of Britain's national racing landscape - so much so that we take seeing these cars populating the UK's race tracks almost for granted.
But that doesn't mean the battle is over. For all that relatively recent progress, Ginetta still lacks the prestige and international renown that helps the likes of Aston Martin, Bentley, Ferrari, Porsche, McLaren et al to remain at the forefront of GT/sportscar racing, almost come what may.
That's why Ginetta's fledgling LMP1 programme and its latest offering to the ACO's burgeoning LMP3 category are so welcome. They offer a clear route to competing at the very pinnacle of endurance racing, at a time when the premier prototype category is in flux and needs support.
Ginetta is producing cars that can take you all the way to Le Mans, which means they can potentially fulfil dreams. This strengthens Ginetta's sportscar ladder, which should in turn keep its stalwart championships at the forefront of people's minds, rather than fading from their consciousness.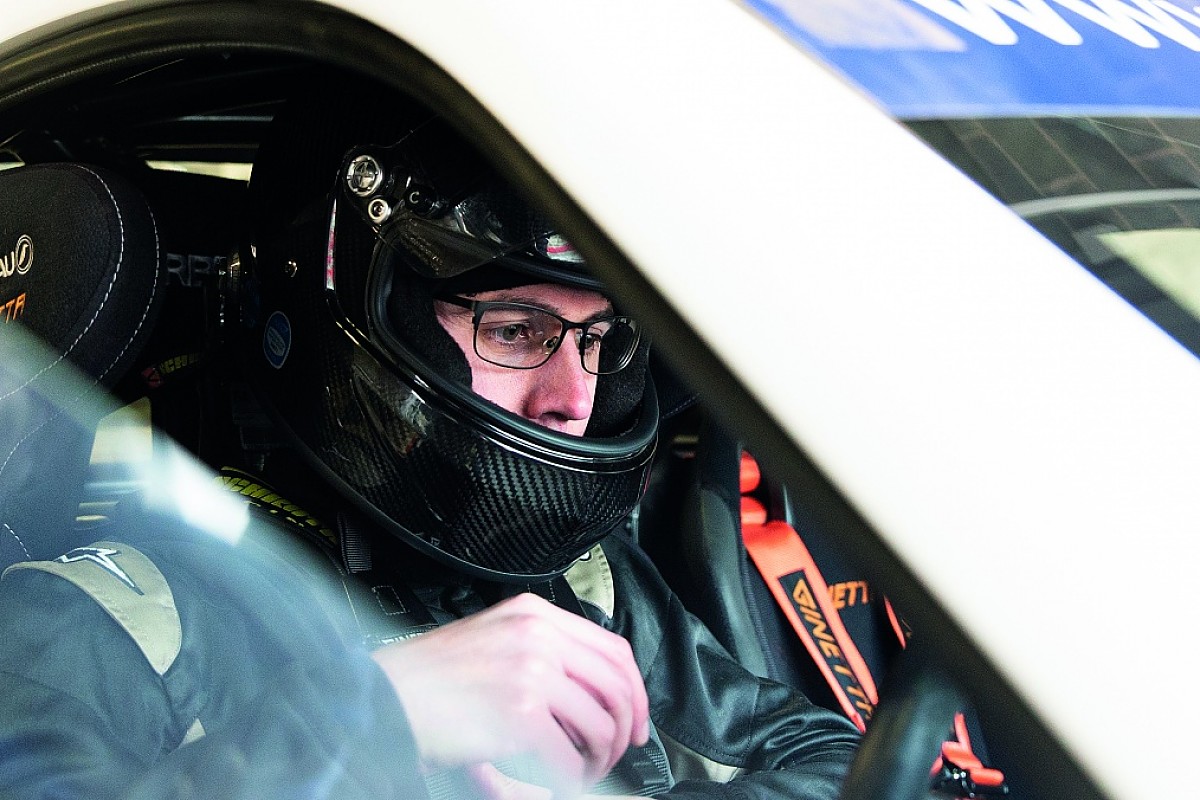 G40 GT5 Challenge
The Ginetta G40 will never fade from my own mind. Sliding back into the cockpit on this chilly Donington Park morning, the memories of nine years ago come flooding back.
I raced one of these cars when they were new to the scene in 2011, competing on the then-recently reconfigured Snetterton 300 circuit as a British F3/GT support act, against a field that included one of my childhood racing heroes: Caterham legend Clive Richards.
I unexpectedly took pole in crash-shortened, rain-affected qualifying and finished on the podium after spinning on lap one of the first race. I even caught Richards before he spun off in front of me.
Fellow members of the media placed bets on how badly I'd do; I recall several of the F3 fraternity (which included Felipe Nasr and Kevin Magnussen), whom I was also there to report on for Autosport, giving me V signs from the pitwall as I drove past on the main straight!
"Every input you put in the car will directly feed back to you, so if you are really aggressive, it'll be really aggressive back to you and snap" Charlie Robertson
This car looks very similar to the one I raced almost a decade ago, and in fact I'm told not much has changed at all in the basic specification, save for the addition of a rear spoiler to calm the car down.
Ginetta factory driver Charlie Robertson, finalist in the 2013 McLaren Autosport BRDC Award, heads out first for some installation laps, but the car unfortunately suffers an electrical shutdown when I'm aboard. The track is drying but still wet in patches when I head back out after some swift repairs.
After half a dozen laps, and a best lap of 1m29s, I can feel the car moving around on its wet Michelins through the drier corners - much how I imagine the Junior version of this car, which runs 60bhp less and on treaded tyres, feels.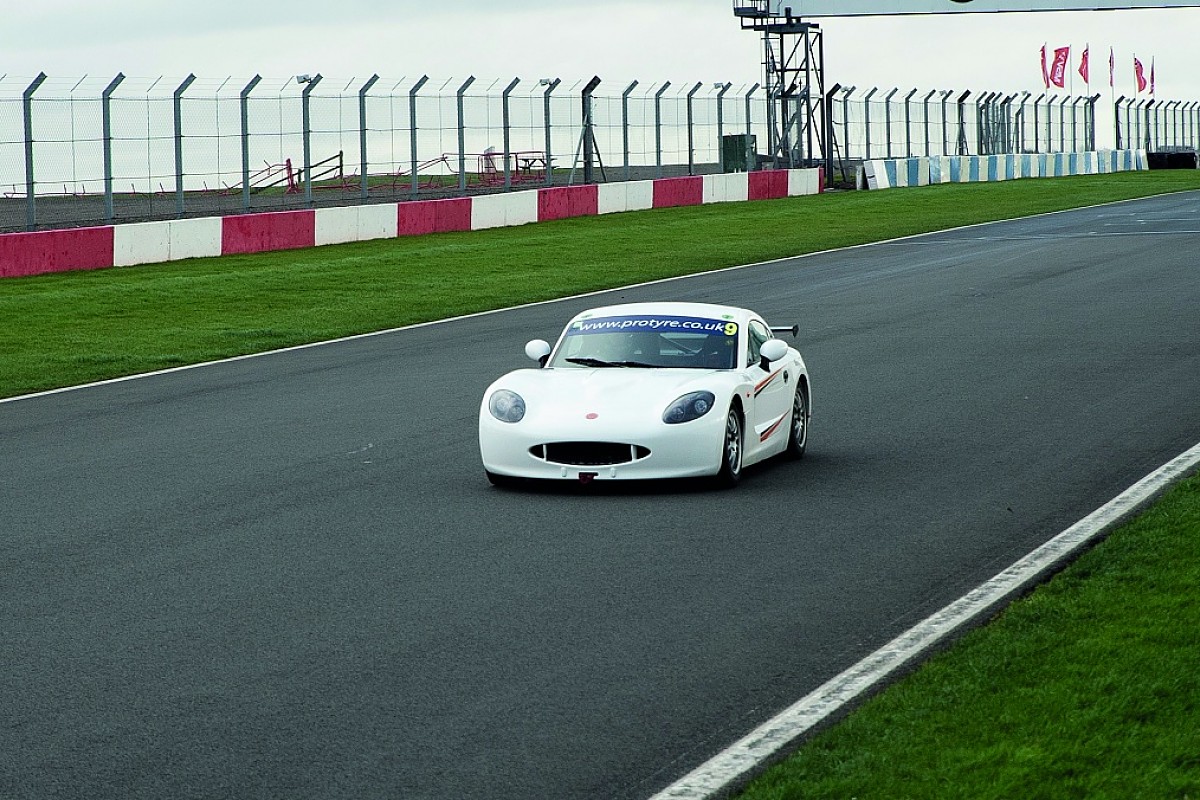 Later, on Michelin slicks, we're down to 1m22s in the damp. By then, I've had a run in the G55 Supercup car (more of which later) and the G40 feels agricultural in comparison. But the consequence of all this clearly telegraphed weight transfer, and gradual loading and unloading of the steering, is that drivers near the beginning of their careers will learn important lessons about how the car reacts to their inputs, and feel exactly what the G40 is doing. No point reinventing the wheel if the technology still does the job...
"The G40 is the perfect car to learn in for any driver, because it's got that level of weight transfer," Robertson says.
"Every input you put in the car will directly feed back to you, so if you are really aggressive, it'll be really aggressive back to you and snap. You've got to be a smooth driver, and it really teaches you to drive with finesse - a lot of discipline, a lot of keeping that momentum going. It's like being back in Cadet karts."
G55 Supercup
Taking the G40's bigger, meaner-looking brother out for a spin is not quite the same trip down memory lane. I haven't raced one of these, but I do have distant experience of this car's forefather - the G50 (and its cousin, the G50 Zytek).
Racing in the G50 Cup at Silverstone in 2009 was the other truly transformative experience of my early Autosport racing career. For the first time, I found myself getting slower the more I drove the car, but after carefully studying the data with help from my sister Jenny - who is now an engineer in KTM's MotoGP team - coupled with some set-up help from Frank Wrathall, I eventually ran inside the top 10 and lapped within a few tenths of the pace in front of those similar British Touring Car crowds who'd seen me disgrace myself in the Porsche Carrera Cup a year prior.
This is where I learned the transformative power of data and self-awareness of technique. The G55 nevertheless takes me back to this time because it is what came next.
It actually doesn't feel too far removed from the G50, just everything - power, braking performance, grip - amped up to a new level. Although, Robertson (below) warns me, the power-assisted steering makes the car very direct on corner entry, it also makes handling nearly 1100kg and 355bhp more straightforward.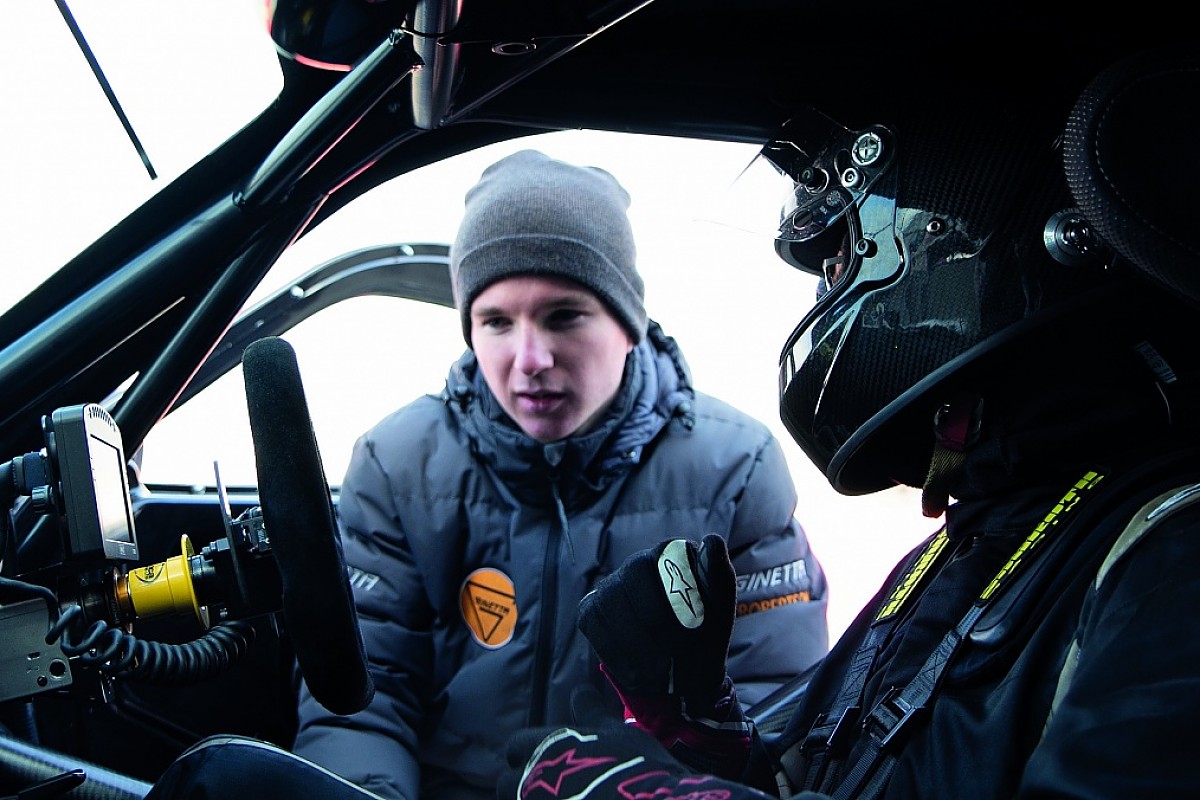 It's the sort of car that showcases Ginetta's endurance racing DNA. It's so smothered in grip and benign enough in its behaviour that you can get quite comfortable quite quickly. And it's stealthily rapid.
I'm straight down to 1m13s (Robertson tells me 1m09s is frontrunning pace) without taking risks or fully exploring the braking potential. I know I'm giving away time at Redgate and the chicane while I'm finding my feet. But as the speed builds you really feel the inertia of the car.
"The splitter and the wing and the big slick tyres really make the car suitable to a downforce driver - you can really attack the corners, come off the brake, really roll the speed" Charlie Robertson
There is a lot of mass to manage, so you need to be alert and precise with your inputs to avoid trouble. It feels like a definite step up from the G40.
"That car is effectively the G40's big brother," says Robertson, who won the Supercup in 2014 after switching from single-seaters. He describes the G55 as "probably one of my favourite racing cars I've driven".
"It's a similar way of build [to the G40] - a spaceframe chassis with the shell bonded on, then a 3.7-litre V6 with almost 400 horsepower straight to the back wheels, which is a different beast to the G40. The splitter and the wing and the big slick tyres really make the car suitable to a downforce driver - you can really attack the corners, come off the brake, really roll the speed.
"I felt really at one with the G55. It's basically a G40 on steroids. The guys in that class at the top are pukka. I went out today just warming up and Will Burns came past. I was flabbergasted by how fast he was! You forget how good the guys at the front of that championship really are. They're really pushing the envelope with the car."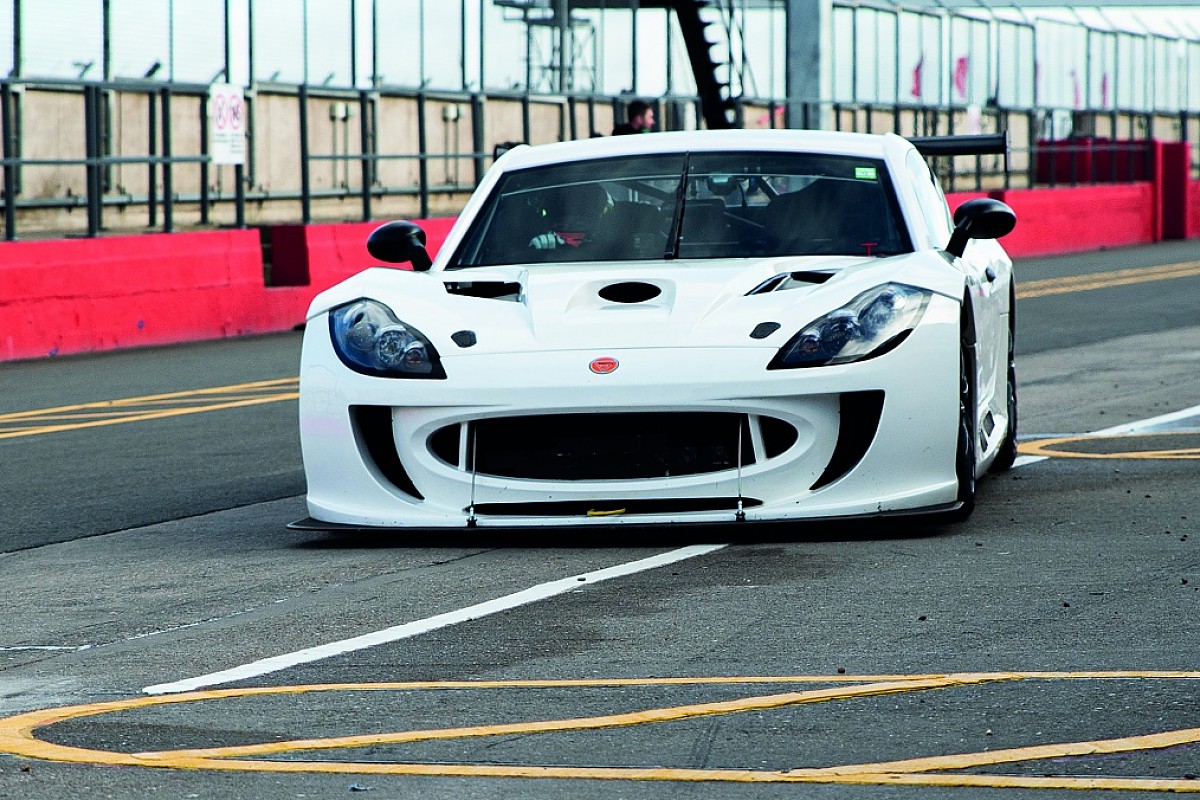 G61 LMP3
And now for something completely different, Ginetta's new-for-2020 LMP3 car: the G61-LT-P3. This is what Ginetta calls a "reimagining" of its original LMP3 effort, designed and built in conjunction with ex-Williams F1 engineer Ewan Baldry.
It dominated this junior prototype sportscar category in 2015 before falling out of favour compared to rival models offered by French constructors Ligier and Norma. Now the five-year homologation period is up for renewal, so Ginetta has spotted the chance to re-enter the fray and develop a fresh frontrunning package.
Crucially, Ginetta has drawn on its experience of designing a promising LMP1 prototype, employing lessons learned from that project and using the talents of the same design team to hit the ground running.
"We spent all of last year developing this car and the last part of 2018," explains Robertson. "It's the same chassis. It's a different engine - the engine [an uprated Nissan VK56 V8 with ORECA-controlled drivetrain] is spec across the whole category.
"You basically get the engine and gearbox as a package and you build your car around it. It's a slightly more powerful motor than the previous one, about 35-40bhp so not huge. And there's a little bit more allowed on the downforce side: you're allowed a twin-plane rear wing instead of a single, which makes a bit of a difference. And a few differences in the floor.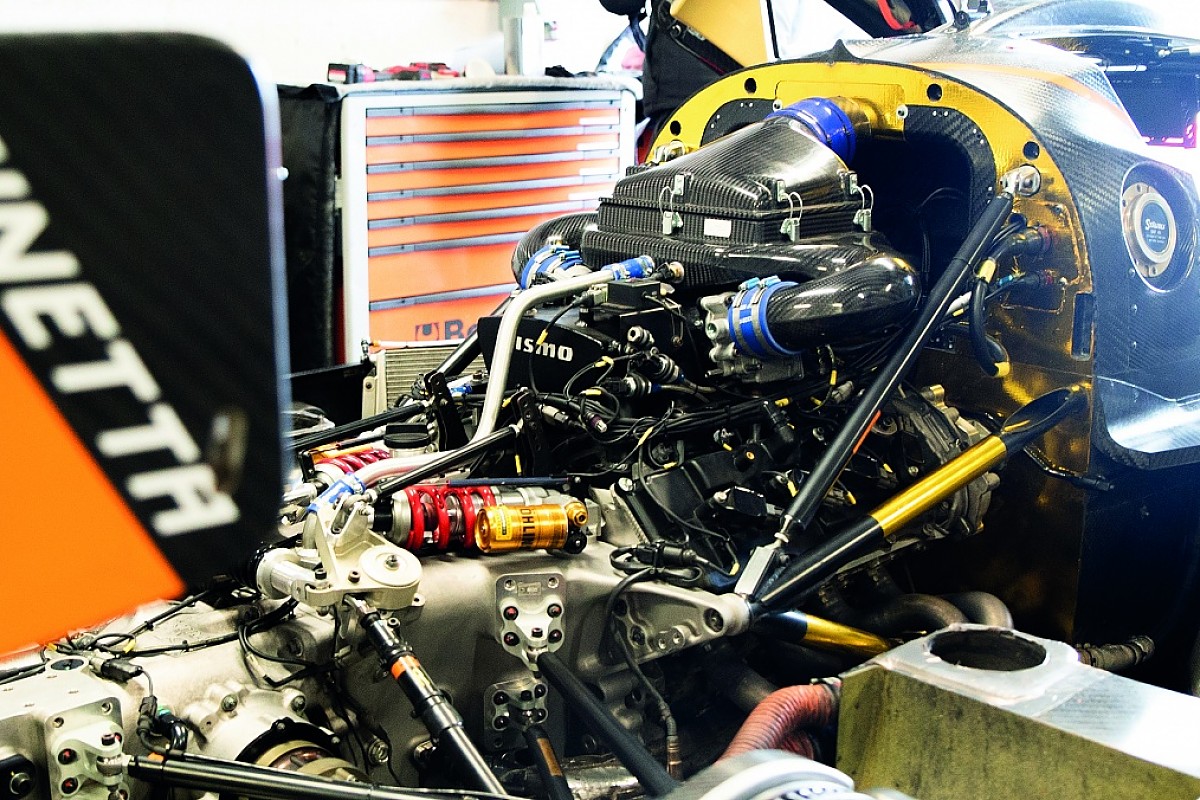 "We kind of moved away from P3 for a few years, and we're really focused on getting this car as perfect as we can, so no corners have been cut. It's literally like anything the engineers have wanted they've got. It's a nice build, and I think it will be a really strong car.
"We've learned a lot from LMP1, using all the same people and a lot of the same tools to make this car, so in theory it's LMP1 tech passed down to LMP3 regs. I'm really excited about it."
This is a new experience for me. My sportscar seat-time is limited to driving a VdeV Ligier (in the distant past of 2008) plus various outings in Radical sportscars, so I'm genuinely excited to try LMP3 out.
The Renault Sport Trophy car I raced in Austria in 2016 was capable of similar lap times around the Red Bull Ring, just achieved in a different way, and those GT/Formula Renault 3.5 fusion cars were extremely rapid...
The biggest compliment I can pay this car is that it is effortlessly quick, right up there with the best I've tried
"The P3 is quite a different sort of prototype," adds Robertson. "LMP2 has carbon brakes and it's got a bit more downforce, so that's pretty much like a nailed-on single-seater.
"The initial P3 was a bit more GT-ish in terms of the way it handled - quite soft - but I thought it was quite a nice mix of downforce and what I'd learned from Supercup, so I felt like it was quite a nice step. I thought the car suited my driving style."
I'm hoping I'll get two runs in the car, but a sequence of earlier red flags coupled with those G40 delays scupper that plan. I get about half a dozen laps or so to familiarise myself with the car just before the lunch break.
From the moment I lever myself into the cockpit and the swing doors are shut to enclose me, I'm struck by how well laid out everything is. Dare I say it, I actually feel comfortable.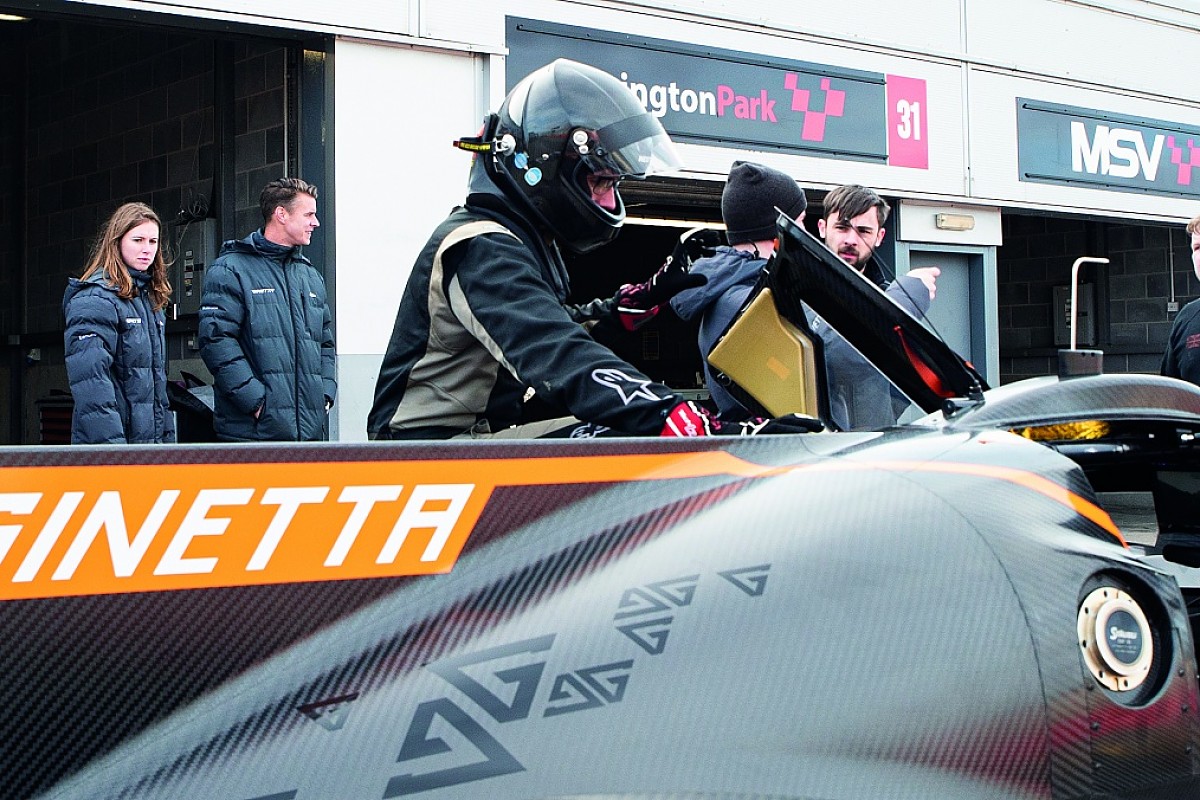 Usually, prototype racing cars require some sort of design compromise that basically screws the driver over - a chassis rail that bruises the side of the leg; a bolt that juts out and digs into the flesh. Not the case here. There's even a TV display connected to a camera that replaces the rear-view mirror!
Once out onto the circuit I'm lapping in 1m07s without effort. Robertson did 1m04s in his warm-up run and says the car is capable of 1m08s in the wet! It's just amazing.
I feel like I'm in a Space Invaders game as I dart between the other cars occupying my circuit. The biggest compliment I can pay this car is that it is effortlessly quick, right up there with the best I've tried.
For €239,000 worth of kit (the price is fixed under regulation) perhaps that's what you'd expect, but even so this is a truly impressive piece of engineering. No wonder Ginetta feels it can be up there with anything produced by rivals Ligier, Duqueine (which has replaced Norma) and German manufacturer ADESS.
"It's crazy around here - it's like your eyes are on stalks!" enthuses Robertson when we discuss my brief experience.
"Obviously compared to a single-seater it's heavy, but it's got the power to pull it through and it's probably got a similar level of downforce when on full chat. The thing with downforce is being able to come off the brake and go, 'Yeah, that's going to stick through there'. It's just building up to that.
"Round here, on a sort of semi-wet day, it's quite a hard way to feel it. But good thing you got out in the dry. Sub-minute would be fast if we could get it with this car. It's possible, I think. We've been close in other cars we've done."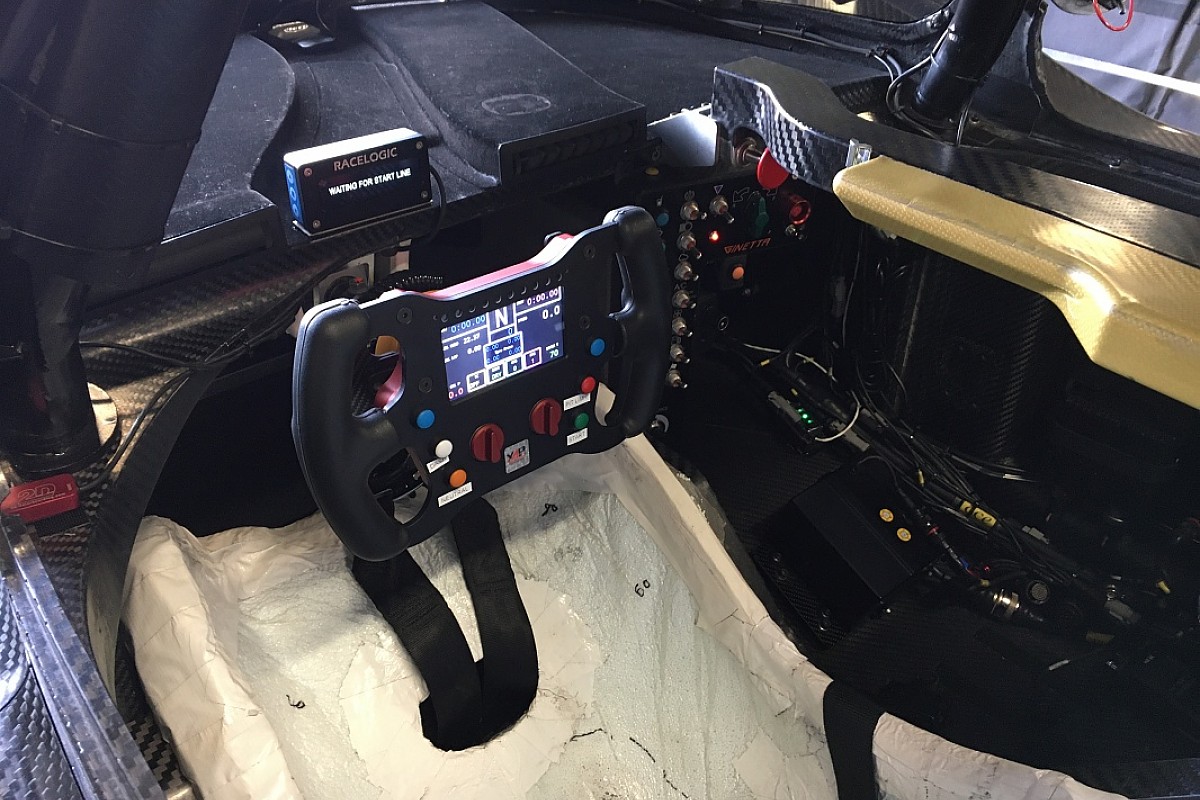 That's a reference to the unhomologated G58, for which Ginetta unleashed its former LMP3 design with a 575bhp V8 engine developed in-house. That car weighed less than 950kg and was capable of almost 200mph.
"If you can build a car that can be at the sharp end at Le Mans, then you know you're doing something right" Charlie Robertson
"We're going to do the same with this - obviously not on the same scale as a Porsche 919 tribute, but something unlimited in aero, lots of power," Robertson adds. "It's cool being part of a company that has plans to race in categories such as LMP3, GT4, has one-make stuff, and it also wants to create stuff that's interesting - genuinely, that [new] car will be awesome. We've got that new supercar we're making, the Akula, which is pretty mad.
"Lawrence really has a lot of plans for the company. No day is ever the same. It's an interesting place to work.
"We want to build a prestigious motorsport brand. Doing the World Endurance Championship, that gives us that sort of foundation to build something really cool. That gives you a lot of respect from all racing backgrounds.
"If you can build a car that can be at the sharp end at Le Mans, then you know you're doing something right."
Just when Ginetta was perhaps in danger of fading into the background, it's coming back with a bang.