"Have you heard anything?" "Any news?" "Nothing yet."
Confusion reigned in the paddock at Donington Park last weekend, as a classic British GT season ended with the identity of the champions still up in the air. Aside from race-winners Rob Bell and Shaun Balfe, nobody knew if they should be celebrating after contact between Jonny Adam's TF Sport Aston Martin and the WPI Motorsport Lamborghini of Dennis Lind - both factory drivers for their respective brands - produced an unexpected late twist in a title fight that had looked to be settled in favour of Adam and co-driver Graham Davidson with four minutes of the race remaining.
The result was not made official until the stewards had dismissed WPI's appeal into its reversal of Lind and Adam in the order, some four hours later. Davidson and Adam were crowned champions - Adam for a fourth time with as many different co-drivers, and for a fourth time in five years - but as Davidson later admitted, their moment of triumph had been soured.
"It was very frustrating, I really looked forward to hanging over the security fencing to cheer Jonny over the line, so I feel a bit robbed of that," he said, before promising to double down on the celebrations on an upcoming team holiday. "We'll make up for it in Vegas."
Barwell Motorsport Lamborghini driver Jonny Cocker had profited from the clash to cross the line fourth in the car he shares with Sam De Haan and had provisionally wrapped up the championship by half a point, but all was calm inside the cockpit as the fallout from Lind's move began.
There was a lot at stake. For Aston Martin, a first title with its new-for-2019 Vantage GT3 and for Lamborghini, a first title in Britain after three years of finishing as runners-up. Emotions were running high.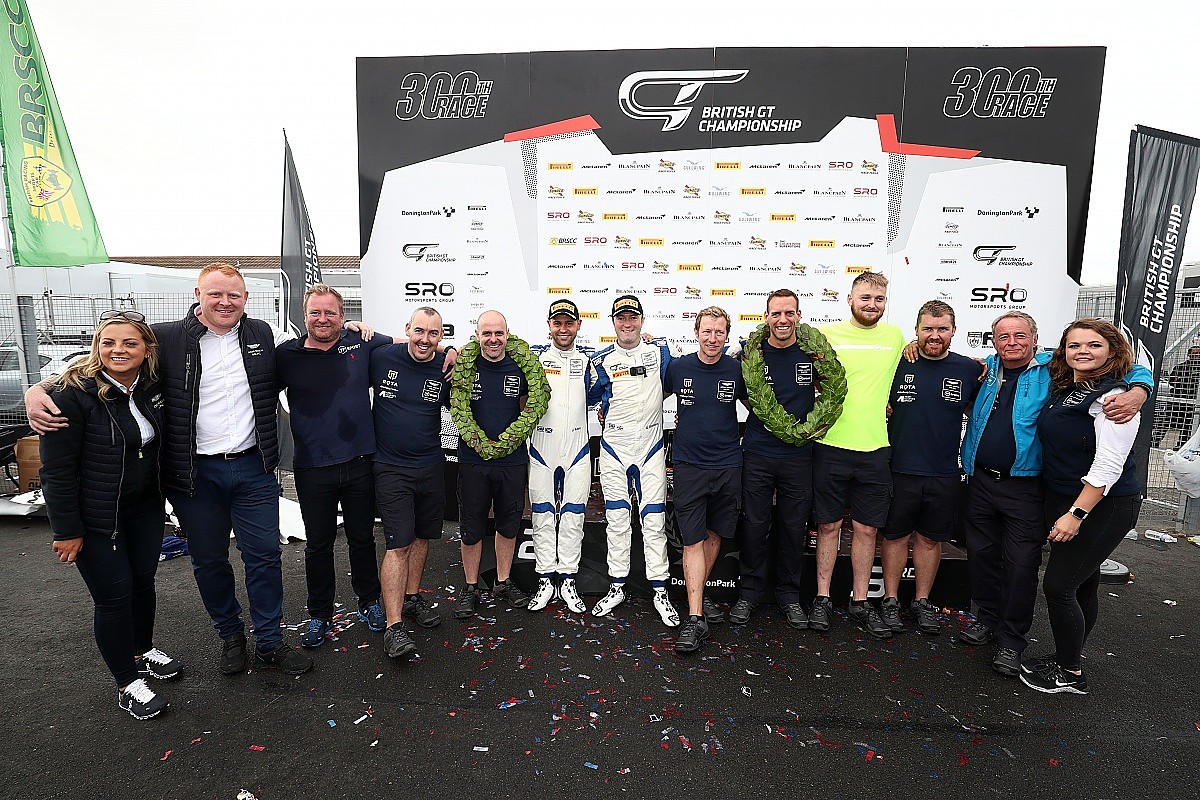 The usually chipper Adam didn't hold back as he stepped out of the car to face a TV crew, labelling Lind's driving "unacceptable".
"I want to fight for a championship, I want to fight fairly and Jonny did that, but when Dennis got involved it was just obvious what the gameplan was," said Adam, quiet fury written on his face.
"We're a single Aston out there against two Lamborghinis, one was in the championship [battle] and was respectful, the other not so much. No championship should be won or lost like that."
"We were sat there waiting for the footage to be reviewed, and Jonny just said, 'We'll be fine, I know the rules" Graham Davidson
Barwell did have two Lamborghinis in title contention coming into the weekend, but that was reduced to one early-on in the race when pre-event championship leader Adam Balon clipped Mike McCollum's KTM GT4, damaging the steering and a toe-link, which failed shortly after co-driver Phil Keen took over. That meant it would all come down to the remaining Barwell Lamborghini and the TF Aston.
A strong end to Davidson's opening stint negated the 20-second success penalty his car carried over from Brands Hatch and meant Adam emerged from the pits still ahead of Cocker, who needed to pass the Aston and the third-placed BMW of Jack Mitchell to overturn his 5.5-point deficit.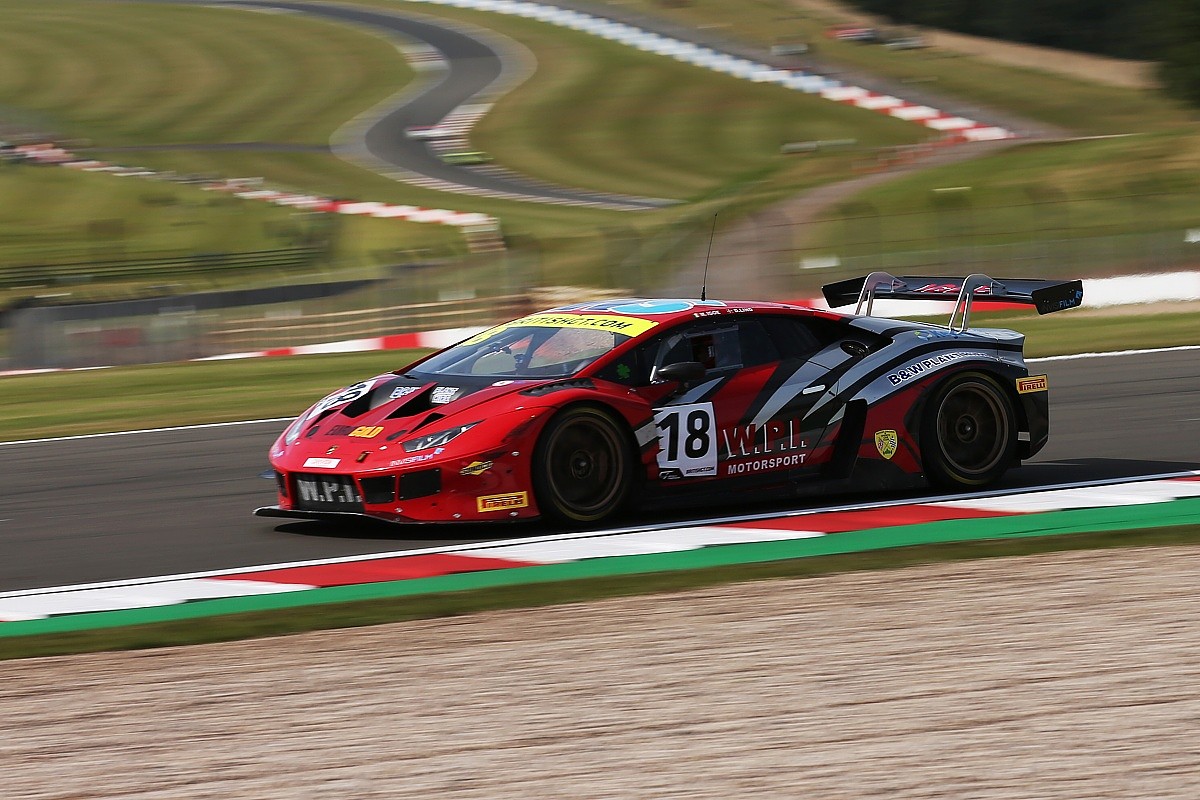 But the arrival of the safety car for an accident involving two GT4 cars changed the complexion of the fight by bringing Lind into play, and it wasn't long before the Dane made his presence felt. After hitting Adam at Goddards, he had another pop at the Old Hairpin while negotiating Alex Toth-Jones' GT4 Aston Martin, and nerfed Adam wide.
Lind eased off on the exit, ensuring Cocker got past, then followed him through around the outside of Adam's wounded machine, which had its diffuser pushed into the wheel-arch and was left rubbing against his left-rear tyre, causing a slow puncture. Adam later said another two laps might have caused the Pirelli to give up, from which there would have been no way back.
It wasn't until long after the podium festivities had been concluded, and with most of the teams at an advanced stage of packing up, that Lind was given a five-second penalty for gaining an unfair advantage, which dropped him 0.037s behind Adam and Davidson, who won the title by 2.5 points after moving back into fifth place.
"We were sat there waiting for the footage to be reviewed, and Jonny just said to me, 'We'll be fine, I know the rules,'" said Davidson. "You can't knock someone out with contact like that, and do that much damage and get away with it.
"For all that to have played out the way it did, it just looked very wrong."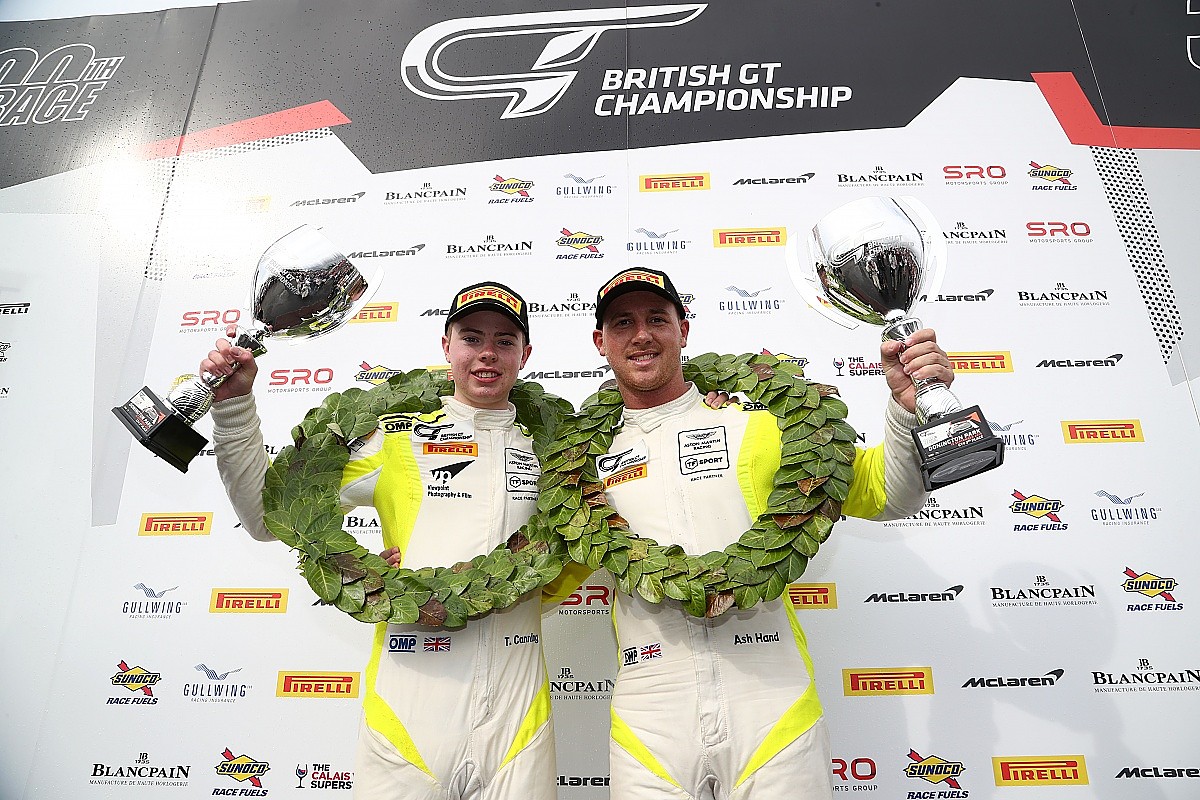 The relief in the TF Sport camp - which came after the team had secured the GT4 title in the same race with Tom Canning and Ash Hand (above) - was in stark contrast to the mood at Barwell and that of its boss, Mark Lemmer, who cut a dejected figure walking through the paddock holding a '99' ice cream (with flake) as TF began their victory celebrations.
It seemed barely conceivable after the second round of the season at Snetterton, at which point Barwell's cars had won three times out of four and sat 30-points clear of third, that the team's long wait for another British GT title - which dates back to 2014 - would be prolonged. But Balon crashing at Spa and first-lap incidents for De Haan at Silverstone and Spa, combined with a controversial final lap at Brands Hatch counted against the team in the final reckoning.
"A lot of people will probably disagree, but anybody who knows anything about racing will look at that incident and say it's not a clear-cut decision. The fact that the penalty has been given within a tenth of a second of just enough to reverse the result of the championship says it all" Jonny Cocker
"I'm so used to it," Lemmer remarked. "At the end of the day, we got Adam back into that car in a championship-winning position, and it's fine margins. When there's that many GT4s out there, you get clipped and these things happen.
"Obviously the drama at the end with Dennis and Jonny that was a separate twist really. If the officials have really looked at it and it was definitely on Dennis, then that's fair enough. If we had profited from that, great, but we didn't, so the Donington Curse continues!"
But Cocker was distinctly unimpressed with the verdict, although he and De Haan still won the separate Pro-Am championship.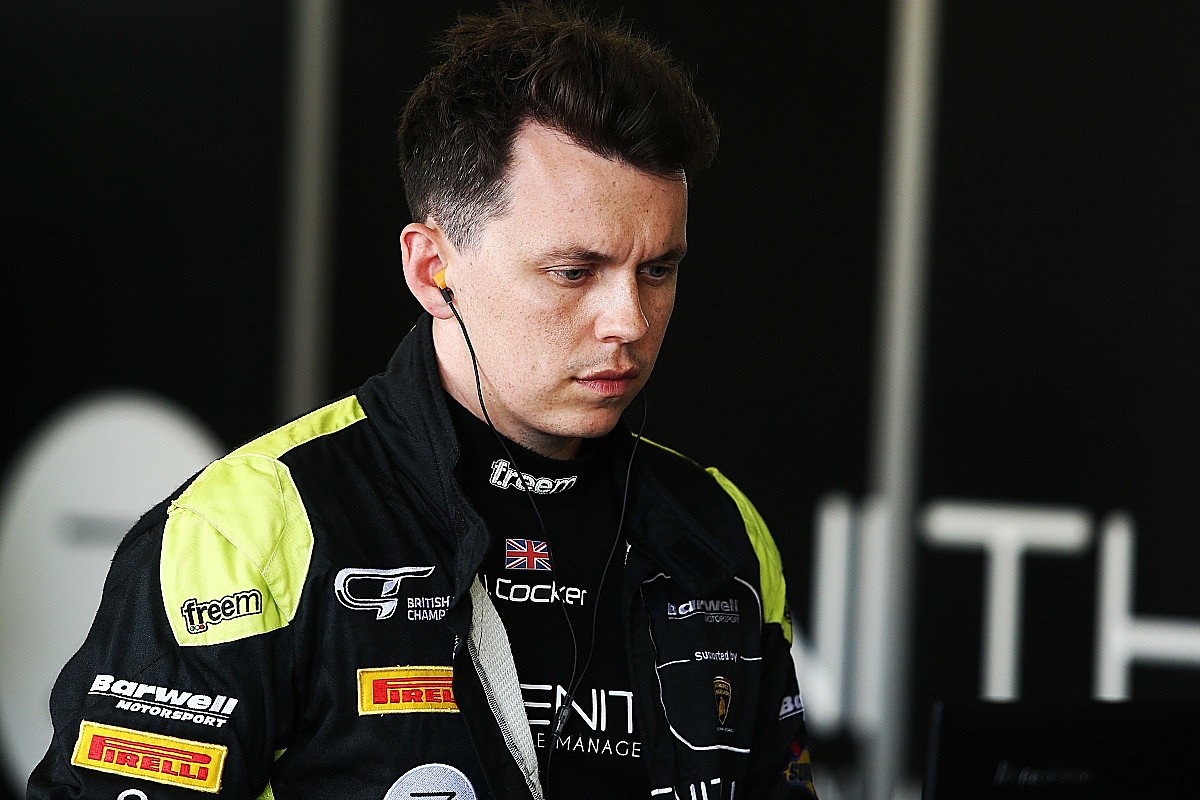 "If that would have been another car, that wasn't a Lamborghini, with that exact same incident, then it wouldn't have even been looked at," he said.
"[But] because it's got championship connotations, that's why they're looking at it. The stewards have got a job, which is to look at an incident on it's own merit with no outside influences coming in, and they've made a big decision to take a championship away from us."
Cocker claimed that the GT4 traffic approaching the Old Hairpin was the key factor in his pass on Adam, rather than the contact with Lind.
"All I saw was both of them get checked up by the GT4 and I took advantage of that," he said. "My pass was not a result of the contact, in my opinion.
"A lot of people will probably disagree, but I think anybody who knows anything about racing will look at that incident and say it's not a clear-cut decision. The fact that the penalty has been given within a tenth of a second of just enough to reverse the result of the championship says it all for me."
When approached for a response, British GT general manager Benjamin Franassovici told Autosport: "I can understand Jonny [Cocker's] frustration after coming so close to winning the title but race control were correct to investigate an incident that affected the race result. It's also worth noting that Motorsport UK's stewards upheld the original decision following WPI's appeal."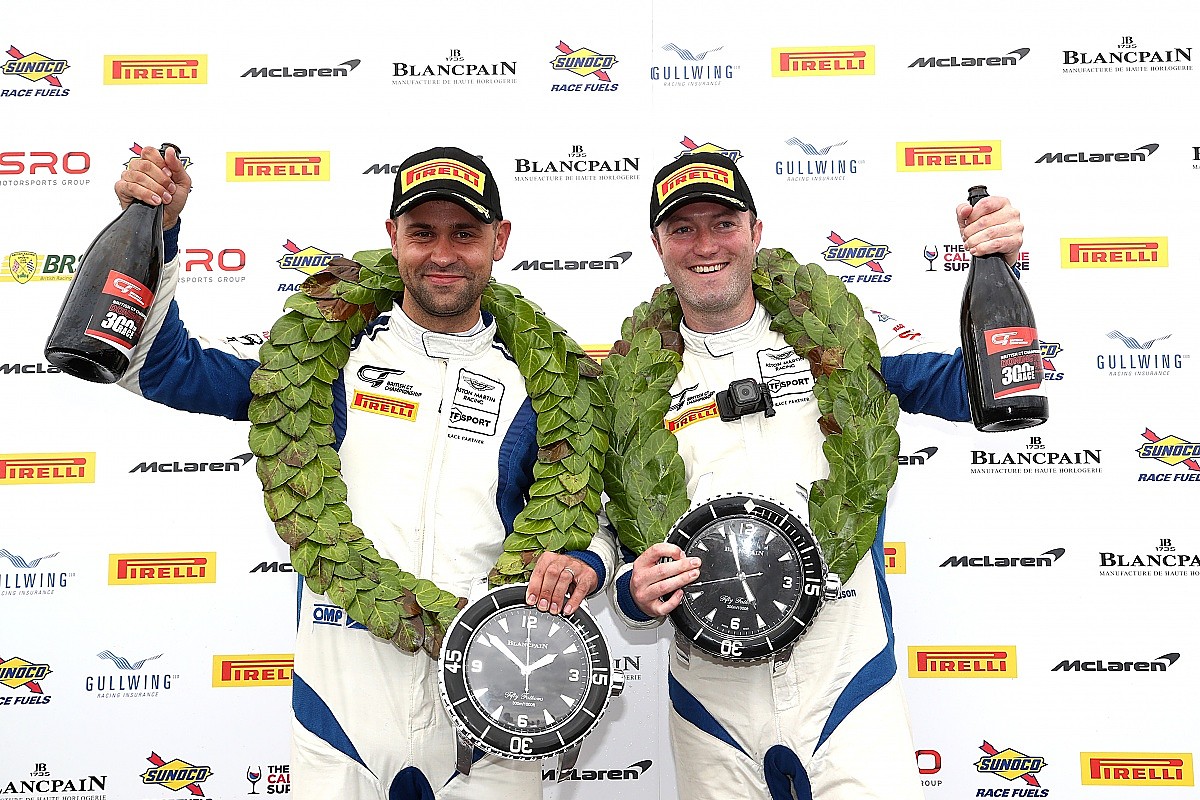 Davidson, who was penalised for contact with G-Cat's Porsche at Spa, felt that the decision was consistent with others this year.
"They made the right decision," he told Autosport. "I made contact in Spa, I got a penalty, other people have made contact and had penalties, so they've made the correct decision, they followed the rules. I don't see how it could have gone any other way.
"I do feel sorry for Adam and Phil Keen, because that must have been a gut-wrenching thing to have happen. It's been a crazy season, a crazy championship."
It remains unclear where two of the title protagonists will end up regarding a British GT return. Balon says he'll be back for another go with Keen, but Davidson's ambitions in Europe are clear - he made his debut at the Spa 24 hours in a previous generation Lamborghini to gain experience - while De Haan's situation is complicated by his driver grading.
He was entered as a derogated Bronze in British GT this year - upgraded to silver by the FIA, but allowed to race as an Am at the discretion of SRO, alongside Gold-rated Cocker - after having his entry approved prior to the FIA's change.
But that won't be the case next year, and if he is to return to British GT he will have to do so in an all-silver lineup and carry a weight penalty, or go overseas to continue with Cocker. It will be a shame if Davidson and De Haan don't return after their battle was ultimately decided in the steward's room.
For British GT, though, another three-way title battle next year would go down a treat.