The BRDC British Formula 3 Championship has given its cars a fresh new look ahead of the upcoming campaign, and while the upgrade package isn't certain to deliver a decisive improvement on laptimes, it is set to give drivers and teams a lot more to think about.
MotorSport Vision, which operates the championship, introduced its current car - highly developed versions of the Tatuus FIA Formula 4 chassis initially built for competition in 2014 - when it rebranded the BRDC Formula 4 Championship at the start of 2016.
Since then a number of notable drivers have come through its ranks, including McLaren Formula 1 driver Lando Norris - who won four times in a partial season in 2016 - and the two most recent winners of the recently renamed Aston Martin Autosport BRDC Young Driver of the Year Award in Tom Gamble and Johnathan Hoggard.
Over the winter, the cars have been given a facelift which could have a significant impact on the outcome of the championship once the season eventually gets underway - having had its first four rounds until Spa in July cancelled.
The front-wing endplates have been redesigned, which, combined with changes to the wing installation, will allow for greater set-up variation and an increase in peak downforce.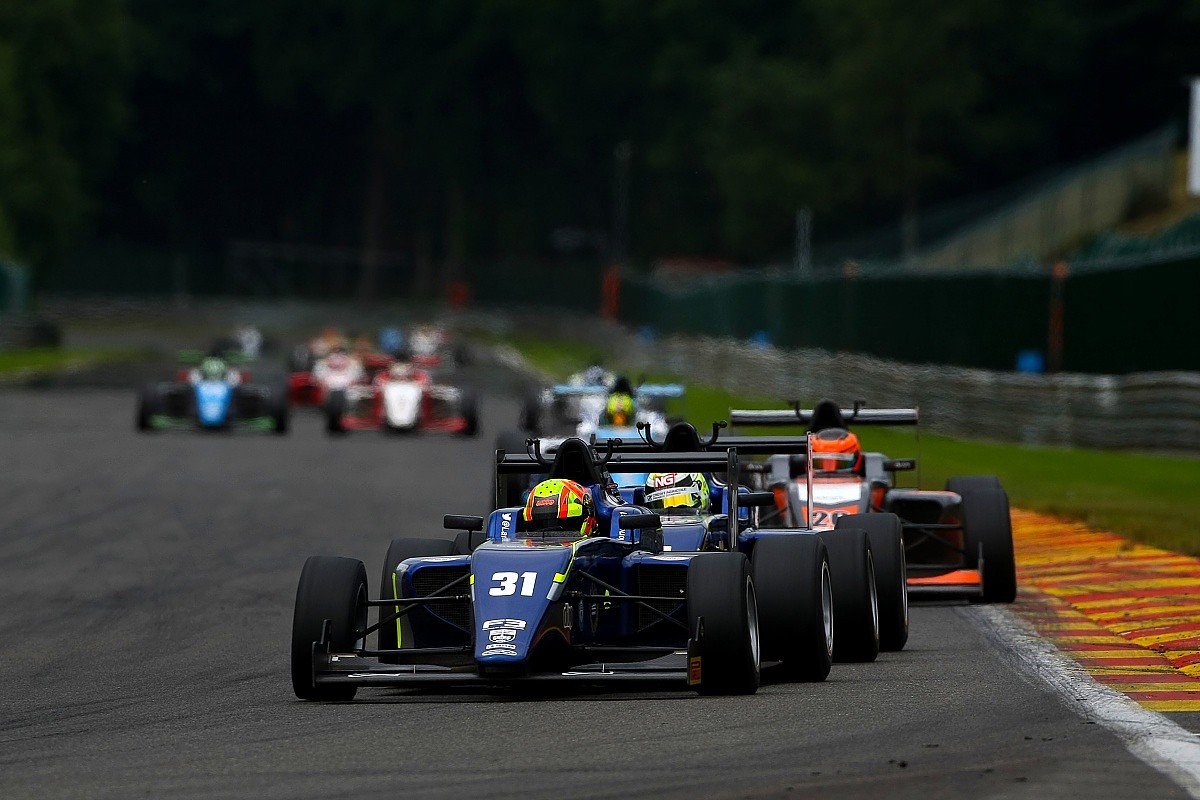 Bargeboards have also been added, which again will increase overall downforce by helping to channel the airflow under and around the car more efficiently. The rear wing includes new profiles for the carbonfibre main plane and flap with in-mode angled back endplates, the assembly allowing for an overall higher rear-downforce set-up.
"We had in the past a slight aero imbalance in the car - it was slightly lacking in rear downforce," says MSV's engineering manager Giles Butterfield. "Generally speaking, teams were running the rear wing at maximum tilt, so we are trying to gain downforce on the car all-round and are running a higher downforce level overall."
Although the changes are only subtle, they will provide greater variation in how drivers and teams approach each race weekend. The six drivers slated to return this year after a full or part-time campaign in 2019 will have to adapt their preferred set-ups from last year, while rookies entering the series could find the step-up an even greater hurdle than previous years.
"I've got a lot more experience than everyone [from] last year but with the upgrades this year it's going to take a bit to get used to and try and find what's best for the cars" Kiern Jewiss
That certainly is no bad thing as drivers learning the ropes on their rise up the single-seater ladder will be required to work even closer with their engineers in a bid to understand what works - or doesn't - and have increased opportunities to head down a blind alley.
The increase in complexity also means finding the 'sweet spot' will reap even greater rewards than before and incentivise drivers to focus more on optimising their machinery. This will only serve them well as they progress and in turn make British F3 even more relevant as a launchpad.
Kiern Jewiss, who finished fourth in the 2019 British F3 standings, continues his partnership with Douglas Motorsport this year and is expected to be one of the favourites for the title, but admitted at the Snetterton media day that the upgrades "have thrown a spanner in the works".
"I got really settled last year, got the car in a place we liked it, but then we've basically started all over again this year," says the 2018 McLaren Autosport BRDC Award finalist (below).
"We've got plenty of work to do to get the most out of the car.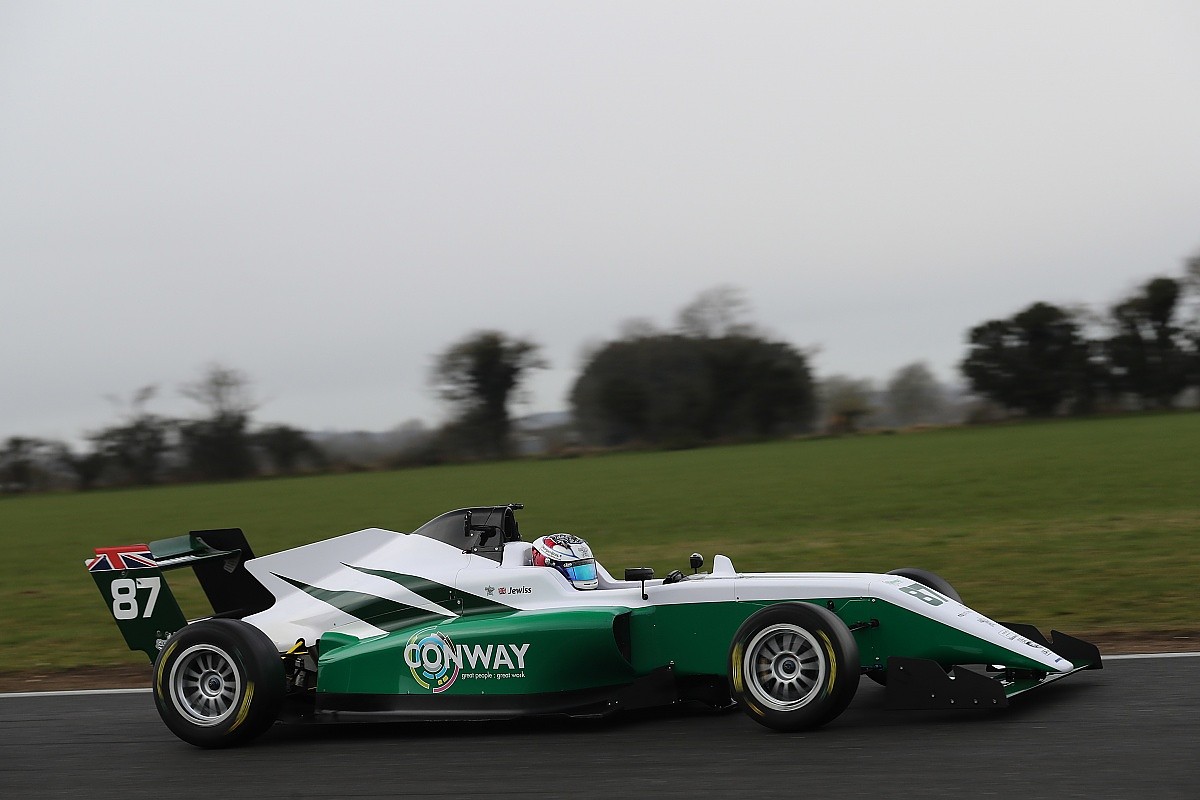 "I've got a lot more experience than everyone [from] last year, but with the upgrades this year it's going to take a bit to get used to and try and find what's best for the cars.
"There's certainly quite a big difference, I don't have as much of an advantage if the cars had stayed the same."
But while overall downforce may have been marginally increased, it doesn't necessarily equate to exceedingly faster laptimes according to fellow returnee Kaylen Frederick (pictured below).
The 17-year-old American, who is set for a second season with defending champion team Carlin, believes the outright laptimes will not be significantly different from 2019 and that the general handling has remained the same.
"It might just be a bit of the placebo affect to be honest," says Frederick, the winner of the reversed grid race at Oulton Park and the first race at Spa last year. "But there's a couple of places where you might feel [it's faster], like Turn 1 here [Snetterton] where last year we weren't doing it as close to flat and this year it seems to be flat a lot more consistently.
"There are small things like that where it does feel like it has more downforce but honestly, in terms of laptime it's pretty much the same at the moment.
"I'm not sure exactly how much we've gained with the new aero package, but honestly it doesn't make too much of a difference as a driver with the feeling in the car. Most corners feel exactly the same, it won't make too much of a difference to the driving side I don't think."
The tweaks haven't just been limited to performance or aesthetics either. With the quest for safety a never-ending journey, many of British F3's rivals in the congested single-seater marketplace are going down the route of the halo to offer further head protection for the driver.
But as the integration of a halo into an existing tub is prohibitively expensive, this year the carbonfibre Tatuus chassis used in British F3 will instead incorporate an Advanced Frontal Protection (AFP) fin. The device, which was used in IndyCar last season, sits directly in front of the driver's head and will help deflect debris away from the cockpit opening, in addition acting as a secondary roll structure.
The rear bodywork has been slimmed down to improve aerodynamic efficiency and inside it houses a brand new two-litre 230bhp bespoke Mountune engine
"It's virtually impossible to reverse-engineer a halo into an existing tub and to swap the entire tub - it forces people to buy a new one which is very costly," says Butterfield. "The AFP seemed to be a good option in the right direction that has a clear safety benefit. It's proved to be very effective and has a double benefit."
At the rear of the car the engine bodywork, now featuring a 'shark fin', has been slimmed down to improve aerodynamic efficiency and inside it houses a brand new two-litre 230bhp bespoke Mountune engine, which takes over from Cosworth.
All of this equates to a car which will provide plenty of new challenges for teams once the new season finally begins.
"Different teams will have a few different ideas to make it effective," says Carlin F3 manager Sam Waple. "At the moment I would say it's so hard to tell [if there is a substantial increase in performance].
"I think once we get on track with a few other people and a bit more consistent weather we will see whether we have an increase in performance.
"It will certainly be no less, it's just a case of trying to maximise the package. There is a lot more head-scratching than last year."