NASCAR has unveiled the first details of its maiden double-header weekend at Pocono and suggested that the two races will be a distance of 350 miles each.
Pocono is hosting a double-header across June 27-28 instead of the usual two separate races on different summer weekends.
The track has recently undergone a $178m (£146m) renovation project that included a reconfiguration of the start/finish line.
"One of our prominent drivers was the original champion of that concept," said Scott Miller, NASCAR senior executive vice president of competition.
"We looked at each other and said, 'Hmm, I'm not sure everyone will buy into it.'
"Actually, everybody did. It was pretty universally accepted as a cool way to go, and something we thought would put on a good show."
It is believed that the second Cup race is certain to be 350 miles long, while the first race remains "slightly in flux" barring some final details.
"We're excited for 2020. We can't wait to see what this looks like," said track president Ben May.
"I keep calling it a race fan's dream - a bucket list event." Cup teams will use the same car for both races with a standard single-car qualifying for the first race, and the second line-up will then be set by an inverted finish of lead-lap cars from the opener.
Miller added: "This is the first time we've really attempted something of this nature with a doubleheader weekend.
"Obviously, there have been a lot of challenges and a lot of collaboration to get to this point.
"We still have some work to do on the rules of the competition."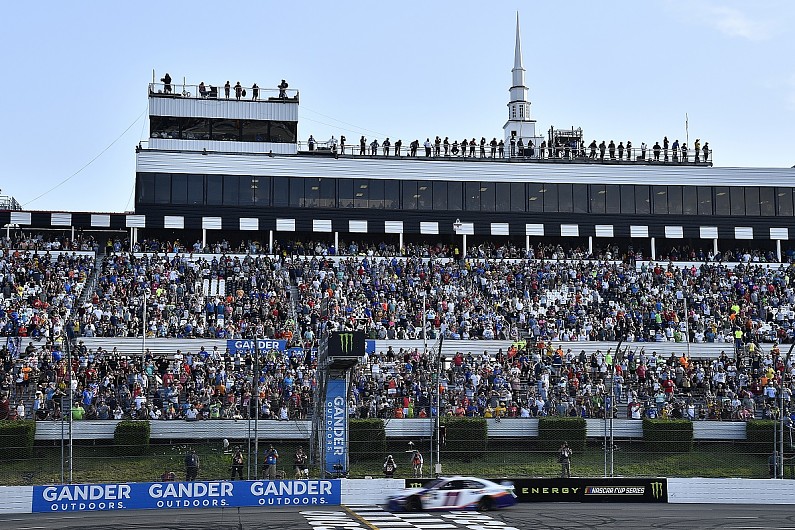 Last weekend's Pocono race winner, Denny Hamlin, praised the progress made with the track.
"I've worked with NASCAR and the track really hard on this particular racetrack, getting it in the right place," said Hamlin.
"I think when we come back here next year for the doubleheader, we're going to make it even better.
"I'm happy this track is opening up to changes. Certainly, we had a better race than what we would have had without it."
Track CEO Nick Igdalsky said he has not received any firm commitment from the IndyCar Series to continue in either the 2020 or '21 season.